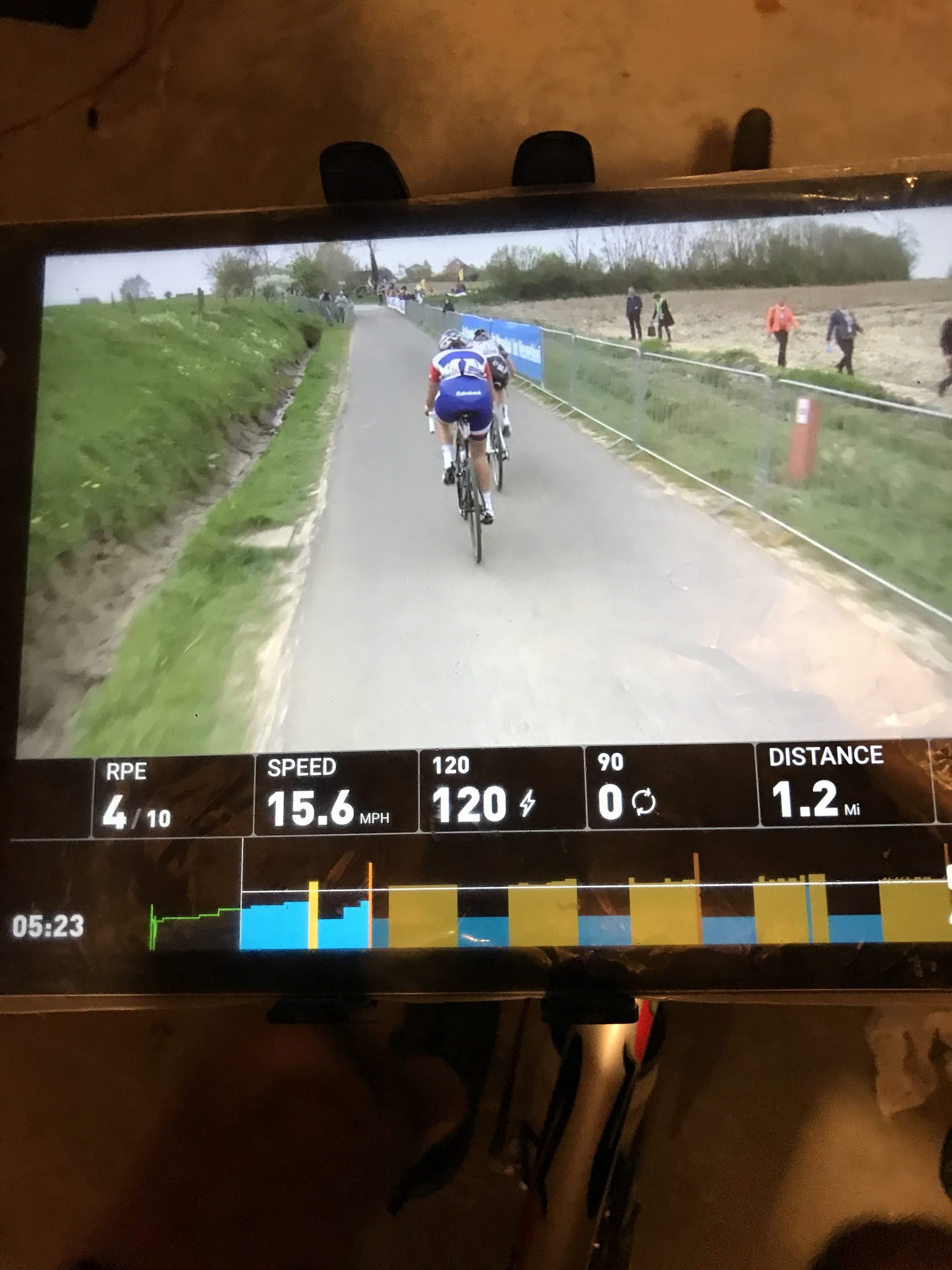 The screen on which I carry out my binging is an Ipad I borrowed from my wife. The stories I play on that screen have a certain uniformity: bike riders as protagonists, plots that revolve around who is going to pass whom, and terrain that alternates among ascents, descents, and flats. Some of the stories take place in Australia, some in Spain, others in Italy, the UK, on the island of Majjorca, or in Andorra—which I learned is an independent microstate within the Basque Region. Variety is also provided through changes in weather; for instance, sometimes the cyclists must push on through rain or snow. And also by whether there is text or music or a voiceover accompanying the action on the screen. And, oh, yes, there is one other important commonality: I am shedding a pool of sweat onto the floor beneath me as I binge these stories. Because the Ipad sits on a stand connected to the handlebars of my stationary bike. I am one of the characters in each of these stories. And I am pedaling as if my life depended on it!
The equipment I am using...is not a traditional stationary bike: not even one of those souped-up Peloton bikes that are so highly promoted.  it is one of my own road bikes, minus its rear wheel.
The equipment I am using for this binge is not a traditional stationary bike: not even one of those souped-up Peloton bikes that are so highly promoted.  it is one of my own road bikes, minus its rear wheel. The back end of my bike chain is attached to a hefty piece of equipment weighing over 40 pounds called a Smart Trainer, whose "fly wheel" turns and offers resistance as I pedal the bike. The weight of the trainer is necessary not only to regulate my level of effort but also to keep the bike stable, as I am generating enough force to make the bike sway back and forth from right to left and back again, just as it would if I were riding outdoors.
The Smart Trainer is plugged into an electrical power source and meets my bike's chain with a circular set of shiny thin plates of decreasing diameter with small notches cut into the perimeter of each one (the bike's rear gears) called a cassette. This is identical to the rear gears you would see on any road bike; it offers 9 or 10 positions on which the chain can sit. A rider shifts up or down through these gears according to the difficulty of pedaling; that in turn is determined by whether one is riding up a hill, flat, or downhill. When more dramatic shifts are needed, the rider is also shifting the front gear, called a chainring, which has either two or three positions.
The Smart Trainer is Bluetooth-enabled, allowing me to connect it to an app on the Ipad, There are a dozen apps for riding with Smart Trainers on the market currently. Each of them engages riders in a different "story," and it is these stories I am currently binging, in order to make a decision about committing to one for the longer term. They all offer free trial periods of two weeks to 30 days, so I am taking full advantage of that. I acquired my Smart Trainer in November as an early Chanukah gift, have tried three apps so far, and have my eye on two more before I decide which one gets my longer term commitment and my $15 a month.
Choosing my Smart Trainer required a different kind of binging:  watching various experts declaim on Youtube about the glories and drawbacks of a couple of dozen different options. It also compelled me to think ahead about which apps I might end up using, because some apps are more readily compatible with one trainer than with another. It did not take me long to determine that several biking experts were binge-worthy.
The USA does not have a strong or long tradition of competitive cycling; worse, the tradition we were beginning to lay down was grievously tainted by Lance Armstrong's cheating. No surprise, then, that within the American cycling community it helps to sound British or have other kinds of foreign bonafides. It is impossible to imagine, for instance, that the Tour de France would have attracted the size of TV audience it currently commands if it relied on broadcasters with American accents. It was two Brits who enraptured a growing American fan base over the past 20 years with their commentary that was not only imbued with deep knowledge of the history of competitive cycling but also attentive to the topography, the vineyards, the chateaux, the farmers and the immaculate municipalities through which the race processed. They were Paul Sherwen, a former Tour cyclist himself, who died in 2018, and Phil Liggett, who began his career in cycling journalism in 1967 and remains at the "tete de la course" when it comes to broadcast cycling.
Thus it was no surprise to me to find out that most of the popular experts providing insight on what to purchase had accents. Jack Luke, a youngish Brit who whose name sounds classically American, has broken through big time with dozens of videos on behalf of his employer, a UK-based magazine called Bike Radar.  Here he is, testing out and discoursing on various Smart Trainers.
Once I discovered Tariq Ali, he became my favorite, and I now follow him on Twitter as well as subscribing to his Youtube channel. American English is not his first language, but he is extremely fluent and I cannot pin down his national origin, nor find it online. In addition to his no-nonsense product reviews that are accessible to either the newbie or the experienced indoor rider, he also offers links to all the current prices of all the Smart Trainers he reviews (in which he has no monetary interest) and posts a link (in response to fan requests) to the company that sold him his very artsy-looking bike jersey!
The market for expertise is not completely closed to American men with American accents (I am not sure about women, yet). The most popular has a name that strikes me as right out of "The Music Man": DC Rainmaker. Here he is showing me, step-by-step, how to unbox the Smart Trainer I ended up purchasing, and then what I needed to do to set it up. (He was great, but I still brought my bike and my Smart Trainer to a bike shop and paid them to show me how to set it up.).
So now I've got everything set up, what about those apps? What about those stories? Here's what I can tell you so far:
The story the Rouvy app tell is that I am an adventurous cyclist, out to conquer the pavements in scenic places around the world, mostly on my own.  It allows me to choose routes by the distance I want to ride (anywhere from 6 miles to 40 or 50) by the average gradient, the maximum gradient, or the country in which I prefer to ride.  Once I select a route, I can see how many other Rouvy riders are currently on that same route; it's usually fewer than 10, so I am not very likely to encounter them. A display shows me where I am in relation to any other riders, but it is rare that I catch one of them or they catch me, since we started at different times. If I do get close to another rider, what I see is that rider's avatar, which Rouvy creates based on one's height, weight, and one's own choice of jersey colors. I also see my own avatar throughout the ride. The scenery that goes by on my screen during a Rouvy ride is quite impressive; it is actual film of the ride, taken from an actual bike rider. The rides are in beautiful places, sometimes passing through town centers or industrial areas but more often going through wooded lanes or open roads in some mountains.
I have tried a couple of Rouvy "races"–as distinct from Rouvy "rides." It required advance registration (no charge though), and you can see the names, nationalities, genders, and birth years of all the riders. I was one of few Americans in my races, and I was the only rider over 65—but there were others in their early 60s, and all the way down to men in their 20s, in both races. (No women entered the two races I entered but there is no gender discrimination in virtual bike racing.) It was exciting to go to the starting line with a bunch of guys from different countries, even though half of them left me behind after the first couple of miles and I never saw them again. Those hills are tough!  I managed to finish both races—which not everyone did—and I managed not to be last of those who finished. That was good enough for me.
The story the Zwift app tells is that I am a player in a video game. In this game, I am represented by my avatar (based on my height, weight, and age) and I am encountering other riders' avatars every minute, sometimes every second. That couldn't have happened in 2015, when the app was brand new, but it happens now, 24 hours a day, as it is by far the most popular of the cycling apps and thousands of riders are partaking at any given time. It is not just that I am encountering other riders: they are constantly passing me, and I am constantly being implored by way of the text on my screen, whenever I get close to a rider in front of me to "close the gap." When I do so, I get an "ok" text. Some of the riders who whiz by me are nice enough to give me a "thumbs up" (not from the hand of an avatar but a very oversized, cartoonish, colorful one on my screen) as they go by; Zwift refers to this symbolic communication as a "ride on."
When you go on Zwift, you get to choose which of three different ":worlds" you want to ride in;  there are nine different worlds altogether but only three are open at any given time. They have names such as London, Yorkshire, Richmond (VA), Innsbruck, and Watopia. The scenery in Zwift is not real footage but instead mimics the look of video games: animators have created vivid and strangely colored versions of sections of London, Richmond, and the other cities, and have thrown their greatest creativity into the fictional city of Watopia. Zwift has so many subscribers worldwide that at any odd hour, in any of the three open worlds, I have found a minimum of 600 riders and maybe as many as 5000. When you sign on, you can see how many riders are in each world before you choose where you want to go.
Although Zwift offers races as well, I have not signed up for one because every Zwift ride feels to me like a never-ending race, You are constantly battling (if you have any competitive streak) to pass other riders and to catch up to those who just passed you–all  while shifting gears frequently because these city-worlds tend not to have long ascents but are rather comprised of hilly terrain that never allows you to relax into any one gear.
Fortunately, Zwift also rewards your hard work—like a video game. For reasons I have not discerned, I will suddenly find that my screen is offering me an "aero boost."  Touch it on my Ipad screen and I am suddenly increasing my speed dramatically—for about 30 seconds. Perfect for passing back someone who just passed me!  Other times I am offered a button that looks like a ghost: push it and I am told it is the "cloak of invisibility;" nobody will be able to see my avatar for 60 seconds! Great, I can pass and get in front of this guy before he realizes it!  Other times, I am rewarded with the "black helmet," the "orange socks," or the "sunglasses."  Next time I get a break (even during the ride if I wish), I can go to my settings, open my "garage," and upgrade my avatar's outfit accordingly.
The story "The Sufferfest" app tells me is that I am riding with the professionals—and I am challenging them all the way, but the only way to truly challenge them is to show them I am willing to suffer even more than any of them.  This app does not use avatars; it uses footage of actual riders in the grand tours such as the Tour de France, and makes it look like I am riding along with them. The footage is beautiful and realistic; it looks like they have purchased and repurposed film footage from the broadcasters of the grand tours, Sometimes I am in a breakaway—riding with a small group to get ahead of the main field. Other times I am in a "chase group," riding with a small group to catch up to the leaders. And various other combinations. It motivates me Sometimes I recognize the names of the riders from my years being a spectator (on TV) of the Tour de France.  It was very exciting when I was in a chase group trying to catch up to Peter Sagan, the amazing Slovakian rider.
"The Sufferfest" uses a lot of humor and sarcasm. While riding up a huge hill using a tough gear for an extended period of time (in fact, the Hautes Pyrenees), the screen flashed to a full-color image of a man relaxing in a hot tub, and the text on the screen asked, "wouldn't you rather be this guy?"  Another time, short of breath and my heart pumping upon ending a sprint, a bunch of donuts started falling from the sky, with the text displaying, "give me donuts."  There are continual reminders on this app that I am a citizen of "Sufferlandria," and the evil geniuses behind this app taunt me with the idea that perhaps I should consider becoming a "Couchlandrian."
That is what I have gleaned from my my binging to date, but I am far from finished. I am grateful during this pandemic that so many entrepreneurs have figured out such a diverse array of approaches to make indoor cycling more meaningful and motivating than it was on the old-fashioned stationary bike.
Time to get my water bottle and my towel, fire up the Bluetooth, and prepare for some more binging. (Donuts later, for sure!)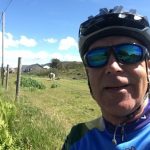 Dale Borman Fink
Dale Borman Fink retired in 2020 from Massachusetts College of Liberal Arts in North Adams, MA, where he taught courses related to research methods, early childhood education, special education, and children's literature. Prior to that he was involved in childcare, after-school care, and support for the families of children with disabilities. Among his books are Making a Place for Kids with Disabilities (2000) Control the Climate, Not the Children: Discipline in School Age Care (1995), and a children's book, Mr. Silver and Mrs. Gold (1980). In 2018, he edited a volume of his father's recollections, called SHOPKEEPER'S SON.
Characterizations: right on!, well written