I kiss my father's smiling face.  Such a brilliant mind trapped by dementia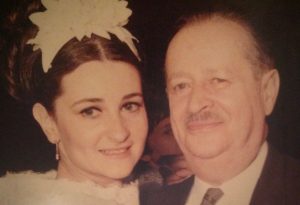 I'd know the smell anywhere.  Disinfectant laced with urine. The odor of an old age home. The lobby deceives at first.  Light, bright and modern, with a few tasteful antiques.  But up the elevator to the 5th floor and one is hit  with  the smell and aging bodies  muttering or staring vacantly.  One  frail old lady with her worn polyester dress tucked into her wrinkled panty hose, pacing, pacing, pacing and repeating  over and over and over and over, "Edna," "Edna", "Edna"……….
I go to find my father.  He's sitting in the dining room waiting for his lunch.  My frazzled mother, sitting by his side, urges him to eat. "He might get sick if he doesn't eat, " she says.  Sick?  What does that mean when he has Alzheimer's?
I kiss my father's smiling face.  Such a brilliant mind trapped by dementia. Grandma Rose acted the same way too, in the days when they called it senility. Last time I saw her, at age 95, she was sitting in a high chair in a nursing home, greedily gumming an apple.  Am I next? Am I a time bomb? SometimesI forget what I am looking for and I'm frightened.
Watching the  dementia patients in the  nursing home eat is a horror show.  Fingers grabbing, faces covered with food.  Bedlam.   I'm thinking, "let me out of here!"  My mother sees my panic. "Let's go", she says. We walk into the fresh air and  I try to shut off what I've just seen.  As we eat in a nearby diner  I think, "How can we eat after the assault on our senses?" But we do.
Thoughts of my father, now deceased, are still with me.  How he would have relished the political drama of an election, how he would have devoured this book, that opera! Futile musings, of course.  His mind was gone years before he died.  It pains me, but in  the long run it was my mother who really suffered. The intrepid  wife  who had been a caretaker ever since my  father was diagnosed,  and the loyal partner who witnessed his deterioration. She braved the pain and frustration of  a husband who was childlike and unable to do simple tasks. My mother  felt somewhat guilty placing Dad in a "home", but her life certainly became far easier.
Family friends, also with great reluctance,  placed  their mother with Alzheimer's   in a nursing care center. Her husband had kept her home as long as he could but she had  become extremely difficult.  The family  hired a succession of paid caretakers, but no one lasted more than a few days.  After walking the halls of the facility  for the first time she said to her daughter, "Marilyn, is this the Concord (hotel)?"  "Yes, Ma"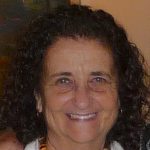 Sara Gootblatt
Characterizations: funny, moving, well written