In 1929 new college graduate Herbert Gordon returned to his seaside hometown and established a weekly newspaper everyone would call the Times.
My uncle was an old-school, small-town newspaperman. 
The Times was a one-man show. As managing editor and publisher my laconic, cigar-smoking uncle kept his professional distance as he covered news and politics, schoolboy sports, nor'easters and maritime history. In its early years the paper also carried national news, syndicated columns and a comics page. Somewhere there is a photo of Herb, dressed in classic 1950s newsman's attire, a trench coat and fedora, his heavy camera's leather strap straining from his shoulder. His home office, with its hilltop's-eye-view of the Atlantic, was a writer's dream—his dream.
Several years into this Herb met and married my Aunt Ruth. Excellent decision.
Ext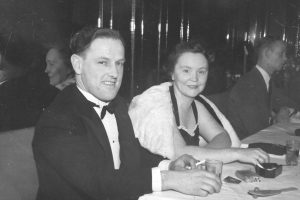 roverted and smart, Ruth used her lawyer's training to handle contracts and accounts and to establish her own realty business in town. Her column "Shore Lines" chronicled social news; she joined every club. During Herb's military service in WW II Ruth ably took the helm for the duration.
They lived on a peninsula that juts out into Boston's outer harbor. In the '20s and '30s parts of it had been a tony seasonal resort. Summer houses owned by old and new money commanded heart-stopping 180-degree ocean views. By the time I knew it, however, much of the town had completed its descent into Honkytonkville. On our family's yearly visit "down the beach" we kids spent all day in the surf, crossing the street to Paragon Park for hot dogs at sunset and roller coaster rides into a boundless night sky.
There was only one visit each summer, and for one day only. We were busy with our lives; the paper was my aunt's and uncle's life. Although one or both of them always made it uptown for special occasions, we were led to understand they could not possibly leave their "baby" untended. We wondered how this could be.
Yet we knew they were proud of us. The Times reported our milestone moments to readers who could not possibly have cared about them. Herb magically produced tickets for me and my friends when the Beatles came to Boston. When my brother did a thing of note Herb proudly bylined a double-page spread in the Boston Globe.
Along the way my siblings and I never thought to ask them about their life. And then suddenly it was too late: Herb died several months short of the paper's 50th anniversary.
In the newspaper business, as in the theater, the show must go on. I was tapped to go immediately to live in their house and run the paper. But how? I knew neither the town nor the business. Nevertheless we had to keep the paper going until we could sell it, and the house, to provide for my aunt. Unbeknownst to us, Herb had been taking care of Ruth while running the paper solo.
Longfellow wrote, All houses wherein men have lived and died are haunted houses. Those first nights in the house a foghorn's measured moan followed me as I wandered from room to silent room. I sought inspiration in Herb's empty office. After a spluttering start I settled into what neighbors had described as his routine.
Friday morning was for biking down the hill to collect the news releases at the post office, organizing and editing them; in the afternoon, making the rounds of advertisers who always claimed to be paid up on their bills. Saturday and Sunday were spent writing and editing, designing the layout, measuring column inches and fitting the copy, photos and advertisements. Monday the lot went to the compositor in a nearby town. Tuesday was a return to the compositor to examine the dummy. Wednesday was print day, being on call for emergencies and worrying about tasks I surely had left undone.
Thursday—when the paper hit the street and subscribers' mailboxes—emerged as the only free day of the seven. They weren't kidding all those years when they said they were "busy." I realized now exactly how difficult it had been for them to step out of their routine for us, even for a day. A townful of people depended on them.
The first issue I was frantic, short of copy to fill the paper. What to do? I looked out Herb's office window and saw with fresh eyes the lighthouse that stood on an island straight ahead. A flashbulb went off—thanks, Herb! I arranged a telephone interview with the keeper for a feature that fit the space. The second week, wiser, I hired a sketchy freelance reporter and an even sketchier photographer (the next door neighbor) —not necessarily Herb's idea of a good idea, I suspected. I had no way of judging the quality of their work, the accuracy of their reporting or, for that matter, them—and I couldn't afford to worry about any of it. In the end they saved the day.
Over the next 10 weeks I was humbled and enlightened beyond compare. Somehow the 50th anniversary issue was published, with nary a glimmer of the Times' former glory. It was a solemn occasion for our family, unthinkable that Herb and Ruth were not there to do it up properly, to be lauded. In contrast, on the occasion of the Times' 25th anniversary, Herb had received congratulatory letters from the governor and from U.S. Senator Leverett Saltonstall, the latter writing, "You have been fair, factual and forthright in your reporting of the news, and these virtues represent the real strength of free journalism in a democratic society. You have edited and published a paper of which all our people in Massachusetts can be proud." As for me, I was grateful to have had this opportunity, this moment, to more fully appreciate my uncle's (and aunt's) estimable life.
Herbert Gordon was a person who early on identified his passion, pursued it, perfected it and died doing it. I wonder, how many can claim such a singular path to their life's purpose and delight?
Like Babe Ruth my uncle had stepped up to the plate, pointed to a star in the heavens only he could discern, and hit one out of…Paragon Park. The Times nears its centennial thanks largely, I believe, to his early, masterly leadership.
So Reader, it is with a niece's love and pride that I applaud him now. Well done, Herb. Let's go to press!   –30–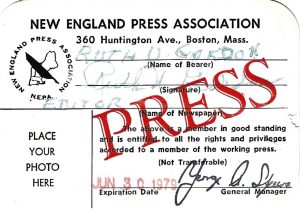 Susan Bennet
I'm so happy to have joined the gracious Retro family. The basics:
I have a background in marketing and museums.
I come alive when the leaves turn red.
I regret every tech mistake I have made or will ever make on this site.
I want a dog.
Characterizations: funny, moving, well written