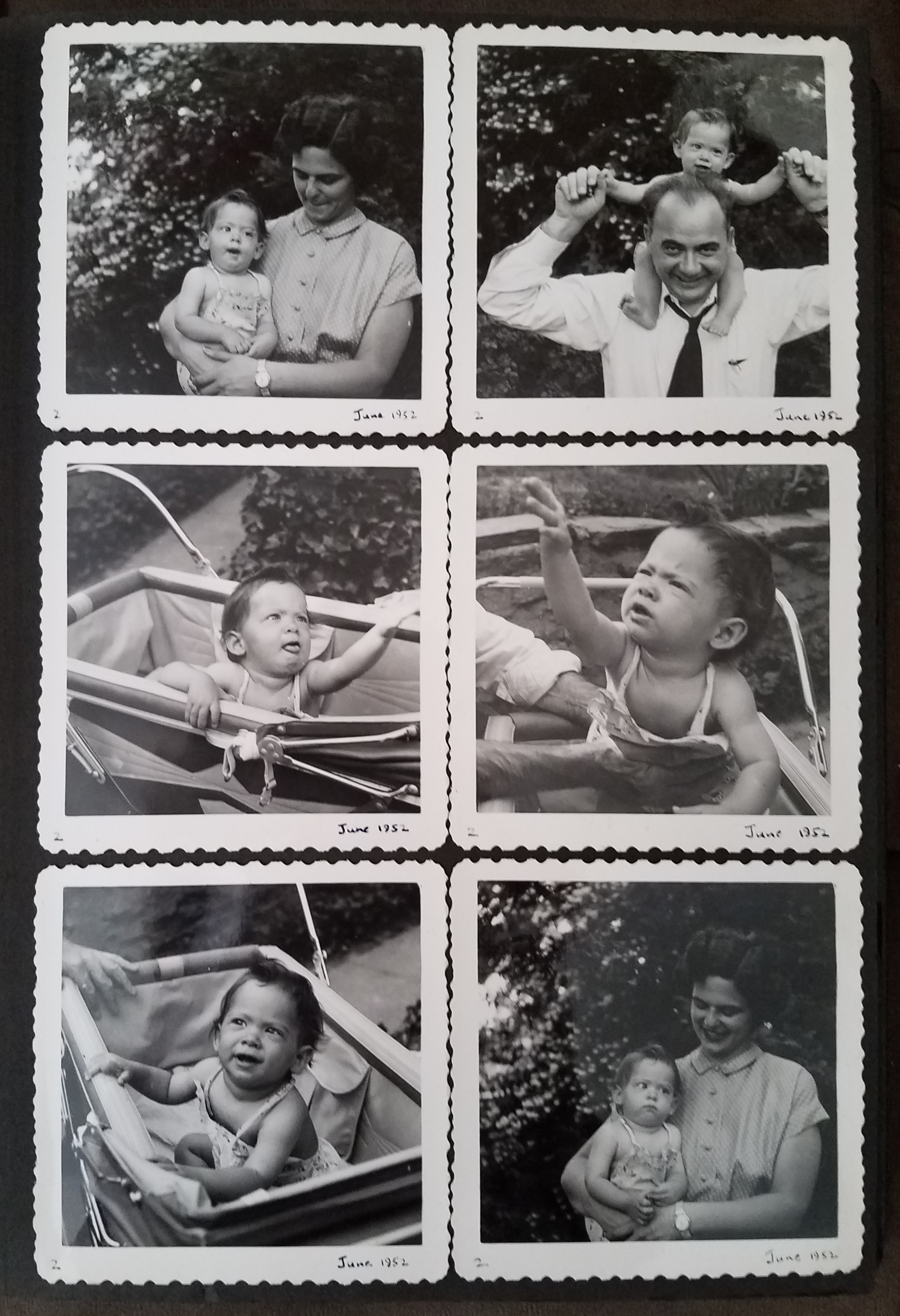 My parents didn't keep baby books, but they did keep photo albums. The kind with the black construction paper pages. They pasted the pictures in, or else sometimes the pictures were held by those photo corners with adhesive on the back. They made an album for each of their three daughters. At some point, after my father died and my mother was starting to declutter and downsize, she proudly gave me my album. I was excited until I looked through it. There were only about ten pages with pictures on them and 40 or so more that were blank. The pictures all had dates written right on the edge, in my mother's or father's handwriting. Most pages have six pictures on them, invariably all from a single photo shoot (like the page shown above). They start in September 1951, when I was days or weeks old, and go all the way to . . . 1955. That's it. No more pictures after I was four years old.  Stuck in loose between the pages of the blank section are a few school pictures, lots of yellowed newspaper clippings about me, and the program from my law school graduation. I can't be positive that my older sisters have more extensive albums, but I have a strong suspicion that they do. I call mine the classic third child baby book.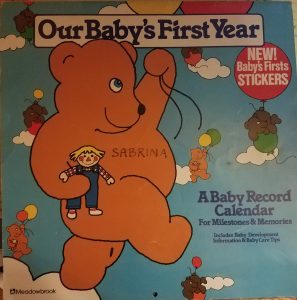 With each of my children, I used a Baby Record Calendar. The first time it was because that's what I was given at my baby shower. It was cute, with a bear holding balloons on the front. It was gender neutral, thank goodness, because I didn't know the baby was a girl until she was born. It had adorable stickers depicting 81 important milestones to affix to the appropriate date when the baby accomplished that milestone. I dutifully applied all the stickers for the entire year, as well as writing in other memories that there weren't any stickers for. For instance, there were stickers for 1st car trip, and 1st plane trip, which I used in their respective places, but none for 1st train trip, so I had to write that in by hand. In the back I attached a family photo in the designated place, and filled in the family tree, description of arrival day, immunizations, and other interesting facts. I also pasted in a copy of the birth announcement, which we had done very cleverly in the style of a law firm announcing the hiring of a new associate. We said she was "admitted to the practice of life" and that she would specialize in "domestic relations, waste management, and noise control." Lawyer humor, I suppose, but most of our friends were lawyers too, so they appreciated it.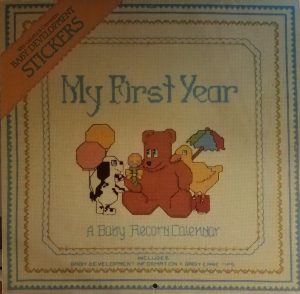 With my second child, I wanted another calendar, because I had liked the way it worked the first time, plus it wouldn't do to have a book for him when I only had a calendar for her. So I went to the Hallmark store and bought one myself. (I wasn't sure if that was true, until I turned it over just now and there was a price tag on the back. If I had gotten it as a gift, the giver would have removed the price tag.) The calendar itself wasn't as colorful, and the cover was made to look like a needlepoint sampler, which is not my thing, but the milestone stickers were exactly the same, so it must have been made by the same company. Since he was born in the middle of the month, I decided to start numbering the days with the week he was born – no sense wasting two whole rows of squares! As a result, each page was half one month and half another, which made it a little more complicated. Then I also decided to fill up the full five weeks on each page, so I got to his first birthday on the page that said My Eleventh Month, and by the final page, which said My First Birthday, he was actually 14 months old. I notice that there aren't quite as many stickers used in his calendar as there were in his sister's, even though I'm sure he reached all the same milestones. Guess it wasn't quite as momentous for me the second time around. I did fill in the family tree in the back, because it was easy to copy it from the other one. Since it was 1988, a presidential election year, we wrote his birth announcement in the style of a political flyer, informing the public that he had "joined the winning ticket" and would be campaigning for "a full diaper pail in every home, and two tricycles in every garage."
So now we come to the third child. Having been the recipient of a sadly minimal third child book myself, I wouldn't have done the same thing to my own third child, would I? No! I had a calendar for her too, although when I first started writing this story, I couldn't find it. It wasn't in the same place I had stored the other two, and I was worried that I had lost it and would never be able to prove I had done just as thorough a job for her as I had for the others. I wrote a whole mea culpa paragraph, which I have now deleted because I finally found her calendar, tucked away in a bookcase in our upstairs hall. It is not by the same company that did the other two, it is much smaller, pastel instead of bright colors, and way too schmaltzy for my taste. Either it was a gift, or it was the only one we could find.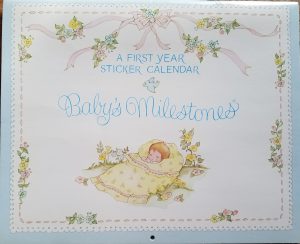 There were 63 stickers instead of 81, so I see that we supplemented them with other types of stickers and some drawings of our own – like a soccer ball when we dragged her along at three months old to the soccer seeding tournament for her siblings. The family tree is filled out, and in some months we wrote answers to questions that are asked, like baby's visitors, sleeping patterns, current events, etc. The final two months are pretty sparse, but that is explained by the entry just before she turned 10 months old that says "Mommy goes back to work" with a sticker of a turtle wearing a hat and tennis shoes. (No idea why we chose that sticker.) So I feel vindicated – I was afraid, until I found her calendar, that it might be as sparse as the pictures in my own photo album, and I'm pleased that it was not. And starting at ten months, we have voluminous records of her daily life, kept by The Perfect Nanny in spiral notebooks.
Whether any of my children will ever be interested in seeing their baby calendars probably depends on whether they have kids of their own. If not, knowing when they got their first tooth, or laughed or waved for the first time, will likely be a matter of indifference to them. But I'm glad I did it, because looking at them now brings back such special memories for me. I wish the calendars had asked for a picture of baby for every month, because I would have put one in if there had been a spot for it, and that would actually be the most fun to see.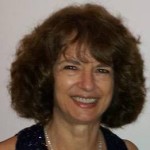 Suzy
Characterizations: funny, right on!, well written