I used to love the evening cookouts or sleeping under the stars that we did lakeside throughout my summers as a camper at the National Music Camp (now Interlochen Arts Camp) in Interlochen, MI from 1964-1969. The girl's side was by Lake Wabakanetta (Duck Lake) and we had a large expanse of sand with a building which housed fireplaces and equipment for fun in the sun. Here we were not competitors, vying for the best chairs in the orchestra, leads in the plays or operettas, or solos in the dance recitals; we were friends in the cabins, just kids enjoying ourselves. We built safe campfires for cookouts, then, as the sun set over the lake, sang songs, roasted marshmallows, ate s'mores. If we were sleeping out, we might tell scary stories, do "finger lifting" ("you are as light as a feather"), sing folk songs, but always end the evening with this favorite (which I just learned while writing this story is known as "Canadian Taps"; we learned slightly different lyrics):
Each campfire lights anew…
The flame of friendship true.
The joy we had in knowing you
Will last a whole life through.
And as the embers die away,
We wish that we might always stay.
But since we cannot have our way,
We'll meet again, some other day.
This would be followed by a hushed version of Taps (Day is done, gone the sun…) as we snuggled in our sleeping bags and drifted to sleep while gazing at the stars.
The counselors ensured that the campfire was safely extinguished, trash disposed of, and all was right in our corner of the world. Camp was built (in 1928) on the edge of a pine forest, now a state park; the air was pure and delicious. Sacred memories.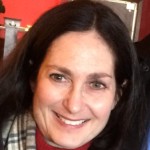 Betsy Pfau
Retired from software sales long ago, two grown children. Theater major in college. Singer still, arts lover, involved in art museums locally (Greater Boston area). Originally from Detroit area.
Characterizations: moving, well written