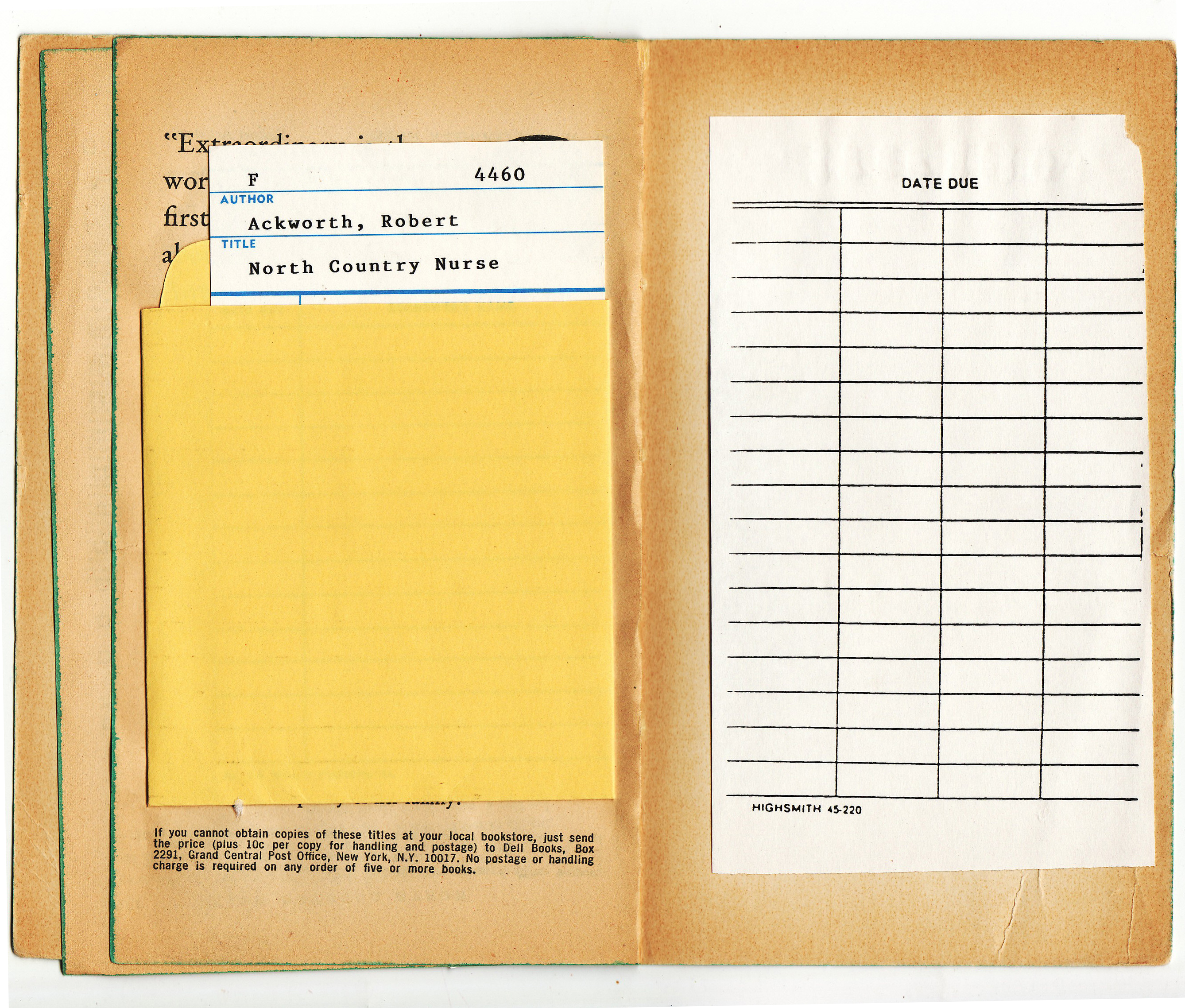 First published on October 19, 2019 for an earlier Libraries prompt.
I would be remiss in my discussion of the Newark Public Library if I did not mention Philip Roth's novella Goodbye Columbus.
Full disclosure: I have not read, or even heard of, North Country Nurse by Robert Ackworth, but when I saw the picture of the little pocket pasted in the book for the checkout card, and the adjacent sheet to stamp in the due date, it made me so nostalgic for the libraries of my youth that I had to make it my Featured Image.
As a child, I frequently walked to the Belleville Public Library, which was three blocks from my house. I remember being excited when I was old enough to get my own library card instead of having to check books out on my mother's or sister's card. That was real independence. The library card had a grid on it, much like the Date Due sheet on the righthand page of the book pictured above. When you checked out a book, the librarian used a special date stamp to stamp the due date on your library card as well as on the card in the pocket of the book and the sheet on the facing page in the book. Then she took the card from the pocket of the book and filed it somewhere. Once you had checked out enough books to fill up all the squares on the front and back of your library card, you would get a new card. That was exciting too. (All you Baby Boomers probably remember this; the explanation is for future readers.)
I can't remember when I first went to the Newark Public Library, a much bigger library in the next town. We went there on the bus, and I'm pretty sure I always went with my oldest sister. Maybe she was doing research for high school papers. I was fascinated with the stacks, which were not like anything at the Belleville Library. There were several floors with tall metal bookcases that reached as far as the eye could see (or at least as far as my young and slightly myopic eye could see). The books were organized according to the Dewey Decimal System, another fascinating thing to learn about. And you could find out where they were by looking in the many drawers of the card catalogue on the main floor. When I discovered the area with books about British royalty, I began checking them out and devouring them. For some reason, that was all I wanted to read for quite a while.
**I would be remiss in my discussion of the Newark Public Library if I did not mention Philip Roth's novella Goodbye Columbus, in which the main character and narrator worked at the Newark Public Library, beautifully described by Roth. Unfortunately, when they made the movie (with Ali MacGraw as a Cliffie the first time), they changed the setting to Long Island instead of New Jersey, so Neil worked at the New York Public Library – the one with the lions out front – instead.**
When I got to college, I stopped reading books for pleasure, since there was so much reading to do for courses. Going to the library became a negative, for the most part, since it was the place you had to go for reading that was on reserve, or to do research for papers. However, at least Hilles, the library in the Radcliffe Quad, had a snack bar on the top floor, which was a fun place to take breaks and socialize with other people. When Hilles was built in the early '60s, they tried to make it as friendly and comfy as possible, probably to entice the Harvard guys to come up to Radcliffe. Up until a year or two before I arrived, women weren't even allowed in Lamont, the Harvard undergraduate library. So I don't know what the Radcliffe students did before Hilles.
After college, in the years before kids, I'm not sure I ever went to a library, except for law libraries, which are a different species altogether. Certainly not a place to go for pleasure!
Shortly after having my first child thirty-four years ago, I became a regular at the Sacramento libraries, at first looking for children's books, then for my own. The children's section of our closest branch has a wonderful selection of books, and a couch where you can sit and read them aloud. And the central library has a whole floor devoted to children's books, and beanbag chairs big enough to cuddle in with a child or two, and many stuffed animals and a large dinosaur skeleton made of wood. Days that were too rainy or too cold or too hot to play outside were often spent at the library.
I also get books for me at the library. Several years ago, we realized that all our bookcases were so crammed full of books, sometimes with one row in front of another, that if we bought any more books we would have to get rid of some of the ones we had. I have made attempts to prune our collection, and indeed we often donate books to the library, which they sell in their little Friends of the Library store. But in general I have just stopped buying books altogether (except for books by Retrospect authors), and only read the ones I can get from the library. There is a great system for requesting books from any branch, and even from other libraries throughout California, and in just a few days the book arrives at my local branch. Unless it is a book that is hugely popular – for instance I am waiting now for Where the Crawdads Sing, and I am number 268 out of 353 holds, so that will be a while.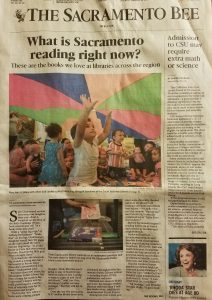 This past summer there was a reporter for the Sacramento Bee who posted a notice somewhere (maybe on Facebook?) that she wanted to talk to people who patronized the library. So I sent her an email, and she contacted me, and we had a long telephone conversation about my library experiences over the years. Then, on the day after my birthday, her story appeared on the front page. And the first two words of the first sentence of the article were my name. She condensed our conversation down to three paragraphs, and got some of it wrong, conflating stories about my two daughters, but it was close enough, and I was on the front page, and many friends let me know they had seen it. This fulfilled an ambition I have had since childhood, which was to have my name on the front page of the newspaper. And I have the library to thank for that!
---
Note re title: Check It Out is a parody of the Taylor Swift song Shake It Off. You can check it out here. And if you've never heard the original song, you should probably check that out too.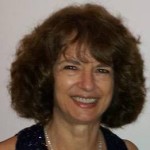 Suzy
Characterizations: been there, funny, well written