Here goes:
Dr. Zhivago:  Saw this in college for the first time. Perhaps the last movie I've seen that is so long it needs an intermission! Gripping from beginning to end.
Saving Private Ryan:  Having been in combat myself, this movie grabs me every time.
Mrs. Doubtfire:  Most of our family has watched this so many times we almost have it memorized. We use, "Brace yourself, Effie!" for many purposes!
O Brother, Where Art Thou?:  We see something new each time we see this one. And the "old timey" soundtrack is fantastic.
Good Morning, Vietnam:  Looks like Robin Williams gets the only second mention. Also another combat movie.
Honorable Mention for the best lines ever – Cher's character in Moonstruck, "Get over it!" and "Snap out of it!" – one to each boyfriend.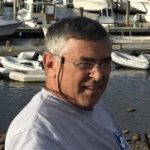 Joe Worth
Characterizations: right on!