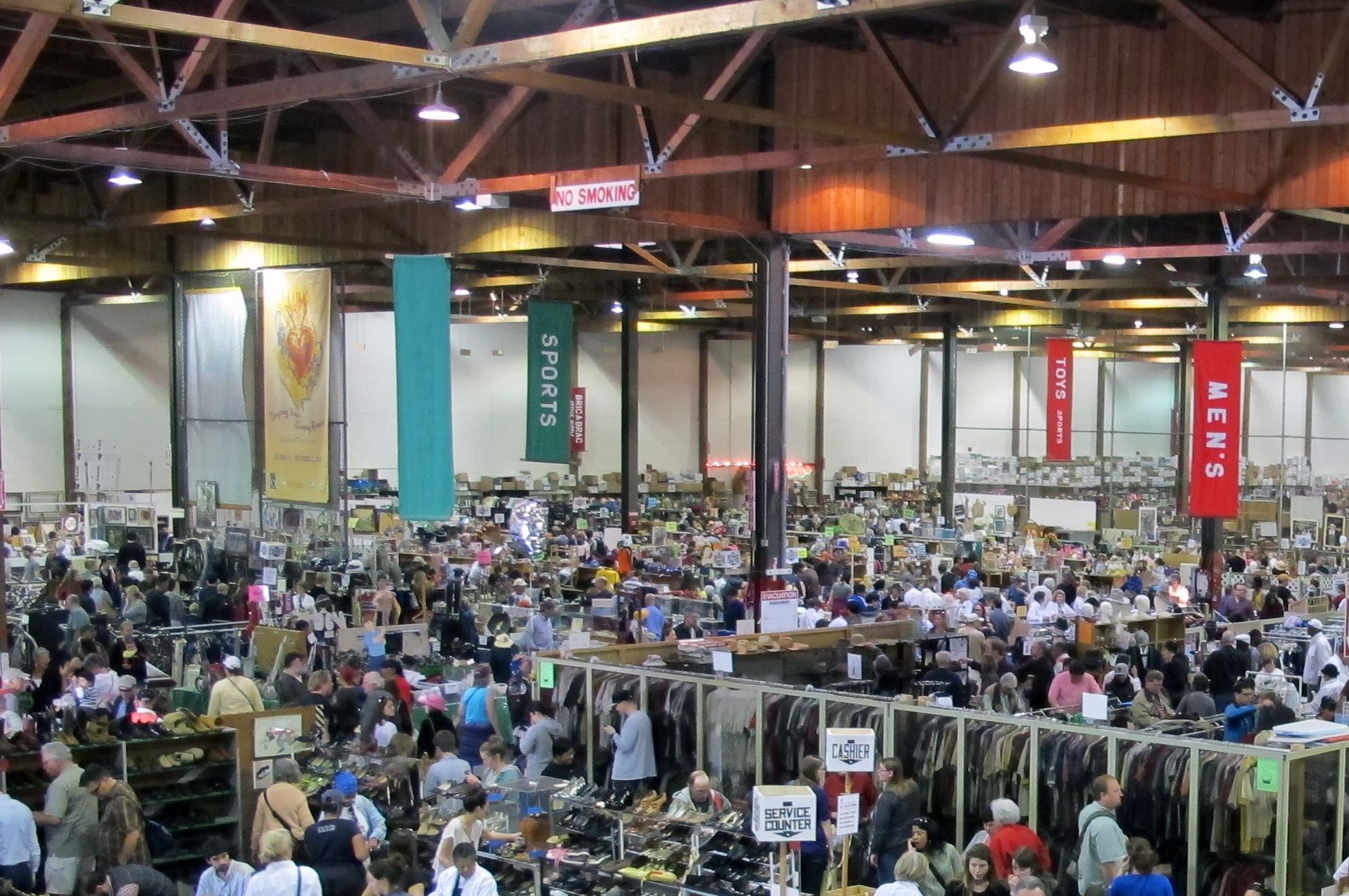 While I've done a lot of volunteering in my time, most of it has been on the professional or educational level rather than strictly in the community. I've written a lot of material pro bono, served on boards and committees, and had a great time for years working on an annual fundraising house tour for Mills, doing everything from scouting potential houses to baking cookies for the attendee receptions. Recently I've spent more dollars writing checks for causes than spending actual hours on them.
The White Elephant Sale raises dollars in the millions for the museum and provides items for people in the community ...
My parents' volunteer work tells a different story. When I was a small child, my mom was very involved with Hadassah and did a variety of tasks–working on rummage sales, coordinating fashion shows, and designing programs. She even gave haircuts, for which the other women paid, to donate the money to the organization. Many years later, now living in Oakland, my mom joined the Women's Board of the Oakland Museum of Art and began working at the annual White Elephant Sale.
People from all over the East Bay and beyond would donate clothing, antiques, books, jewelry, rugs, furniture, and items too numerous to be named throughout the year. The merchandise was stored in a huge warehouse until the time of the sale, which would take place typically in March (except for this year, when it went virtual). The featured image gives some idea of the scale of the warehouse on sale day–it's enormous.
With her interior design background, my mom was a natural to work in the rug and furniture department, hauling around carpets and pricing items for weeks, and then working on sale days. I remember some fun "preview" days and still own artwork, a coffee table, and rugs purchased at real bargains. The sales raise dollars in the millions for the museum and provides items for people in the community who wouldn't be able to afford them at full price. A few years ago my mom gave up her work at the sale when it became too physically demanding for her, but we have donated some of her furniture to the sale as a contribution.
When my father retired at 62 from an executive position, earlier than planned because of a company buyout, we were very concerned about what he would do with his time. Other than taking care of the exterior house chores, he didn't have any hobbies. Fortunately, he was able to consult part time for the same company for a while, and then, through my mom, he began taking an interest in the White Elephant Sale. Dad worked in the book department for several years, and through contacts there became involved with the Friends of the Oakland Library.
This group ran a bookstore in the library to try to raise funds, but the store was unattractive, poorly run, and not turning a profit. Dad saw an opportunity to use his executive skills to help. Over a few years, he helped reorganize the store and streamline the way it operated. Books were offered for sale that attracted the community. My dad coordinated the hiring of a bookstore manager, who kept it running smoothly, and after a while, the store was turning a healthy profit to benefit the library–a crucial resource for the city of Oakland.
When my dad passed away, I was moved by how many people from Friends of the Library showed up at the memorial service and were appreciative of his contribution. We were appreciative as well, for this group gave his last years a real purpose.
With the pandemic and economic situation, the need for volunteering of all types is very great. Last year at this time I would have wondered about the commitment of the younger generations to volunteering, but all of us have received a wakeup call about our responsibilities to the community, to volunteer where and how we can.
Marian
I have recently retired from a marketing and technical writing and editing career and am thoroughly enjoying writing for myself and others.
Characterizations: moving, well written