I cannot inhale smoke.
I recall none of it.
My Mom smoked almost constantly; the smell made me sick. I could not stay in the same room when she lit up. Family car rides featured me hanging my head out the window to get a bit of somewhat less polluted air to breathe. In the winter, when my parents deemed it too cold for that, I'd sit with my shirt over my nose and mouth in a futile attempt to escape the fumes of the evil addiction that eventually killed her.
When I realized that marijuana was a thing, I resisted for a long time because I knew that my lungs and smoke would not get along. Eventually, late in my college days, I broke down and gave it a try. The results were as I had predicted; a lot of choking and no fun at all.
During a night of partying just before graduation, a young lady with a stash helpfully suggested that I add some weed to a cup of tea. We were in her room in the dorm, so she had all the makings to hand. We brewed up, and I added the pot to my cup. In fact, I added an entire generous joint to my cup.
I didn't realize then that this was a HUGE overdose. When you smoke it, the room gets way more THC than you do.
I drank the tea. We hung around in her room with some friends for a while, then we all left to visit other friends at other parties. It was the end of college for most of us; there were many parties. When we left, I was feeling…nothing. No effect at all.
Marijuana, when ingested, takes considerably longer to make it into your blood stream than when smoked. It also takes longer to wear off. Additionally, having been metabolized by your liver (as is anything you take orally) it is chemically altered from pure THC to…other things.
Soon after we arrived at the first party, I blacked out. An odd blackout, because later, various friends told me that for several hours, I went from room to room, party to party, drinking beers, dancing and generally having a great time. Several people mentioned that I seemed considerably less morose than normal. I recall none of it. That night I forever lost three hours out of my memory.
I came back to reality quite abruptly. I heard a banging noise and my roommate Alan's voice calling my name. There was an odd feeling in my face and lips, because the editor of our school paper, with whom I had never had a hint of a relationship, was for some reason attempting to suck my tongue out of my head.
I broke free of her grasp and answered the door. Alan said that he had grown concerned when I suddenly disappeared from the last party, so he went looking. Someone had told him that I had last been seen with Tara, so he tried her room first.
I didn't give pot another try for forty-two years!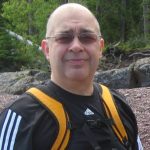 Dave Ventre
A hyper-annuated wannabee scientist with a lovely wife and a mountain biking problem.
Tags: marijuana, edibles, memory