Coming home from a Colorado Army Hospital to South Dakota, first memories.
I was almost 4, and I was at Fitzsimmons Army Hospital in Denver Colorado. I remembered being moved to the long-term recovery ward after a major operation.  It was not a pediatric ward, that was a rare thing in an army hospital. Most of the patients were Korean War veterans recovering from their injuries.  Since I was a US service dependent, the service was my health provider.  I had gotten very ill and the physicians at my family's home station, Ellsworth Air Force Base in South Dakota, could not determine my illness. They sent me to Fitzsimmons Army Hospitals and hoped I would get better care and have the problem fixed there.  Dad stayed in South Dakota, but Mom went to Colorado.  Her mother came from Chicago to take care of my 1- and 1/2-year-old twin brothers, Jay and Teddy (John and Ed).
The army, in their infinite wisdom, gave me a three month stay in the hospital. While they felt they fixed my problem, they did not want to release me, then have me return if problems later reoccurred. During my stay, Mom visited me every day.  I am sure I looked forward to her visits. Soon, I hoped I was going home.
Finally, I was released to go home.  We were scheduled to go back to Ellsworth AFB in South Dakota, a long way from Colorado.  So, air transportation was arranged via the US Air Force's military air transport service (MATS).  I, along with my Mom and a man I don't remember took us to Lowry Air Force Base to await our flight.  Since the flight was on Air Force C-47 or C-54 (the Air Force version of the DC-3 or DC-4), we were all given parachutes.  Of course, I was too small for any of the parachutes, so I supposed to be strapped to a stretcher and thrown out the dying plane in case of an emergency.  The chute was suppose to open a few seconds after I left the plane.  Then, some rescue crew was supposed to find me somewhere in the Rocky Mountains or maybe on top of Mount Rushmore.  Mom did not think it would work, but she had to sign consent forms releasing the Department of Defense of any liability if we wanted to get home.  Thankfully, no problems were encountered on the way home. Today, all of the service's transport planes no longer give passengers parachutes, unless they plan to jump out of them during their flight.  Lowry Air Force Base was named after 2nd Lt. Lowry, the only Colorado pilot to die in WWI but no relation to our family. Another interesting note is most military transports now have their seats rearward facing for safety.
Finally, Mom and I arrived late in South Dakota.  Grandma was there to greet us.  My first question was where are Jay and Teddy since I wanted to see someone near my age. Grandma said they were asleep, and it was off to bed for me.  I'm sure I got a good night sleep.  Sometime in the next few days, Dad took me to a toy store, and I got to pick out a gift.  I don't remember what gift I got. It was good to be home!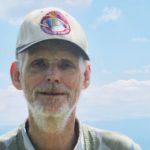 Joe Lowry
I was a child that moved so often, (8 elementary/middle schools) and finally went to to high school in Arroyo Grande California. I ended up at San Jose State University graduating in Chemistry, minor in Biology. Got married, and had two sons. Unfortunately, my wife passed 35 years later. I worked initially in the pharmaceutical industry. After being down-sized, I ended up in the aerospace field, working on satellites. I still live in the San Francisco Bay Area.
Tags: First Memory, Fitzsimmons Army Hospital, Flying Home