It's been fun reading the other stories and remembering all the wonderful magazines we read. Alas, so many are gone! As I looked at old magazine covers online for this story, it struck me how "prescriptive" all the magazines for teenage girls were. Wear this, do your hair and makeup like this, interact with boys this way … It seemed normal back then.
These teen-girl publications lacked content for nerdy girls like me, though.
By the time I was about 10 I was reading Teen, then quickly graduated to Seventeen, which had better articles and clothes. By 12 I'd reached my current height and weight and needed adult clothing anyway, so this was appropriate. When I was in high school I switched to Glamour. By reading this magazine, a girl could anticipate college life, supposedly. I did bond with my mom by reading with her the "back to college" issue that came out in August, I believe. This tome was about the size of the Sears catalog and contained all the latest trends in fashion, makeup, and hairstyles for the coming fall. My mom liked it because, as a textile designer and expert seamstress, she was sincerely interested in clothes.
These teen-girl publications lacked content for nerdy girls like me, though. At least Glamour had the "top 10 college girls," and I believe it was Mademoiselle (which I didn't read) that had young women as guest editors, the most famous of whom was Sylvia Plath.
All through my childhood I loved Mad and read it with my dad, and later, when he was old enough, with my younger brother. What a refreshing contrast to the girls' magazines. The usual gang of idiots was so clever and had a lot of freedom, and the anarchy was preferable to all the rules that the girls' magazines had. There was even, for a while, the Mad Game, an actual board game. I remember playing it at my Uncle Julian's house with him, my dad, and my cousin Steve, and we were convulsed with laughter. My Aunt Ruth, a lovely person but completely lacking a wacky sense of humor, stared at us tight lipped the whole time and finally walked out of the room in a huff.
By college my time was taken up with so much reading that I temporarily abandoned most magazines. However, it was very exciting when Ms. came out. Finally, "serious" articles that weren't about what we looked like. I enjoyed Ms. for many years, and later, when I started working, a magazine called Savvy, which had articles for women trying to advance their careers in what was very much a man's world.
At about that time, I became involved with a local women in advertising group in San Francisco and, when I moved to the Peninsula, was a founding member of the women in advertising group there. Many of us faced challenges getting ahead because we were denied opportunities to learn the skills and have the experiences that would help us. Trade publications still were running help wanted men and help wanted women ads separately. So, we began teaching each other so we would have projects to put in our portfolios and on our resumes.
One of the outcomes was Perspectives, an annual magazine that had articles about women's experience in high-tech communications. We wrote, edited, and designed it ourselves for six years. It was rewarding to see our own perspectives in print. Kudos to Bev, one of my oldest friends who I still see often (now virtually), who designed the cover for the first issue pictured at the right.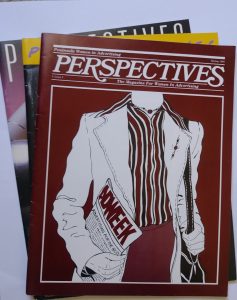 These days I get Hadassah, AARP, and Science magazine in print, and I look forward to them. Hadassah and AARP do cover health (although not exactly beauty), but don't seem as prescriptive as those girl magazines of the 60s. However convenient online publications are, I still relish the IRL experience that comes with holding a magazine.
Marian
I have recently retired from a marketing and technical writing and editing career and am thoroughly enjoying writing for myself and others.
Characterizations: been there, right on!, well written