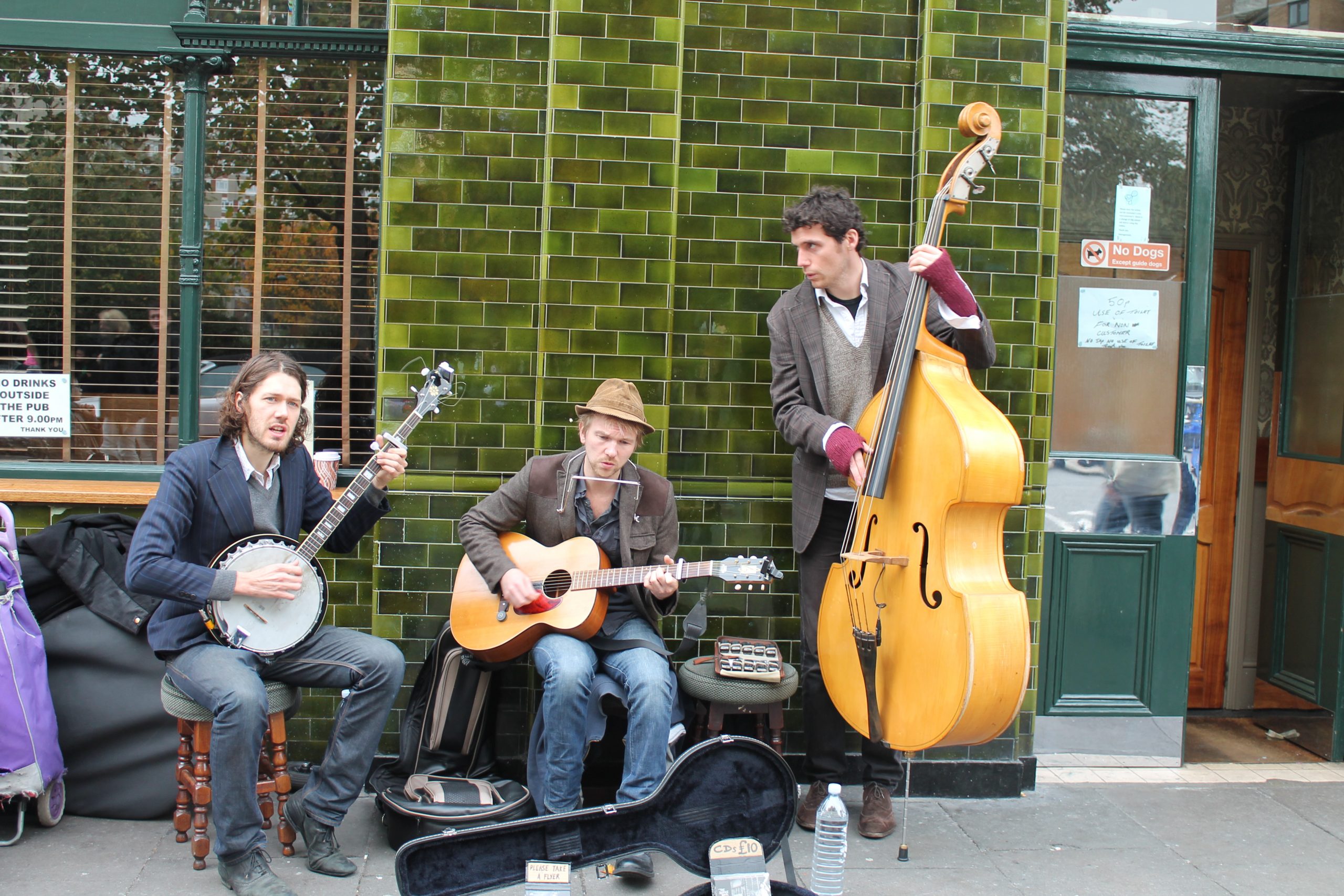 I had split up with but not left my partner. We owned a house together, B. and me. For almost a decade, we had shared the love and care of two great kids, had sung together from California to West Virginia, lived in the Rockies for two winters, traveled the country in a variety of vehicles, all that and more. As is often the case, the breakup was horrendously painful.
"Don't sweat it," I said. I couldn't get the "brother" part out; it stuck in my craw.
We had returned to San Francisco where B. enrolled in law school. Enough of this fooling around for her. I was working in the theater with a salary from a latter-day WPA program. I was also playing jazz in San Francisco's bustling music scene.
I was functioning, but crazy as a loon. I needed a time out, so I packed up my upright bass (gotta keep those chops up), a sleeping bag, a few clothes, tools, and my favorite leather jacket, which I had nherited from my grandfather.
I drove north to visit friends who lived on the Lost Coast of Humboldt county. I felt I needed to make a decision about what my next move would be. Should I move out of the house I had settled in with my surrogate nuclear family and assorted fellow musicians and actors? Should I stay and try to pick up the pieces of my badly fragmented relationship? Or should I leave one theater company for the excitement of a new creative project and a year-long work relationship with S. that promised new love, new worlds, new directions and, as is so often the case, new conflicts?
The sojourn to the beauty of Humboldt's wild coast settled nothing. I started back to San Francisco as conflicted as when I had left, proving that retreat solves little; engagement, painful though it may be, is the only way to work through dilemmas. There was a lot at stake, and I had to return to address the tangled web I had woven.
By the time I completed the long, solo trip back to the city, I was a wreck and still undecided. Should I stay or should I go? I stopped by the home of S. my theater partner heartthrob, and confidante. Working together, we had grown more than close.
I sat in her kitchen, had a beer, calmed down with the benefit of her patience and wisdom. Although we didn't resolve my problems, destiny dictated that I would soon take up residence with a third-party pal, an actor friend who had a spare bedroom. I would move from Andover (over And over And over And over) Street to a new pad on Connecticut (Connect I cut, Connect I cut, Connect I cut) Street. As mentioned earlier, I was out of my mind.
I said goodbye to S. and descended the stairs to my station wagon. My heart stopped. In my road-weary disarray, I had left the back window of the vehicle open. The tailgate was down; everything was gone: clothes, sleeping bag, tools, and my string bass. Gone. Lost. I'm sure you can imagine such a feeling. Anger, self-recrimination, and the case for karmic retribution centrifuged in my skull until my vision blurred.
Time passed. I moved from Andover to Connecticut Street. Set up shop. Found a throaty old string bass and scrambled for the cash to cover it. I began working with the new theater company and sealed the exciting, intense new partnership with my exciting, intense new partner.
Gigs, theater pieces, a life filling in, a new theater company building, terrible happenings in San Francisco, the city hall murder of Mayor Moscone and Harvey Milk, the mass-manipulation -murder -suicide at Jonestown. But the work continued, my relationship with S. deepened. I reunited with the wonderful kids I had lived with for so long. I began to feel whole again.
One evening, S. and I went to see Woody Allen's "Manhattan." The film had become popular and there was a line leading down from Van Ness Avenue to the ticket booth and the theater marquee. An acoustic ragtime band was playing to the waiting line of movie goers.
"Jeez," I said to S. "That looks like my old bass."
"They probably all do," she said. "Probably a little like seeing an ex where no ex is." We shuffled closer as the theater doors opened.
"That really looks like my old bass," I said. You get to know an instrument you play a lot. The outline, the look of it, all the little imperfections.
We drew closer. The band was playing a kind of watery ragtime, hippies in ragged jeans, plaid shirts, funny hats and ponytails.
"Fuck," I said. "That IS my bass." I walked up to the band, very cool. The guy playing my ax was no thief. "That's my bass," I said.
The poor guy looked like he'd just killed his mother. "Oh, no," he said. The other guys responded with a soft chorus of "oh, wows" and "dangs."
"Look on the inside," I said. "You'll find a serial number '4-2-1' hand-written in ink on the label. It's a Thompson. And there's a chipped corner on the inside cornice of the bridge, right…" I put my finger on the broken bridge cornice. "…right here."
"Oh yeah, man. Oh, wow. Sorry, man," the bass player said. The other musicians nodded in chagrined agreement. "Bummer, man."
"Yeah," I said. "Bummer." I felt very pre-possessed. "So where'd you get the bass?" I asked. "Don't worry. I know you didn't steal it."
"Oh no, man. I sure didn't."
"Okay," I said. "I don't wanna know."
"Oh, okay, cool."
So," I said. "Here's what we're gonna do."
"Sure, man. Whatever. I sure am sorry."
"Don't sweat it," I said. I couldn't get the "brother" part out; it stuck in my craw. "Just give me your driver's license and your phone number. We're gonna go in and watch this movie, and tomorrow, I'm gonna call you. When we meet, you'll give me the bass, and I'll give you back your driver's license."
Nods and assents from the possessor of stolen property and his voluntarily culpable music mates.
Through it all, S. stood by. Although she had a sharp eye for human behavior and a lightning articulate tongue, she also frequently quoted Kenny Rogers current hit, "The Gambler." You got to know when to hold 'em/know when to fold 'em."
The bass player gave me his license, apologizing all the way through the transaction. Sad but sweet in an apocalyptic sort of way. San Francisco. 1978. An apocalyptic time.
My partner and I went in and watched Woody Allen indulge in one of his earlier explorations of pedophilia. Mariel Hemingway played a lovely teenager who was laughably unbelievable as the adoring girlfriend of the scrawny, balding, funny man. He almost redeemed himself with one of those Allen overtures with New York City and George Gershwin serenading each other.
Through the film, I felt surprisingly composed, whole. I felt an unfamiliar peace buzzing in my gut like a warm roll. When we emerged from the theater, the little ragtime band was gone. The next day I called the unfortunate musician and picked up the bass.
#  #  #
Charles Degelman
Writer, editor, and educator based in Los Angeles. He's also played a lot of music. Degelman teaches writing at California State University, Los Angeles. 
Degelman lives in the hills of Hollywood with his companion on the road of life, four cats, assorted dogs, and a coterie of communard brothers and sisters.
Characterizations: funny, right on!, well written