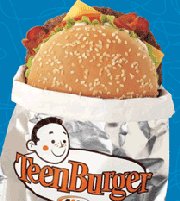 You always see stories and comic strips about teenage boys eating refrigerators. I was a skinny teenage girl, and this is what I ate on any given day:
7 a.m. – Raisin Bran
10 a.m. – Frozen/thawed/reheated bean burrito from the snack shop at school
12 p.m. – Brown bag lunch by Mom: Two (2!) sandwiches (one lunchmeat with cheese, one PB&J), bag of chips, chocolate chip cookie, apple
2 p.m. – Snickers bar from the corner pharmacy where I worked after school
3:30 p.m. – A&W Teen Burger while out on my rounds delivering prescriptions for the  pharmacy
6 p.m. – Dinner (for example: meatloaf, mashed potatoes, peas, frozen fruit cocktail sliced into rounds)
8 p.m. – Ice cream or more cookies, or both
YUM!
KCS
Characterizations: funny