I wasn't that keen on going to see the Bilbao museum—a lot of crazy ballooning silver swaths of Frank Gehry fantasy that didn't seem to have any conversation with the landscape or history of the place.  What sort of megalomaniac would design that–or his other signature architectural pieces?
Exploring the unexpected.
And yet, once inside, it was impossible not to be entranced by the space and the light.  And perfectly situated in a large open area was the Torqued Spiral installation by Richard Serra, a deceptive maze of huge curved and rusted metal.  Wandering into and through those towering walls revealed mysteries of new angles and shadows.  Overall a feast for the eyes but only fully experienced by physically moving through it–how could you not smile?
Immersive art attracts and enchants.  Cloud Gate ("The Bean") by Anish Kapoor in downtown Chicago always has a crowd around and under it, its silver curves reflecting the sky, the clouds, the buildings and people in constantly changing distortions.  Everyone snapping compulsively with their mobile phones.  Nearby, Crown fountain by Jaume Plensa–water flows down a tower of electronic faces to a shallow depression in a stone plaza full of happy children running through it.
We visited the Orangerie in Paris in 2022—a special oval gallery built to display the massive Monet water lily exhibit.  I had no idea it was so huge. You could sit on the benches and be surrounded by the colors of the pond in sun or shadow, imagining yourself at Giverny.  They required gated tickets to keep the crowds down.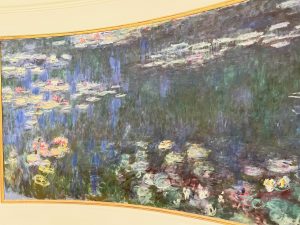 We also made it out to the Bois de Boulogne to the Gehry-designed Louis Vuitton modern art gallery where just wandering through the space was enough.  But there was an exhibit– "Splinter" by Katharina Grosse–with brilliant colors splashed across the floor, the ceiling and the walls with light from a window playing across it.  It took our breath away; we felt like excited kids.  And then a little girl ran enthusiastically across the floor.  Yes!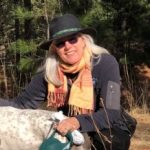 Khati Hendry
Characterizations: been there, moving, right on!, well written