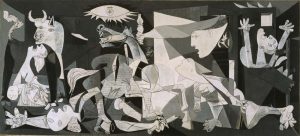 Even at the dawn of artificial intelligence and the deluge of electronic and digital data,  art continues to hold sway over human awareness. From 40,000-year-old cave paintings through theater's perennial survival, from the 5,000-year-old epic poetry of Sumer to graphic novels, art has reflected our life experience and defined and uplifted our sense of self and community.
What works of art have impacted you? Can you briefly describe a piece of influential artwork and how it moved you?
Think back to Art's Impact and write forward!
Start Writing