I was probably eleven when, for a rare treat, my mom took my sister and me to see a movie.  It was My Fair Lady. Since this was clearly a special occasion we dressed up and, inexplicably, I was allowed to wear stockings. Please note that in that day these were thigh high and held up with a garter belt. Of course I have enjoyed seeing that movie many times in the ensuing years. That night I don't know what I could have told you about the film, being totally focused on the mystery (and damned discomfort) of being ushered into an adult secret world.
I was stopped dead in my tracks one day when a young coworker said she had never worn pantyhose.
Fast forward to a full time office job and the continuous expense of pantyhose. Did you buy L'eggs brand in the plastic egg? I kept a bottle of clear nail polish in my desk. When your pantyhose got a run, you attempted to stop this unraveling by painting a gob of clear lacquer onto the hose. Of course it seeped through the hose and adhered to your skin. As the day wore on, the hose would stretch out, but that spot glued to your skin stayed in place, giving a draped old-theatre-curtains effect. So attractive. I am sure no one was fooled.!!

Fast forward again, to the new millennium. I was stopped dead in my tracks one day when I overheard a young coworker telling a friend she had never purchased, indeed never worn, pantyhose. Hussy! Wait, maybe not. Time for me to adjust to a changing world once again, and embrace the bare legs look?
I turned to the arbiter of all of life's big questions and did a Google search for when to go bare. One clue..most answers were several years old. A more sobering answer was that panty hose might be worn in more formal situations like court!   Farewell, the mysterious rites of women's fashion hosiery. On to greater glories. Support hose, anyone?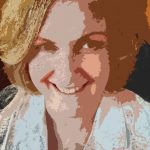 Susan
Characterizations: been there, funny, right on!, well written