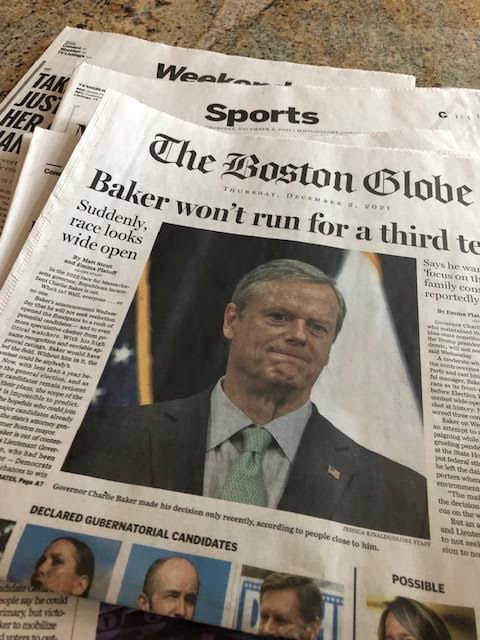 When first married, we lived across the street from a supermarket. Sunday mornings, Dan would run across the street and buy a Sunday Boston Globe. We whiled away the day reading it, relaxing before going to dinner at his parents' home.
We moved and the paper wasn't as readily available. I always subscribed to Newsweek to get my news quota. As the years passed, we'd pick up the Wall Street Journal or the New York Times in the office. Once I was home with our children, we subscribed to home delivery of the Boston Globe, more than 30 years ago (we change the subscription from time to time, as deals come up that make it more cost-effective). We transfer it to our Vineyard home in the summer. We enjoy reading it daily.
We used to take the Sunday New York Times as well, but it would just stack up, unread, so we canceled that, though we do have a daily online subscription. A year and a half ago, I got a deal for an online subscription to the Washington Post. They update their site throughout the day and I enjoy many of the op-ed writers. I get a mid-day email from them with news highlights, "The Daily 202".
But the Globe remains our "paper of record". Dan would go straight for the sports. I read it cover to cover. With COVID, delivery has been erratic. They keep increasing the price. Dan now reads it only on his iPad and just skims it. Since the arrival of the Orange Monster, he can't stand the news. He is lobbying me to dump the paper subscription and save the money. I am resisting. I dislike reading everything online. The glare off the screen is hard on my eyes. And I don't like the form factor.
A friend who had also been a long-time subscriber missed his delivery for several days. He asked his neighbor what was going on and learned that there was NO MORE home-delivery in his neighborhood, a fact The Globe never mentioned to him. He called, they offered him an e-subscription. In a fit of pique, he cancelled altogether (they also charge in advance). It is infuriating.
We went to London for a month in December. One can only put the paper on vacation hold for three weeks. Longer than that and you have to change the terms of your subscription to online, only at a different price point. So I did that for the time we were away. However, we discovered that it came with only one email log-in (after a frustrating morning, where Dan threatened to cancel our regular subscription and go to all online when we came home, he just logged in as me, as this happened the day before we flew. I had not been informed of this when I switched. Ah, the things they DON'T tell you).
The paper was supposed to resume the day we came home. It did not. I called in the failure a few days electronically, then finally spoke with a human, who apologized and said he would get on it. The next day, all the missing papers showed up, with a mysterious note about substitute carriers and where do we want the paper put (we live on a corner and I want it at my back door, but since returning from the Vineyard, the carrier hasn't figured that out, so I have been content, so long as it really is on my doorstep, not on the side walk). It again did not show up on the Sunday after the snow fall – two days after the snow stopped. Sigh. E-reader for me. It may well be on the street, but I'm not going out in my bathrobe and slippers to search.
The Globe has been publishing for 150 years. These days, they seem to buy a lot of their news from the AP or the NYT. They can't afford to keep as many journalists around the globe as they used to. They seem grateful for their subscribers, but they really need to do a better job of delivery if they want to continue with the print edition.
I prefer reading my paper in paper format, though I know that is dying. Just yesterday, I clipped an article for my files. I like seeing everything laid out for me, not having to click through. But I am a dinosaur.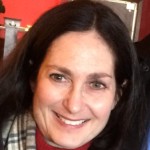 Betsy Pfau
Retired from software sales long ago, two grown children. Theater major in college. Singer still, arts lover, involved in art museums locally (Greater Boston area). Originally from Detroit area.
Characterizations: funny, moving, right on!, well written