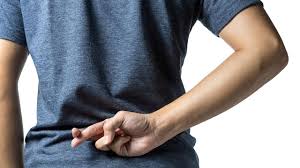 The first time I lied about my age, I was five years old. It was my parents' idea. Our family was visiting the United Nations in New York – perhaps one of my older sisters was studying it in school – and to get in to the General Assembly gallery at that time you had to be at least six. No problem, my parents would simply say I was six. They coached me on what to say if anyone asked me a question, like what year I was born or what grade I was in.
After I skipped a grade, I routinely started lying about my age, saying I was a year older so that I would seem to be the same age as my classmates. It didn't seem like a big deal.
Only once did age-related lying cause a problem. At National Music Camp, which I have written about before, they placed campers in cabins very strictly by birthdate. My first year there I was in one of the youngest cabins, cabin 3, with 9 other girls who I really liked, all of whom had birthdays between April and September of 1951. The following summer. there were three times as many campers our age, so those from the previous summer were spread out among three different cabins. The April and May birthdays were in cabin 8, the June and July birthdays were in cabin 7, and the August and September birthdays (including me), were in lowly cabin 6. I was miserable. I didn't like the girls in my cabin, and spent as much time as I could with cabin 8 where my friends were. (All my besties had April or May birthdays.) That was a no-no, you were supposed to have cabin loyalty and not go running around with another cabin. When I got my report card at the end of the summer (yes, this crazy camp issued report cards), I got "improvement needed" in citizenship, and they said I wouldn't be invited back unless I promised to behave better.
So I made the promise and got invited back. When we were filling out the application for the next summer (yes, they made you apply every year), my parents got the bright idea of putting down 1950 for my birth year instead of 1951, so that I would be in a cabin with girls who were in my grade. Nobody at the camp noticed the inconsistency, and I found myself in a much higher cabin, which was great. But at some point someone figured it out, and when my parents came to visit, they got summoned to the Director's Office and yelled at for lying on the application. I wasn't kicked out, or forced to move to a younger cabin, and the rest of the summer went fine. But I was NOT invited to come back after that.
That didn't teach me that lying was wrong, only that it was time to move on to another camp that didn't base everything on your age. In fact, I continued lying about my age pretty consistently until I turned 30, when I decided it was time to stop making myself older. Of course, after about 39 I started lying to make myself younger, on the rare occasions that anyone asked my age.
And age isn't the only thing I learned it was okay to lie about. My mother lied about the tooth fairy, and I did the same with my kids. It's such a charming custom, when your tooth falls out, put it under your pillow and the tooth fairy will take it away and leave you money. I got twenty-five cents per tooth, but when my oldest daughter received that amount for her first tooth, she complained that all her friends were getting more. I said, "oh, they must have a different tooth fairy who pays better." But after that, our family's tooth fairy started paying more as well. If they lost or swallowed a tooth when it fell out (baby teeth are so tiny!), they carefully wrote a note of explanation to the tooth fairy so she would still leave them money. Here is one of Sabrina's notes:.
And here is one of Ben's from about the same time, thoughtfully illustrated in case the tooth fairy didn't know what ice was or what snow cones were: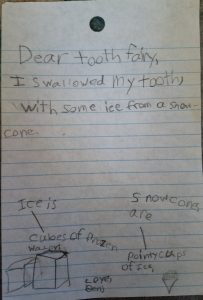 Parents lie to their children about Santa Claus too. Mine didn't, because we didn't celebrate Christmas, but most did and still do. When my children were young, I had to caution them not to tell their friends that there really wasn't any Santa Claus. That honesty would not have been appreciated by either the children or their parents.
One of my favorite family stories is about the benefits of a lie. My father was applying to medical school in the Thirties, when you had to write your religion on your application, and there was a quota on Jews. He applied for nine consecutive years and was turned down everywhere every year. The tenth year someone advised him to write "Lutheran" on his application. That year he was accepted to Hahnemann Medical School in Philadelphia. He went on to have a wonderful career as a doctor, which he probably would never have been able to do if he hadn't lied on his application.
Another time when honesty was clearly not the best policy occurred when I was a senior in high school. My oldest sister, already out of college and married, was visiting, and she and my mother and I were sitting around talking. For some reason, my sister asked me if I had ever tried marijuana. I said yes. My two sisters had been pathbreakers for me on many issues, but they had never used drugs, so this was a first for my mother. She wanted me to promise that I wouldn't do it any more. I said "no, I can't make that promise, because I know that I will." We had this conversation on and off for weeks, and I kept thinking I needed to be honest with her. Finally I realized that the only way she was going to be happy was if I lied to her. So I made the promise. Of course I broke that promise within a week or two. But she was happy.
I've lied about many other things too. When someone asks "how do I look?" or "do you like my new haircut?" I always give the nice answer instead of the truthful answer. On the other hand, once, after I had sex with a guy, he asked me how he compared to the other guys I had slept with. I actually told the truth – you were better than A or B, but not as good as C. Afterwards I thought that I should not have been so honest.
It's difficult to come up with a rule about when honesty is necessary and when it isn't. It reminds me of the Potter Stewart definition of pornography, "I know it when I see it." Certainly honesty was always paramount in my legal career, because it was important for my clients and my opponents to be able to rely on my word. In my marriages I have tried to be honest as well. In other situations, it can be efficacious to bend the truth a little.
It would be nice to think that political leaders were honest, but I'm not sure that has ever been true, probably since George Washington. (I was crushed when I found out the cherry tree story was a myth.) In 2003, Al Franken wrote a book called Lies and the Lying Liars Who Tell Them, about the George W. Bush administration and Fox News, and their lack of honesty. Needless to say, the current occupant of the White House has taken lying to a whole new level, where he lies about everything, whether it is important or not, and even if there is proof that what he is saying is untrue. Honesty is something he is simply not capable of. The horror that I feel whenever I hear him tell his lies makes me realize how valuable honesty is, in a way that perhaps I never did before.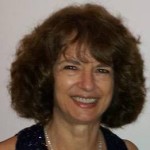 Suzy
Characterizations: been there, well written