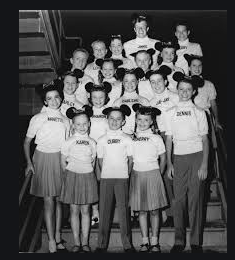 I shouldn't be surprised that I now have such problematic arthritis in my toes that I've needed two surgeries in six years. It began when I was a child. My chiropodist had me wear arch supports in my shoes and walk up and down the hallway of my Detroit house, doing special exercises to try and strengthen my feet.
I, however, wanted to watch TV in the late afternoon. I had already given up practicing piano. Too many distractions. I tried to march up and down that hallway on a regular basis, but dammit, my brother was in the den watching the Mickey Mouse Club Show.
The allure was just too great. I wanted to be in there too, singing along with Jimmy Dodd (wasn't Roy vaguely creepy?), "M-I-C, "See you real soon", K-E-Y" WHY? Because we LIKE YOU? M-O-U-S-E." That was the first great jingle that I remember. The Mouseketeers were our friends and idols. The boys might have fantasized about Annette, but I loved Bobby Burgess. We enjoyed "The Adventures of Spin & Marty", "Zorro" ((I liked Guy Williams too), Darlene, when she was featured in some adventure; Karen & Cubby. Far too tantalizing for me to do those boring exercises.
Those advertising geniuses on Madison Avenue advertised candy for us youngsters during these TV shows that we so enjoyed and they are embedded in my mind. Here a few that come to mind: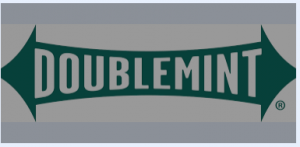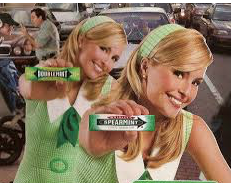 This is a newer version of the twins; the jingle that sticks in my mind is: "Double your pleasure, Double your fun, with double good, double good, Double Mint gun". I preferred Juicy Fruit.
Though I never cared much for the candy, they had a wonderful cartoon and jingle that I can still sing.
"Choo Charley was an engineer…Charley says…love my Good & Plenty, Charley says…really rings my bell"…  Does that ring anyone else's bell?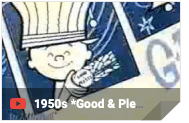 This jingle is iconic (I'm Chiquita Banana and I'm here to say…), and Carmen Miranda became the famous Latin dancer associated with and copied for the look (perhaps she was the model for the banana spokes-model; I don't know who came first). But as I listened to the jingle, I realized that what I remember is a phony take on it. The real one was an infomerical, introducing the fruit to the US market, telling consumers of its benefits, how to let it ripen, store it and its health benefits. The banana was still considered exotic in the early '50s.
One of the most iconic jingles becomes the source of enlightenment for the ultimate Mad Man, Don Draper in the final episode of the award-winning TV show of a similar name. Coca Cola (a former client; my company did testing for the roll-out of New Coke…no comment) is legendary for its wonderful advertisements. One of its best was:
I'd like to buy the world a home
and furnish it with love.
Grow apple trees and honey bees
and snow white turtle doves.
I'd like to teach the world to sing
in perfect harmony.
I'd like to buy the world a Coke
and keep it company.
It's the real thing…
We could use more harmony and love today, even if I don't drink soft drinks and when I did, I preferred grape Fanta as a teen and Mountain Dew when I was a stage manager in college, calling a show. I had a pyramid of empties up in my light booth along side my prompt book. I had no idea it was so highly caffeinated. But that reminds me of a great folk song I sang in my youth, sung along side my beloved camp counselor, Grundy, of an earlier Retrospect prompt.
Wahoo, it's mountain dew…
They call it that good ole mountain dew, dew, dew,
And them that refusin' it are few.
You can hush up my mug, if you'll fill up my jug
With that good ole mountain dew.
(Not advertising for the soft drink, but really fun to sing; it is true – I do not have a whiskey-soaked voice but I did figure out multimedia.)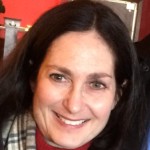 Betsy Pfau
Retired from software sales long ago, two grown children. Theater major in college. Singer still, arts lover, involved in art museums locally (Greater Boston area). Originally from Detroit area.
Characterizations: funny