Mademoiselle Moulin. Miss Windmill.  
That's what her name meant
Though I'm not sure she 
Taught us that or 
Necessarily wanted us to know
Petite
But square with cropped red hair
A kind of Buster Brown
In peasant pants and big buttoned top
Dallas not Paris was her home
Wherever 
She was born and grew up
She came to us with a smell
Different from my mother
Who favored Yardley's
Mademoiselle's 
Scent was enhanced by
Her bike ride to school
And the small yard which she cut
With her push powered mower
Living alone
If that's what she did
Seemed to agree with her
And we only incidentally
Wondered why she was a miss
Ageless
Intense and slightly irritable
It wasn't clear she was meant
For children and only now
I wonder about her life
She drew
Large hilarious protruding lips
On the blackboard in 
A valiant effort to move our
New French words farther forward
Americans
Swallow their words keeping 
Them locked in their throats
And mumbling their meaning
She said let them out
On her chalkboard
La Tour Eiffel took shape and
And a whole new take on French poodles
Who often sported berets
Like the one she wore
Un petit effort
And months and years of exposure
To the sounds from her mouth and
From the LP's on the turntable
Introduced us to the larger world
Of a woman
Herself a long-playing record 
Well-aged when we first met
And timeless to me today
Miss Moulin and her big lips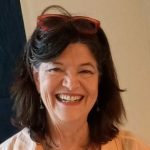 Jan Fox
In the 1950's, storytelling on the schoolbus was my entertainment. By the mid-1970's, storytelling in the courts had become my profession. Today and always, storytelling set to music and sung from the heart is my joy.
Characterizations: funny, moving, right on!, well written