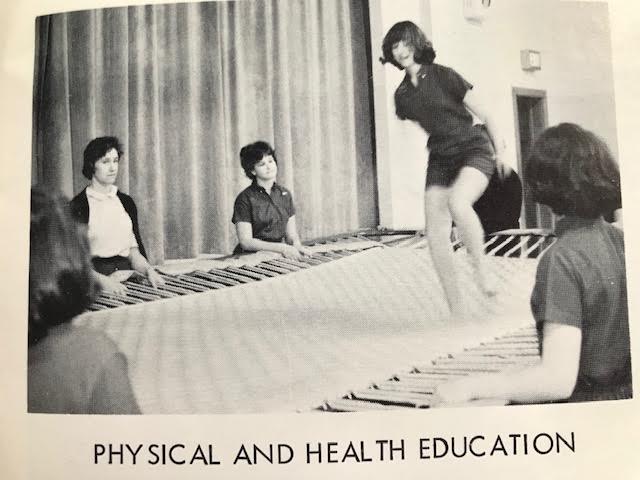 Let me be clear. I am not an athlete and never enjoyed any sort of organized team sport. Just built that way. So PE was definitely not my thing. I am barely 5′ tall, small-boned, terrible hand-to-eye coordination. Great sense of rhythm, good dancer. Yes, dancing is good exercise. Anyone done a Zumba class? So I was always picked last for any team activity in PE class (even Red Rover…I wasn't strong enough to break through the line). I couldn't serve the ball over the net in volley ball. I do have strong legs, so I was pretty good at kick ball, just not very fast at running the bases.
The Featured photo is from my 7th grade yearbook, so an actual PE photo. The woman in the white blouse was our instructor and we wore those (blue) uniforms to class for two years. They came home on Fridays to be laundered. The trampoline was fine. I rather liked the bouncing and could do a few tricks. I was truly awful at most of the rest. The one part that I liked, even in grade school was square dancing. Learning the calls and proper moves was really fun. I'm not sure it gave us a good workout, but it was different and kept our minds engaged, as we listened to the calls and moved to them.
I understand that part of the role of PE was just to let us work off steam and get us moving after sitting so much of the day. That certainly has it merits. And for those who excel athletically, it gave them a chance to shine, which was also nice. But it was always a frustrating part of my day, as I was so bad at most aspects of PE class. But I'd get a good grade for effort. I always tried.
By the time I got to college, they did offer Modern Dance as a form of exercise, so I'd put on my black leotard and trod to the gym. Of course, I was happy with that. I picked up choreography quickly and would sail through class. We also had to pass a swim test in order to graduate. That was a state requirement and I was fine with that. We took swimming in high school too. I had to remove my contact lenses for that class and putting them back in, in the busy, crowded locker room was always challenging. I was not a strong swimmer, but I enjoyed the water and could pass all the tests, so was fine being in the pool except for the strong smell of chlorine, which was off-putting.
At Brandeis I used to swim for exercise, then take a relaxing sauna after. There was a notorious professor who was frequently in the sauna with all the co-eds, a very handsy professor. We all knew that his wandering hands would be all over our bare legs in the sauna (we always wore our bathing suits – no nude co-ed saunas). In fact, it was sort of a joke around campus. This was long before the #MeToo movement. We just pushed his hand off of us. Of course, he would be fired today. Times have changed.
I have changed too. I still don't like team sports (except watching them, of course), but I am in the gym six days a week, taking Barre class, Pilates, Core Synergy and my own workout on a recumbent bike and a machine circuit. So maybe the lessons from PE class were somehow embedded in my psyche after all.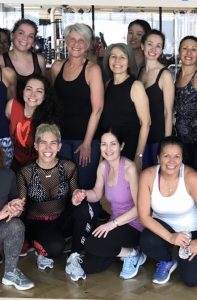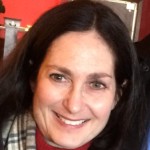 Betsy Pfau
Retired from software sales long ago, two grown children. Theater major in college. Singer still, arts lover, involved in art museums locally (Greater Boston area). Originally from Detroit area.
Tags: Square dancing, trampoline, modern dance, workouts
Characterizations: been there, moving, well written