On Sunday nights in Detroit, it was good Jewish deli food for our family. Darby's was the destination, either eat-in or take-out. Built by Sam Boesky (whose brother Ivan was the disgraced financier of the insider trading scandal of the mid-1980s), it could hold 375 people and served 5,000 hungry people daily.
My parents and brother got sandwiches with pickles and coleslaw, but I had to have mushroom barley soup (the broth was darker than in the Featured photo). The taste was something else, beyond delicious, and the soft barley made it hearty, filling me completely. It satisfied some longing deep inside me. I frequently couldn't even finish the large portion.
Once we moved out of Detroit to the suburbs, our Sunday night habit was forsaken and I never tasted that deliciousness again. I read that Darby's burnt down in 1968.
We do not have great delis in the Boston area, so I haven't found a comparable soup here. We used to visit friends who had a home outside of Palm Springs. Dan would play golf with Roger (now, sadly, deceased). There are two locations of Sherman's in Palm Springs, which is a good Jewish deli and they serve mushroom barley soup, much to my delight. I would often order it there, even though it was warm weather. To my mind, it wasn't as good as Darby's, but it satisfied the inner child in me. Our friends' house in La Quinta is now sold, so no more occasions to travel to Palm Springs, or visit Sherman's.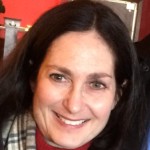 Betsy Pfau
Retired from software sales long ago, two grown children. Theater major in college. Singer still, arts lover, involved in art museums locally (Greater Boston area). Originally from Detroit area.
Characterizations: funny, right on!, well written