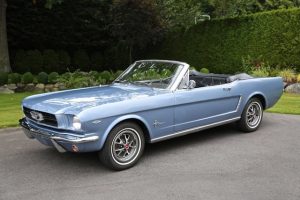 Boy, Mustang, beautiful girl. Life is good.
I inherited my brother's purely functional Chevy II when he went off to college.  (A family friend tested cars for Consumers Reports and he was able to buy his test cars very cheaply and so passed on to us at cost a Chevy II he had just tested.)  But in the spring of 1966 (my junior year in high school), my father rewarded me for being a pretty good kid by saying that I could trade in the Chevy II for a Mustang.  As I recall, Mustangs listed for about $2,100 then and convertibles for $2,400, though I knew that the guy who owned the dealership was a patient of my father's and that there was probably some sort of a deal involved (that's why they call it a "dealership," right?).  Having thoroughly research the topic — i.e., read the brochure inside and out — I chose a metallic blue convertible with the optional 289 engine; after all, why not have a teenage boy drive a truly overpowered car? I do not have a picture of my car, but the attached picture is exactly what it looked like.
I used to drive some of my pals from my neighborhood to and/or from school most days.  My favorite passenger was Katy, whom I had known for years.  In fact, she was my first "girlfriend," but then had the audacity at age 6 to abandon me for first grade, since she was a year older than I was.  Nonetheless, we remained good pals.  It also helped that she was beautiful and incredibly cool, even if too old for me.  I even remember that her senior year she was doing research for a paper about this hallucinogenic drug that the US Army had experimented with in the 50's.  It was called LSD.  And she looked so sexy and sophisticated smoking, I even let her light up in the car, much as I hated the smoke.
When I mentioned that spring morning that I was going off to the Ford dealership right after school to pick up my new Mustang, Katy asked if she could join me.  Thank you, God.  So we went to the dealership and I did the paperwork to trade in the Chevy II, get the Mustang and have them transfer the plates.  As soon as Katy and I got into it, we put the top down — though it was still pretty chilly — and, of course, found the local Top 40 radio station.  We joked that the first song we would hear had to be "Mustang Sally," which Wilson Pickett had just released.  No such luck, but it was the Beach Boys' "Sloop John B," which was almost better.  So off I drove, with the top down, pedal to the metal, radio blaring, and beautiful Katy next to me, smoking (in several senses of the word).  That was, of course, decades before cell phone cameras, but, if there had ever been a perfect moment for me to take a selfie, that was it.
John Shutkin
Characterizations: been there, well written