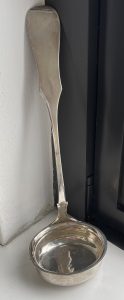 A Family Heirloom, treasured, but never used.
Grandma  Rose was a bit of a snob. An immigrant, she  arrived in New York harbor in 1906 with my 5 year old father and 3 year old uncle in tow, to be reunited with my grandfather who had made the voyage a few months before.  Unlike most immigrants,  the family did not come to the US for  economic or ethnic reasons,  but because of  political pressures. In Rose's mind,  this gave  her more intellectual status.    (Rose  bragged  that they did not sail to America  in steerage,  but when I recently found  the manifest of their ship, it clearly noted that they traveled in……..  steerage. Yes indeed,  Grandma Rose was such a snob)
My grandfather, a barber, evidently made a good enough living to buy a house in the Bronx.  No lower east side tenement for their  family.   And to add to their status, Rose had shlepped  some really high end belongings  from their  home in Odessa.   My  father took possession  of two of the  things that were impressive:  a large brass samovar and an enormous sterling silver ladle.
We  never used either of these items.  Using the samovar for boiling water for tea was highly impractical in a modern American 1950's kitchen, since coal had to be heated in an  attached narrow chimney.  And the ladle, although lovely, was too heavy and awkward to use.
So the samovar was stored in the closet, never to make an appearance in our home.   But my father would polish the ladle and admire its great heft and shine.  I imagined the great dinners my Russian grandparents has hosted with the impressive  silver ladle and I would run my fingers over the Cyrillic letters engraved on the back of the handle.  It was so grand and elegant  and spoke to me about the  life they had left in Odessa.  The ladle would then be put away, never, ever to be used.
My mother was very much the opposite of Grandma Rose.  She was so  efficient and  careful with money that I would  call her "cheap".  "No", she would say "I'm frugal."  She would walk blocks and blocks to save a few cents  and meticulously kept track of every penny she spent.
Mom would regularly attend a senior center called "JASA". One day I called her and she excitedly told me that a gentleman had addressed the senior group and offered to come to the house to appraise and buy items.  And the item she had sold him was the Russian sterling silver ladle!  And he paid her the  ridiculously low price of 15 dollars!  I was apoplectic with anger. How could my mother have sold this family heirloom?  Even though it was never used, it was a connection to our family history and my roots.  And the shyster had  paid my Mom  only $15!  I was furious. I called JASA to get his phone number and  luckily the goniff picked up the phone.  As politely as I could, I explained that not only was this a treasured family belonging, but was worth far more than $15!  I told him how proud my grandmother was of this ladle and all it represented. He returned the ladle and I gave him $15.
I have packed away the ladle in a protective covering, and like my father, I love looking at it.  I have never used it, but I will never sell it.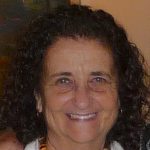 Sara Gootblatt
Characterizations: funny, right on!, well written