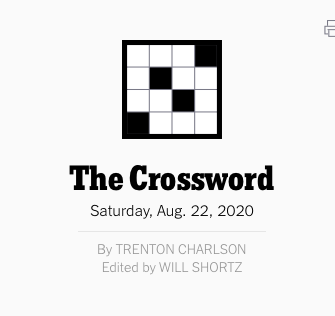 I know the perception is that I have excellent recall of events long-past, but trust me when I tell you, this is a mere shadow of how I used to be. I already know I am losing it. Part of this is due to a migraine prevention medication I've long taken called Topamax. It is known to cause word-loss and a bit of confusion. I've taken it for at least 18 years and know that I am not as sharp as I once was. Some wags refer to the drug as "Dope-amax", but if it helps me (which I know it does, as I had to go off it for a while and I was miserable), I'm willing to pay that price.
I've never been good with brain-teasers, crosswords or the like. I find writing these weekly stories to be enormously gratifying, if time-consuming. They do help me with word and memory issues better than any game I could devise. I have to genuinely THINK, use vocabulary, memory, be creative. One of the reasons I write ahead is because I like to get my thoughts down, let the story marinate, then go back and see if I can do better; come up with a better word, turn of phrase, of course look for typos or missing words that are so easy to miss no matter how many times one proof-reads. Part of my lack of enthusiasm for games has to do with spatial relations (I have none; why I don't golf or play tennis). Others in my family are fantastic at it. Vicki is truly gifted.
I believe my continued singing with my choral group is another way to keep my brain in tune (pun intended). Continuing to learn new music (we were working on a Stravinsky Mass when COVID shut us down last March; I have no idea when it will be safe to resume) is challenging, as both the notes and the time signature can be difficult to learn. Our director goes over each choral part during rehearsal time, but is pleased that, as a group, we have become better at sight-reading. We had drills on it in our top high school choir, of which I was a member in 11th and 12th grades. It is a learned skill, but, like most other skills, use it or lose it. As I creep toward the age of 70, that is a muscle that needs flexing as much as any other in my body.
Dan, in retirement (18 years and counting), looks for ways to keep busy. For a while he was doing the New York Times crossword puzzle on Sundays (we only get the Sunday print edition). Then he discovered the online version. He really enjoys that, as he can come back to it, get hints, never has to worry about erasures, can always get a new one easily, can even travel with it.
Then he discovered the "spelling bee".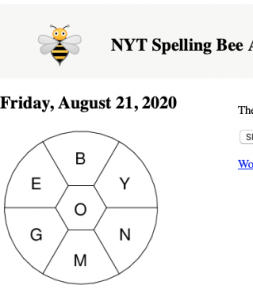 This is some sort of letter jumble or anagram. You are supposed to make as many words as possible out of the letters given. He would play this ad naseum on the house computer (in the very public den, which is the computer I use all the time too) at Christmas time when we had all the family home. Vicki always spotted new possibilities, Anna would add another word. It was a group effort and lots of fun to engage when was everyone around. Sort of an on-line Scrabble, something else I am not very good at. I just don't "see" the patterns in the letters. My brain doesn't work that way.
Vicki, as a youngster, liked to play "Hangman" with our neighbor on the Vineyard (we were back and forth in each other's homes all day). Mara still talks about being beaten by the word "sphynx"; a fiendishly good word on my child's part.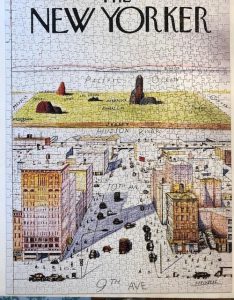 Dan also enjoys jigsaw puzzles. These days, he's working on the 1,000 piece variety, usually covers of New Yorker Magazine. They are very difficult, with lots of white space. He pines for help from Vicki (who is 3,000 miles away). Again, she has that knack for just walking by, picking up a piece and just KNOWING exactly where it belongs. Incredible! The one pictured above was a recently completed project on my Vineyard dining room table. Now what to do with it? So Dan does all these games to try and remain sharp.
When it first came out, we used to love playing "Trivial Pursuit", particularly with our friends Roger and Francine. That was a blood sport. Now we watch "Jeopardy" at night after the network news. Each of us can run certain categories, but again, I can't access the names as quickly as I used to. Many years ago I tried out for Jeopardy when they held auditions in Boston. Out of about 100 people in the room, I was one of a dozen who scored highly on the written test to make it into the pool of people who might get called during that taping season and got a little trial audition so the producers could see how I'd perform live. I confess, I wasn't great "on my feet". The buzzer timing is very difficult, even if you know the correct answer. I was nervous and not as vibrant as I usually am. The twelve of us remained in the potential applicant pool for a year, but I was never called to Hollywood to tape a show. That's OK. At least I made it as far as I did. Now I know my recall isn't fast enough to even do that.
So I write these stories (constantly looking up the spelling of words), searching my memory for good stories from my past. That's what keeps me going.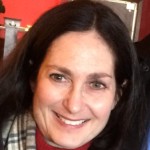 Betsy Pfau
Retired from software sales long ago, two grown children. Theater major in college. Singer still, arts lover, involved in art museums locally (Greater Boston area). Originally from Detroit area.
Tags: Topamax, word loss, puzzles, Jeopardy
Characterizations: been there, right on!, well written