All the males in my family changed their names. That is, everyone had a nickname and none of us liked the ones we were given. So:  My father, known as Buddy, until he went to college, became John, which matched his birth certificate.. In the next generation, Burr (short for Burgess, his middle name) became Joe which is of course the common nickname for Joseph, his first given name. Jay became John (I don't know why Jay didn't suit him). I moved from Teddy (hated being called a Teddy Bear) and became Ed (which you know as "Mr. Ed" on this site. Much better than Teddy, don't you think – especially since it goes so well with my picture.) Willie (short for William, of course), became Bill. He simply announced one day he wanted all of us to call him Bill.  No one questioned his decision, and from that day on, he was Bill. Years later, he said he had no idea that Bill was a common nickname for William. There was simply another boy down the block named Bill, and Willie thought he was cool, so he would be Bill as well.
I'm not sure what my parents would do if they had it to do all over again. … and my mother said all she wanted was one girl.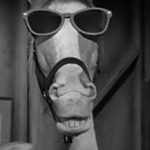 Mister Ed
Characterizations: funny, right on!