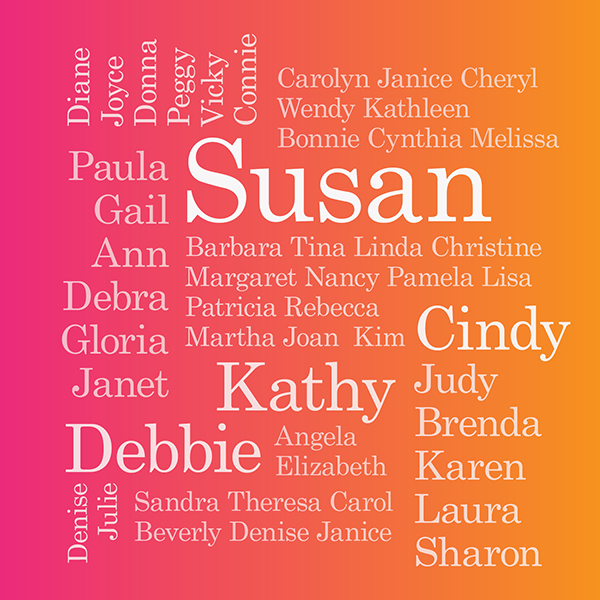 Why did my parents give me the most popular girl's name of the Fifties (as shown in this Word Cloud)? I guess they just liked it. They didn't know there would be 5 Susans in my elementary school class and we would have to use our last initials all the time to differentiate us. Or that in my college class of 300 women, Susan would be, by my own actual count of everyone in the Freshman Register, the second most popular name, with 17 of us. And since I lumped Katherine (with all its different spellings, including starting with a C), and Kathleen (with K or C) together as all the same name, which they arguably are not, and there were 21 of them, Susan might technically have been the winner.
Why did my parents give me the most popular girl's name of the Fifties? I guess they just liked it.
As I stated in the first sentence of The Name Game, my 2020 story on the Nicknames prompt, "My name is Susan, but please don't call me that." I have rarely been called Susan, other than by elementary school teachers (when I got to a new school in 7th grade I started insisting on being called Suzy), or in my professional life as a lawyer (so judges and opposing counsel would take me seriously).
In the Jewish tradition, babies are named for ancestors who have died. However, my mother always decided on the name that she wanted to use first, and then found an ancestor to relate it to. Susan was said to be for my paternal grandfather Selig. He died when my father was seven years old, so my mother never met him, and my father didn't even know him that well. But he provided the necessary S initial for my first name. My middle name is Patricia, which is for an ancestor named Fanya. How does that relate? Because a cousin, named after the same Fanya, had been given the name of Phyllis, which has the same beginning sound, even if made by a Ph instead of an F. Then the P at the beginning of Phyllis justified my name of Patricia. A tenuous connection, perhaps, but good enough to satisfy the naming traditionalists.
Another Jewish tradition, if an unspoken one, is changing one's last name if it sounds too identifiably Jewish, because of anti-Semitism. My parents changed our family name around the time they moved from Indiana (where my father was stationed during the war) to New Jersey, in 1947 or thereabouts. That means that both of my sisters were born with the old name, and I was the only one who always had the new name. However, all the official documents – including my sisters' birth certificates, my father's medical license and diplomas, and my parents' marriage certificate – were reissued with the new name, so there is no trace left of the old one.
People often ask me what our name used to be, and I say I don't know. I do have some idea, because my father's sister used a different surname, which was probably closer to what it was in the old country. But I don't choose to tell people even that much. What's the point of changing your name, if everyone knows what it used to be anyway? I had a roommate once who would introduce her boyfriend by saying "this is Bill _[WASPy name]_, but his last name used to be _[Jewish name]_." I thought it was very annoying. I don't know if it bothered him or not. But I wanted to be sure that never happened to me.
My family is in good company. Many Jewish entertainers have changed their names. Steve Lawrence (whose birthday was yesterday) was born Sidney Liebowitz. Tony Curtis was born Bernard Schwartz. Kirk Douglas was born Issur Danielovitch. Could they have had successful careers if they had kept their birth names? Somehow, I doubt it.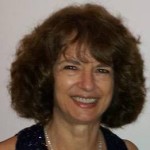 Suzy
Characterizations: funny, moving, right on!, well written