Misspelled words always jump off the page for me. How lucky I am.
Spelling problems are primarily peculiar to English language, based on its strength of incorporating foreign words. My Russian instructors said that spelling bees would make no sense for Russian speakers, but that indicating where the accent goes on a particular word is a challenge.
Although some say French spelling is awful, it is remarkably consistent. The French may not pronounce, at least to our ears, all the letters in a word. French speakers tell me they are there for a reason, and that they're all perfectly placed.
RetroFlash/100 Words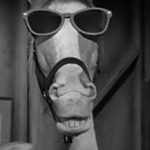 Mister Ed