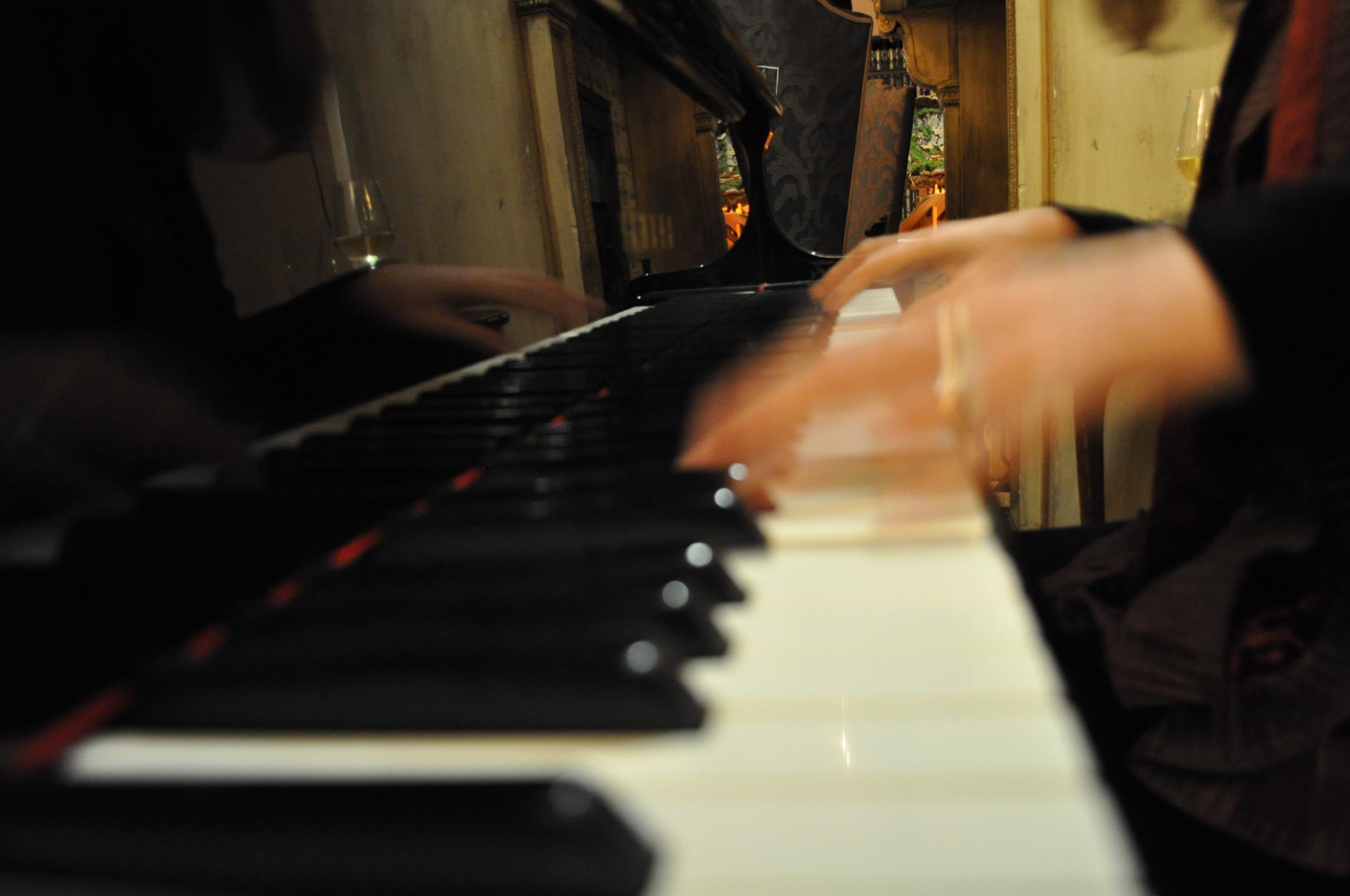 I perch on my padded piano bench, inhale the mingled scents of jasmine, Jo Malone, and musty French cheese. I sip a glass of Agrapart Champagne, contemplate the months ahead of me, and marvel at my good fortune. The summer of 2011 offers more than the typical number of castle weddings. This year, we'll be hosting a gaggle of international couples, who will tie the nuptial knot in a location that meets storybook expectations.
Pianist Robin Meloy Goldsby recalls a handful of unique, international weddings, as seen from the other side of the Steinway. Here comes the bride . . .
I've reached the point in my career where I'm playing for the second weddings of some of my previous clients. Creepy. But this summer—all newbies! First timers with a peeled-egg patina of loveliness, pretty children dressed for adulthood, a wash of youthful optimism in a world grown sour. I cannot think of a better way to snap out of my fifty-year-old funk than sitting behind a grand piano and playing songs to accompany the hopefulness of young love.
I have musician friends who play for weddings in barns where guests end up naked and dancing on rooftops. I know of one wedding that featured an ensemble of 100 elementary school flutists, standing in a field, playing "Moon River." My father once played for a Fourth of July wedding that included the reenactment of Slovenian immigrants arriving in America by boat—a group of babushka-clad women (including the bride) rowed across a swimming pool in a rubber raft to simulate their ancestors' arrival on American shores.
I do not play for these kinds of weddings. I would, but no one asks. My weddings tend to be subdued. Upscale, elegant—the kind of events where everyone eats and drinks for hours but no one suffers from bloat. My weddings are studies in silk shantung, seed pearls, and restraint. Picture an English garden in a German castle. Roses, lavender, fifty shades of ivory. Multi-lingual servers in dark suits pass trays of tasty tidbits to bejeweled guests who never seem inebriated, despite bottomless glasses of pricey swill.
For most of these events I sit in the corner of a fancy hall, a hotel lobby, or a garden and play tinka, tinka for serene, occasionally joyous guests. Let the summer of international weddings begin.
The Turkish-German Wedding
Today's Turkish bride has requested Coltrane music. This alarms me, as I am not a jazz musician. But I shall play "My One and Only Love" and "Angel Eyes" and hope for the best. She also requested "Greensleeves." She has hired a DJ for the Turkish-music part of the program. Something for everyone—a musical potpourri.
The ceremony takes place at city hall, home to one of the Germany's finest Steinways. I adore this Model "D"—I've gotten to play it a handful of times and it's like riding on a cloud. The local music school uses the town hall for recitals, so they keep the piano primped and primed for action.
The crowd gathers as we wait for the downbeat. How nice to see two cultures colliding in a good way. German groom, Turkish bride. Anticipation builds. The groom's family, conservatively attired in dark suits and chalky linen dresses, hovers across the aisle from the Turkish contingent, which features older women in embroidered head scarves, younger women in jewel-toned silky dresses, and men with biceps bulging under their snug suits.
Here they come. The bride and groom march in together accompanied by a recording of a Turkish love song. The Turkish side cheers. I sit at the Steinway and wait for my cue. I love this. I think there should be more cheering at weddings.
I play "My One and Only Love" to polite applause, but alas, no cheering. I play "Greensleeves," about as well as I can play it. I cruise through "Over the Rainbow" and Bach's "Air on a G-String." We finish with another rousing Turkish recording of celebration music. More cheering.
Following the ceremony, I keep playing while guests dig into a huge heart-shaped fresh strawberry pie and drink champagne. Turkish and German parents park their over-dressed and chubby infants in strollers next to the piano and the babies, like a troop of synchronized sleepers, drift into a love-themed afternoon slumber.
The Cookbook Guys and the American Bride
I love the Cookbook Guys. I have played for this persnickety and wonderful group of gentlemen for nine years. They book overnight rooms at the castle, dine at the Michelin 3-star restaurant, and then, after they've consumed ten courses of broiled quail's eggs and skewered truffles, they come to the bar for cognac and whatever. I'm the "whatever" part. I play for them from midnight to two in the morning. Each year the event is quiet and classy and—even though it's way too late—a delight for me.
This year, when I arrive at the castle at 11:30, I'm horrified to see a conga line of wedding guests (from another party) snaking through the main hall of the castle, around the very grand piano I am scheduled to play. The bride—an American woman wearing what looks like a 1975 Bob Mackie creation, leads the line. She is skunk drunk and singing "I Will Survive" at the top of her very developed lungs. June is bustin' out all over. Chaos at the castle. Who is responsible for this madness and why is the bride wearing beaded fringe?
What will happen when my suave Cookbook Guys catch wind of this?
The cacophony comes from the back salon, where a musician is running his keyboard through a flanger. He cranks the wedding party into a squealing frenzy by performing a playback medley of German carnival songs and Gloria Gaynor disco hits. Oh my God, is that a smoke machine? And a disco ball? The piano man is just doing his job, but since I am about to do mine, I'm tempted to cut his cables.
My Cookbook Guys, slightly snooty and the type of men who do everything possible to avoid scenes with the Great Unwashed, are currently in the gourmet restaurant, blissfully unaware of the Studio 54 misfire happening in the lobby. Like every year, they expect to stroll into the bar to listen to delicate music and sip their hundred-euro brandies.
What to do.
My colleagues are the best. I grab the banquet director by the shoulders, tell him we have a looming disaster, and persuade him to wrangle the bride and her braying group of line-dancers back into the private salon. The bar manager, my hero, single handedly moves the piano (a Yamaha C5) from the lobby into the bar—a job that involves rearranging the heavy bar furniture, removing one of the French doors to the room, and taking the lid off the piano. After the big heave-ho, he flicks his wrist,  tosses some rose petals on the piano, and lights a dozen votive candles. The Cookbook Guys sashay into the bar, completely unaware that they were seconds away from walking onto the set of Nightmare on Disco Street.
I put on my calm piano-hostess face and greet my Cookbook Guys. The adrenaline has woken me up and I get through the late night gig without my head crashing onto the keys. Periodically I look over my shoulder, through the closed glass doors, and see the bouncing bride and her cohorts cavorting through the lobby in drunken clumps. But it remains quiet in the bar—just me, a very large piano, seventy-five Salvador Dali lithographs, and twenty-two Cookbook Guys.
On his break, the musician from the wedding stops by to say hello. "Wow," he says. "It's really quiet in here. Too bad. We've got a real party going on next door."
Before I leave, I stop in the salon to say goodbye to him. He is playing "Mandy" and the bride, nearly popping out of her Cher dress, dances alone in little circles around his keyboard. She sings a different song—I don't know what it is, but it's not "Mandy." Maybe it has some of the same notes.
I say goodbye to the musician. I accidentally step on the train to the bride's dress as I am leaving. She doesn't notice a thing.
The All Indian Wedding
The next weekend, I play for an Indian wedding reception. Wow! I'm tempted to start snapping photos from the piano, but that would be indiscreet. Management tells me these are famous Indians, but, being a total idiot about Indian culture, I don't recognize any of the names or faces.
I can't help but feel I am the wrong musician for this job, but the gathered crowd seems appreciative and happy. The bride's aunt has requested "A River Flows in You." A lovely piece, but I wish I knew an Indian folk song or two. Or perhaps I should have invested in that "Bollywood's Greatest Hits" fake book.
I have never seen such beautiful attire—saris in bright silks—saffron, emerald, magenta!—with elaborate embroidery. Handsome Indian bodyguards loiter around the piano. They are protecting someone important. I spend much of the gig trying to guess which guest is the VIP, a fun little Piano Girl game I like to play in a crowd like this. The guards stand with their arms across their chests, without ever blinking. I love a man in uniform, even if the uniform involves a saber. I try to get them to smile, but to no avail.
Confession: I have a little crush on CNN's Dr. Sanjay Gupta—I so admire a man who can look sexy while discussing gastro-intestinal problems—and there's a guy hanging out by the staircase that looks like him, except taller. My God. Everyone here looks camera ready, airbrushed, serene.
Here comes the bride. Just as she arrives, a ray of sunshine pierces the cloudy day, gleams through an oversized window, and illuminates her flawless skin. Her sari sparkles. We are blinded by the light.
The Japanese-German Wedding
The Japanese bride at tonight's wedding looks like a human hummingbird wrapped in meters of expensive white tulle. The German groom, normal size by European standards, seems hulk-like next to his fragile wife. We're celebrating in a Baroque castle nor far from where I live. I don't like the pianos in this place. Call me a diva, but I can't stand playing a K-mart piano in a venue that charges 18€ for a piece of cake. The gracious father of the groom likes my music and has insisted on renting a good instrument for the evening.
The bride's favorite song is "Fly Me to the Moon." I play it, but she doesn't recognize the melody. Lost in translation, I guess. Poor thing. She has been decanted into a wedding dress with a corset so tight that it may well have cut off blood circulation to her brain. I've never seen a fully formed adult with such tiny features—button nose, wee hands, and feet the size of my fists. Why does a woman this small need a corset? She is ethereal, translucent, Disney-like. If it wasn't for her puffy gown, I could slip her into the lining of my suit jacket and take her home with me.
Pocket Bride's white dress has a mile-long train on it. Her dear mother has to tame the train every time her daughter stands. They are seated next to the piano, and one stumbling incident almost results in the three of us being smothered by Pocket Bride's dress. Death by tulle. There are worse ways to perish.
All musicians know the importance of plotting an advance escape route for the speech-making portion of a wedding reception. Once a speech starts, you can't sneak off the bandstand without looking arrogant, obnoxious, or downright rude. If the speech begins before you get out of Dodge, you are stuck onstage forever, forced to smile politely at endless stories about people you will never see again. Great Uncle Wolfgang's delightful reminiscences of a 1957 hiking trip to Schweinfurt might amuse members of his own family, but to you, the hired help, these charming recitations feel like verbal torment, especially if you need a potty break.
At this particular wedding I ignore my own advice. I'm trapped onstage—between Pocket Bride's dress and a towering arrangement of white orchids. No escape. Several translators have been hired for the evening. Each formal speech—and there are dozens of them—is slowly and painfully translated into Japanese. The Japanese speeches are translated to German. It's like the United Nations, except without the little earpieces and notepads. One gift exchange ceremony takes about two months. My cheeks cramp and my face freezes in a smile position.
Pocket Bride's mother gets up, successfully navigates her way past her daughter's dress, and comes to the piano. She bows. I bow. Ah, she wants to play. She sits on the bench and plays a dirge-like piano solo that is very beautiful, very Japanese, but the most mournful piece of music ever played at a wedding. I can't leave the bandstand so I stand to the side, nodding solemnly and pretending to understand the artistic intention of her solo. Did someone die? A grandparent? Maybe I missed something when I zoned out during the speeches.
And now, how about dessert?
Uniting two cultures through marriage isn't easy. Everybody wins, but everybody loses, too. Compromise, the cornerstone of every marriage, plays an even greater role when two people go beyond borders in search of lasting love. Tokyo or Munich? Kimono or dirndl? Sushi or Sauerbraten? Sake or beer?
I play my last notes of the evening. For the sake of Pocket Bride, for the sake of all of us, really—I hope love will find a way.
I bow twice and say thank you three times.
Doumo arigatou. Thank you. Danke.
*****
Robin Meloy Goldsby is a Steinway Artist. She is the author of Piano Girl; Waltz of the Asparagus People: The Further Adventures of Piano Girl; and Rhythm: A Novel.  
Newest book: Manhattan Road Trip, a collection of short stories about musicians. Go here to buy Manhattan Road Trip!
New piano album: Home and Away, Goldsby's latest solo piano album, directly from the artist, at Amazon, or from your favorite streaming channels.
Sign up here to receive Robin's free newsletter. A new essay every month!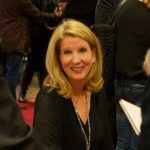 robingoldsby-de
Robin Meloy Goldsby is the author of Piano Girl; Waltz of the Asparagus People; Rhythm; and Manhattan Road Trip. She has appeared on National Public Radio's All Things Considered and Piano Jazz with Marian McPartland. Robin is a Grammy-nominated lyricist and has received a Publishers Weekly Starred Review for her book, Piano Girl.. A Steinway Artist and cultural ambassador with artistic ties to both Europe and the USA, Robin has presented her reading/concert program for numerous women's organizations and embassies worldwide.
Characterizations: funny, right on!, well written