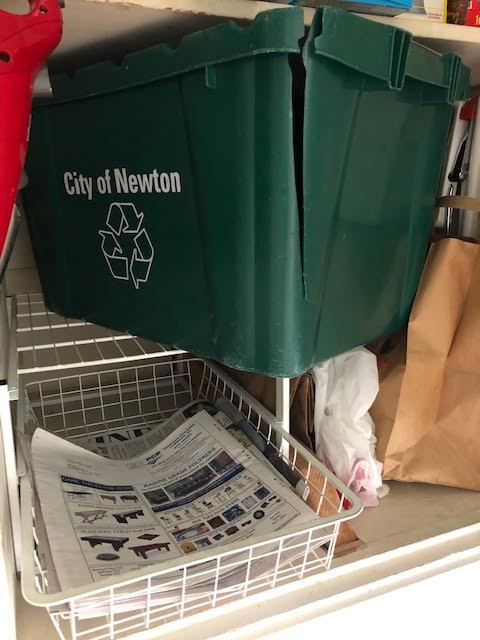 I am lucky to live in Newton, which is a very progressive city of about 200,000 people. They have good schools and services. They began a curbside recycling program of newsprint in 1971, just a year after the first Earth Day, followed in 1975 by adding glass and cans to their bi-monthly curbside pick-ups. That program disbanded a few years later. They tried again in 1981 with mandatory paper recycling and always had recycling at their Rumford Avenue site, a collection point to gather all sorts of household items including recyclables, oil and paint cans, light bulbs and the like.
We moved to Newton in 1986. In 1990, 2-stream weekly curbside recycling became mandatory; that is, we bundled our newspaper, and put clean glass and cans (with the labels peeled off) in green containers provided by the city, as seen in the Featured photo. I still keep that container in my home, as a convenient spot for all recyclables on their way to the big dumpster in my garage.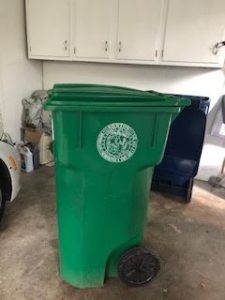 In 2009, the city adopted single stream recycling and all households got the large, green bin (as well as a blue bin for trash). Now we can mix all forms of paper, cardboard (I have to keep reminding my husband about the toilet paper rolls), as well as glass, plastic, aluminum. Though everything must be washed, it no longer has to be separated. I am careful to remove staples before I throw away old groups of paper, or bags that come from delivery services or the pharmacy.
With all the takeout we've eaten this year, there have been several news articles about what is and isn't recyclable. First, everything must be CLEAN. We can't have food clinging to the side of the container. That can be difficult with greasy food. Then I read that some of the black containers, even with the recycling logo, aren't really (they have different numbers in the center and companies don't really want them; just the clear plastic). So this is a point of confusion. I used to recycle the take-out pizza box, but realized that was not OK due to the grease on the bottom.
And now that China won't take our waste material, is has become a dilemma. We want to do what is right for the environment by not adding more waste, but where is all this waste going, how is it being processed, does the processing add more pollution to the environment? The solution isn't as simple as it used to be and I don't necessarily feel as virtuous as I once did.
Nevertheless, I am grateful that Newton remains such a progressive community and continues to do it's part to try to solve these looming problems.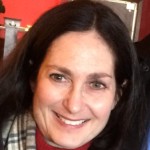 Betsy Pfau
Retired from software sales long ago, two grown children. Theater major in college. Singer still, arts lover, involved in art museums locally (Greater Boston area). Originally from Detroit area.
Characterizations: been there, moving, right on!, well written