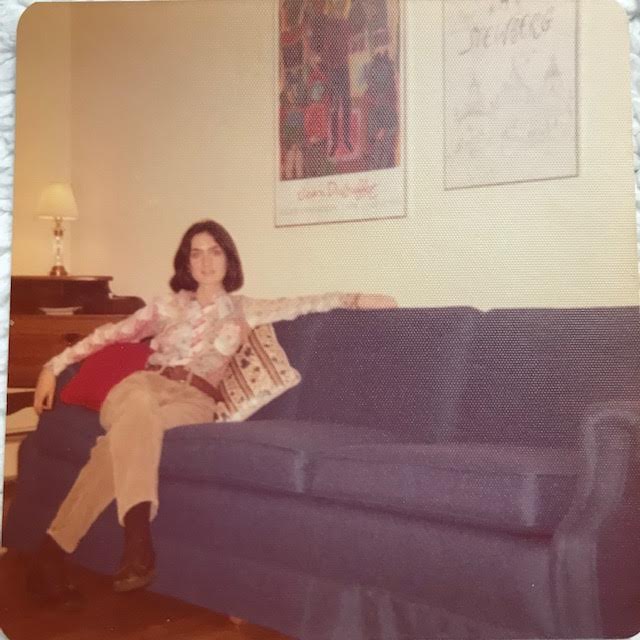 We married after I graduated from Brandeis in Waltham, MA in 1974. I went home to Huntington Woods, MI to prepare for the wedding. Dan lived in the Boston area with his parents, so found our first apartment at 1105 Lexington Street, in Waltham, almost in Lexington. He worked in Waltham and within two months, I would work at the same company, a few miles from our apartment, which was a small complex on a main street across from a strip mall containing a large grocery store and several other smaller stores. Down the street was "Wal-Lex", a roller-rink, now long gone. The apartment also had good access to Rt. 2, which Dan took to Cambridge, as he started Harvard Grad School that autumn.
On Sunday mornings, Dan walked across the street to the grocery store, picked up the Sunday Boston Globe and two 3 Musketeer Bars for us to savor as we read the paper. Ah, for the days of youthful metabolisms that allowed for such indulgence.
There were several buildings, all alike, around a parking circle, though we had assigned parking behind the squat building and entered from the rear. The trash dumpster was close to our parking, and just beyond was the enclosure to a somewhat grimy pool. I don't think I ever used it, but it was packed with young families in the summer.
There were four apartments on each of the two floors, and less expensive apartments (tile instead of wood floors; poor window views) and coin-op laundry in the basement. It was a two-bedroom apartment. We bought some furniture (blue and red, Ethan Allen traditional), some was lent by Dan's parents. My parents even sent a few fine old Baker tables. Bridesmaids provided a large box of kitchen essentials. My wedding gifts filled out the pantry with the dishes, kitchen ware, cooking needs, linens; all the essentials and many decorative items.
We bought shelves for the living room and a large desk (Dan wanted a really big one for his computer print-outs) at the Door Store in Cambridge.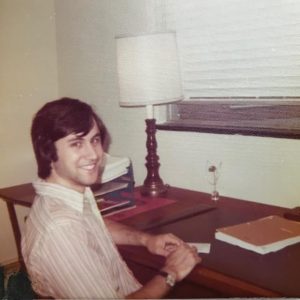 Our pride was a Delft lamp on an end table in the living room. Our bedroom bureaus had been Dan's grandmother's. With a large, early first anniversary check from my father, we bought a Queen Anne's embroidered wing chair and end table. The rest of the money paid for Dan's grad school.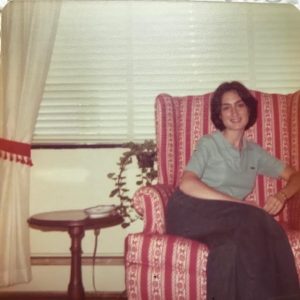 Of course, the the kitchen and bathroom appliances were pink, which didn't go well with my blue and red color scheme, but nothing to be done about it. Our dining room table was a round bridge table and chairs, a gift from my parents' best friends. That was among the most practical gifts given, traveled from home to home and remains in my basement; is still taken out when I have a large number of guests for dinner, as my current dining table does not expand.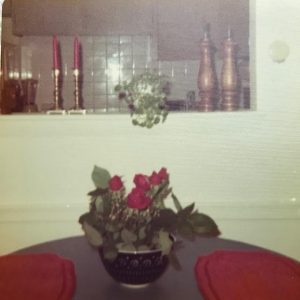 We had many guests and visitors during our two years of living in the apartment. I regularly had college friends over for dinner and out-of-town cousins and other friends were welcome to stay in the second bedroom. Other guests were less welcome.
We had no dish washer or disposal. I had a trash bin under the sink, but, after bringing in groceries, at times became lazy and left a bag out for trash. One day, early in our marriage, before I even had a job, I picked up a full bag to take it out back and throw it away. A cockroach crawled out onto my arm. This Jewish girl from the suburbs screamed bloody murder and dropped the bag, spilling contents all over the floor. After I recovered my composure, I cleaned up and quickly threw everything in the dumpster outside. I tried to be more careful with the waste material, but it didn't matter; we were infested.
During our two years in the apartment, we were fumigated twice. I had to take everything out of all the cabinets in the kitchen and bathroom, placing it all in the second bedroom, while they came in and sprayed. It only helped for a few days. I got so used to seeing bugs that I named them as they climbed the walls when we turned on the lights. "Hi Harry, hi Sam"! Squish! I killed them with my bare fist. This princess toughened up a lot.
But getting up in the middle of the night to go the bathroom once and coming back to bed to find one on my pillow put me over the top. Also, finding one in my underwear drawer…way over the top. Too many bugs for me!
We had one other uninvited visitor. I came home from work one day and found a cat sitting, grooming herself on my prized wing chair. I like cats, but there were no pets allowed in this complex and I had no idea how she got there, as the apartment was locked up tight. "Hello, who are you?" She was friendly and we nuzzled for a while. I went to the bathroom; she was gone when I returned. Houdini. She visited several more times. I couldn't figure out how she got in or out. I awoke one more morning, quite near-sighted without my glasses. There were Venetian blinds covering the window, which was open. I saw something hanging out, blowing in the breeze. Through my squint, it looked like a pair of stockings. When I put on my glasses, I saw it was the cat's tail! Too much invasion of privacy. She jumped down and I followed her into our kitchen area and right into one of the low cabinets. There was a hole in the back, which evidently led to the neighbor's apartment. She scuttled back and forth through that passage. We put our griddle over the hole and had no more intruders.
The bugs finally got to me and, while visiting a friend who lived in a condo complex in Acton, much further west along the Rt 2 corridor, on a whim, we stopped at the last two model units in December, 1975, as President Ford put an initiative in place to "WIN"; "whip inflation now". There were huge tax incentives to buy real estate before the end of 1975, so we agreed to buy one of the models. We didn't really have any money, but the brokers knew that Dan would be done with grad school in June and had rosy prospects (he already had a job, but would change to a different one just as he got his degree). We agreed to move in June, 1976, rent for a few months with the rent being applied to our downpayment and still get the tax breaks. It was all too good to pass up, so on June 16, 1976, our 2nd anniversary, we moved into our first condominium, miles away from anywhere I would consider I wanted to live in the future.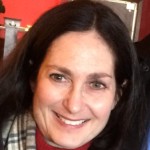 Betsy Pfau
Retired from software sales long ago, two grown children. Theater major in college. Singer still, arts lover, involved in art museums locally (Greater Boston area). Originally from Detroit area.
Tags: cockroaches, traditional furniture, stray cat
Characterizations: been there, well written