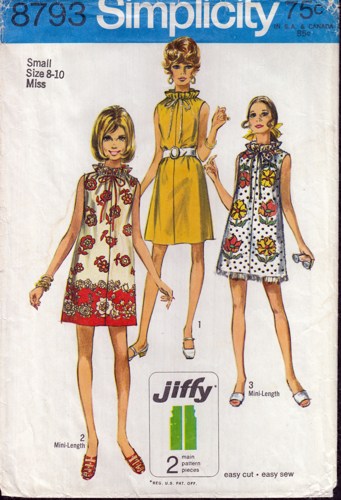 My mom sewed my dresses when I was in elementary school. When I began kindergarten she sewed me three dresses that I could wear. Every year I would get new dresses. We would go to the store, usually J.C. Pennys and she and I would pick out patterns and fabric for the dresses. She had a modern Singer sewing machine that I could hear late at night her sewing my dresses–and this machine was considered quite advanced because besides straight stitch, it did zig zag and decorative stitches. I had scalloped blue embroidery around the Peter Pan collar of my blue dress. Another dress was made from a fabric that had stylized rock and roll "hip" dancers along the border. My mom was so skilled that the images formed the hemline to my dress. No one knew I had homemade dresses because they were so carefully crafted and beautiful.
By the time I entered 4th grade, two-piece outfits were in fashion. I don't mean two-pieces that were pants and a shirt, but it was a blouse and a skirt. So I had store-bought blouses in different colors and skirts with zippers that my mom sewed. It was only then that I began to realize that no one else's mother sewed their clothes. They all had store bought clothes. I don't think I ever wished I had something else, but it made me think about whether we were rich or poor because of my home made clothes.
I loved to do things with my hands and when I was 4 years olds I became sick with pneumonia. I was admitted to the hospital and my mom brought my first sewing project: punch card pictures where I laced the yarn between the holes to outline the picture. In 7th grade I took Home Economics, where I learned to sew on a machine. What a wonderful world that opened up for me! The first thing all the girls made were aprons. How practical! Then we proceeded on our own projects. I made a skirt and vest outfit (this was the 1970s) and then proceeded to make a complex light green swiss polka dot sheath dress with gathered inset bodice, grosgrain ribbon, and a full length back zipper. Oh my! The irons were very finicky in Home Ec and when the iron did not heat up fast enough, I left it on the fabric too long so that when it finally heated up, I burned my fabric. So I had swiss-dot dress with an brown iron spot on the back. I still got an "A" in Home Ec and volunteered to help my teacher Mrs. McDonald during summer school. Her "thank-you" gift to me was two yards of double knit fabric with the words "flower-power" in the design. I don't think I ever made anything from it and I now wonder where the fabric is today.
Today I sew many things, provide alterations for clothing in my family, and help sew my daughter's cos-play outfits. I sew quilts, which has opened a whole new world of creativity and I use the sewing skills I picked up in grade school all the time. What I wore means more than fashion and styling, but also a creative window for other "pieces" of my life.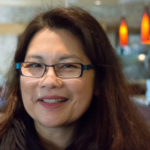 Wendy Ng
Tags: sewing, dressmaking, quilts, creativity
Characterizations: been there, moving, right on!