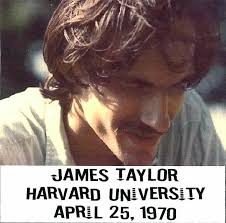 A Saturday in April. Sophomore year of college. Three days later Nixon would invade Cambodia. Less than a week after that, four students would be killed at Kent State, and the Harvard campus would go out on strike for the second spring in a row. But all that was still ahead, and at this point we were blissfully unaware of threat.
Story from 2017, moved to this prompt in response to John's story Great Performances.
I was heading back to the Radcliffe Quad with Barbara, my singing and hitchhiking partner and future roommate, probably from some Choral Society activity. As we walked past Memorial Hall, the large Gothic building outside of Harvard Yard that contained Sanders Theater, we decided to try to sneak into the sold out concert that was about to start. The headliner was James Taylor, and although we liked his music okay, he was not the reason we wanted to go to that concert. Our friend Bonnie, a college student like us, who lived in Bertram Hall like Barbara and was a government major like me, was the opening act. We had often listened to her playing the guitar and singing in Bertram Hall, and we thought she was much better than anybody we heard on the radio. Still, we were amazed that she was getting this opportunity to open for a big name like James Taylor.
We stood in the central area, or transept, of Mem Hall, watching the ticketholders stream in, and tried to figure out how we were going to get inside Sanders. Finally, Barbara went up to the student taking tickets at one of the doors and told him there was someone inside that she needed to talk to, just for a minute, and then she would come back out. He said okay and let her go in. A couple of minutes later, I went up to the ticket taker at the other door and said that my roommate was inside and she had the keys to our room, so I couldn't go home without them, and could I please go in and get them from her. He let me in. The beauty of crashing a concert at Sanders is that there are not individual chairs, everyone sits on long benches, so you can always squeeze an extra person in. It was such a great concert! We were so proud of Bonnie — and James Taylor did a pretty good job too!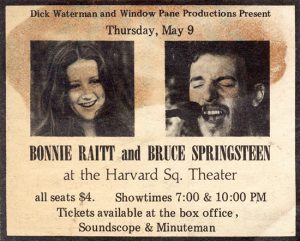 Four years later, in May 1974, Bonnie was the headliner at a concert at the Harvard Square Theater, which was primarily a movie theater but was also used as a concert venue. The opening act was a guy I had never heard of named Bruce Springsteen. Most people hadn't heard of him yet – this was a year before his breakthrough hit "Born to Run" was released. Again I went with Barbara to the concert, only this time we bought tickets. They were four dollars each. There was a 7:00 show and a 10:00 show. We decided on the 10:00 even though it was a Thursday night and we had work the next day, because we knew that when there are two shows on the same night the later show is always better. However, it turned out to be a mistake, because this guy Bruce played FOREVER! Despite the fact that he was only the warm-up act, he played for two hours! I know this with certainty, not just because it seemed interminable to me at the time, but because there was an article about the concert in Boston's alternative newspaper The Real Paper that raved about his two-hour set.
Probably about a third of the audience was there to hear Bruce, and they were cheering and clapping for him the whole time. The other two-thirds of us were there to hear Bonnie, and we started chanting "We want Bonnie" after each of Bruce's songs, but that didn't deter him from playing on and on and on. Knowing I had to work the next day, I wasn't thrilled about the fact that Bonnie didn't even start her set until after midnight, but of course I wasn't going to leave. Luckily I had gotten some sleep during Bruce's set in spite of the fact that I was sitting in about the tenth row and he was playing at earsplitting volume. When Bonnie finally came on, she was fabulous, and well worth the wait. I think she played every song she knew. Her voice was husky and tinged with bourbon, not screamy like Bruce's, and her guitar playing was way better than his. She gave us an amazing performance, in spite of how long she had to wait to go on. When the concert ended around 2 a.m., I went home and collapsed. Luckily, my house on Cambridge Street was less than a mile from Harvard Square, so it didn't take me long to get there. I can't imagine how I managed to show up at my office six hours later, but I'm pretty sure I did. The music was undoubtedly still ringing in my head.
I have seen Bonnie in concert many times since then, and she always puts on a terrific show. I am actually going to see her on a bill with James Taylor again in about three weeks, on July 29th [2017]. It's been 47 years since I last saw the two of them together. James has lost all his hair in the interim, and Bonnie has a gray streak in hers, but I bet they will sound every bit as good in San Francisco's AT&T Park as they did 47 years ago in Sanders Theater.
---
Note: Bonnie recorded "Something to Talk About" in 1990, so I'm sure she wasn't singing it at either of these concerts. Still, it's one of my favorite songs of hers, which is why I used it as the title of this story. If you don't know it, I highly recommend listening to it.
2022 Note: This story was first published on July 10, 2017 for the Concerts prompt. I'm moving it here in response to John Shutkin's story Great Performances.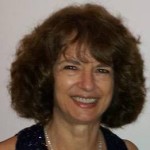 Suzy
Characterizations: funny, right on!, well written