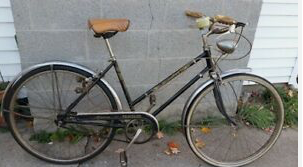 I must have been around 7 or 8 when I got my first bike, a Schwinn 3 speed with silver fenders and a head light similar to the Featured photo. My father dutifully ran along side me as I learned to pick up speed while gaining my balance. I had to know how to start from a standstill and brake while gently putting my foot down safely. Now that I think about it, I had an earlier bike – handed down from my brother; a boy's bike with a crossbar that had training wheels. I have a vague memory of tooling up and down our street on that. I had a Dutch Boy haircut and people who didn't know me said, "Hello, son". That really irked me.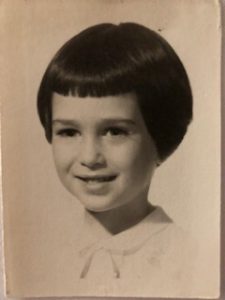 But the Schwinn was MINE and a girl's bike – no crossbar. I loved that bike. I pretended it was a horse named "Star". The head light was the horse's head. We rode together for several years. I don't know why I pretended it was a horse. I had no affinity for horses, I'd never ridden one or been near a real one. Perhaps by that point I'd read "Black Beauty" or "National Velvet" and loved those books. Or maybe it was Mr. Ed on TV. Whatever the impetus, I loved my own "horse/bike".
I was only allowed to ride around the block. I couldn't cross the street by myself at that age. But in my mind, I had lots of adventures as I rode. Around the block was Renfrew Rd. I had several girlfriends who lived on the next block, but I couldn't yet visit them, as I'd have to cross the street. But the brilliant Michael Kinsley lived on the block directly behind me, so I'd pass his house on my frequent rides. He was two years older (and went to Harvard with several of you Retro writers), but his younger sister Susan was an elementary school peer of mine. Rounding the corner onto Bloomfield Street, I remember hearing a plaintive bird call. I stopped to listen. It captivated me; I searched out its source and discovered the bland grey/brown bird. I had discovered a mourning dove. I listened intently. It's melancholy call spoke to me in deep ways.
Turning the corner I was back on Briarcliff Rd. I quickly passed the creepy, unkempt Gothic house, then the neighbors where the blue jay had fallen out of its nest. I was home again. I repeated this pattern day after day. I didn't ride with anyone else. I was happy in my solitude. I could think and observe the natural world.
We moved out of Detroit to a near-suburb when I was just shy of my 11th birthday in 1963. In other stories, I have previously described the trauma associated with that event: my mother's nervous breakdown which led to her taking to her bed for many weeks, the JKF assassination the day before my father's 50th birthday. We held his party/housewarming that day with my mother still in bed. No one was capable of celebrating. My birthday  followed three weeks later. I got a bigger, better bicycle as a present. I remember it well. My mother was up, but barely functioning. She wasn't really "present" to wish me happy birthday. She was off to a psychiatrist appointment, which she hated. He was evidently a strict Freudian who told her she hated her father. She  was not prepared to hear that and the therapy didn't do much good.
But I loved my new bike, a 12 speed beauty. On it (in better weather), I roamed the neighborhood to get away from my increasingly erratic mother. Now I could visit my girlfriends, once I had some.
I had two mother-surrogates, both cousins, whom I loved to visit and I was always welcome in their homes. Depending on how much time I had, my near rides were to my cousin Harriet's, just a few blocks away in Huntington Woods. I was friendly with her son, though he was several years younger than me. He visited me once when I lived in Chicago.
A farther ride was to cousin Connie's in neighboring Oak Park; several miles, a good ride. She had three sons, all younger than me. I'm still friendly with all, went to all their b'nai mitzvot even though by that time I was married and had to fly in from Boston – worth it to see my family. They came to Boston for my kids' ceremonies as well.
The household was lively and fun. I still stay with Connie when I go to Detroit (I haven't visited since 2015). All are welcome with me anytime. That bike gave me the ability to come and go as I pleased, away from my mother's hectoring and anxiety. I often used it when I was home from college.
Some 30+ years ago, I bought a UniVega 12 speed and used to ride a lot in Newton and the Vineyard. My rides would vary between 8 and 20 miles. In Newton, I'd ride on the carriage lane, or the street, as I rode further up the hills made famous by the marathon. As long as the roads had no snow or slush, I'd ride down to 35 degrees. I had winter gear. I loved the exercise. On the Vineyard, I stuck to bike paths, but they were full of people rollerblading, walking, pushing strollers, etc. Increasingly, people were "plugged in" and couldn't hear when I shouted "passing on your left". It was an accident waiting to happen. Dan bought a fancy new, expensive bike in 2018, promptly had three serious accidents in two years and is now forbidden to ride outside at all.
I gave up riding as I took up other forms of fitness. I took up Pilates twelve years ago, got serious about losing weight ten years ago and began gym workouts (including doing intervals on a recumbent bike). So my very old bike rusts in our garage. I haven't touched it in years.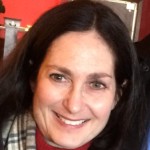 Betsy Pfau
Retired from software sales long ago, two grown children. Theater major in college. Singer still, arts lover, involved in art museums locally (Greater Boston area). Originally from Detroit area.
Characterizations: moving