Once upon a time, long, long ago, in a high school far, far away, there was a computer date dance. Before dating apps, before apps, before smartphones or cell phones or personal computers.  Think FORTRAN and computer punch cards.
Once upon a time, long, long ago, in a high school far, far away, there was a computer date dance.
The U.S. had an active space program and the future was clearly cyber.  What more important new frontier than digital dating?  And so, the student council embarked on plans to have a computer-matched dance.
This may have been promoted by a friendly, playful and extremely geeky fellow named Bob, a senior with intense computer interests.  He would be able to pull off the computer match magic. Bob was a friend of mine through the Unitarian youth group, a year ahead of me.  He had let me use his car to take the Maryland driver's license test; unfortunately it was a old stick shift station wagon I had never driven. Unsurprisingly, I failed parallel parking in it—but the gesture was sweet.
In any case, he took on the dance project, and developed a questionnaire for each participant.  The answers were key-punched onto the computer cards, which were fed into the computer (he must have access to one somewhere—certainly not at school).  He programmed some algorithm to optimize answer matches for what must have been around a thousand students.
The entire school awaited the results with both hope and trepidation.  The results were to be posted the morning of the dance.  Who would be matched with whom?  When the list came out, rumors rippled throughout the school, along with disbelief.  How had a popular cheerleader matched with the schlumpiest guy in the class?  Something seemed wrong with the results of the all-knowing machine.
Bob later confided in me that (predictably in hindsight) the computer program had crashed, and he was in a panic.  In the end, he resorted to a backup plan that that was essentially a random match, and hoped for the best. The dance proceeded, but was somewhat of a fiasco, and as far as I know the school never tried that again.
I lost touch with Bob after high school, but he ended up becoming the ninth employee at Microsoft, later founded Quicksoft, and maintained an interest in psychedelics.  He died unexpectedly at age 53.  His Wikipedia entry (Bob Wallace 1949-2002) is a good read.
Oh, and my computer date match?  Was it a random match, a true match of answers, or a deliberate manipulation?  I don't know, but I matched with Bob.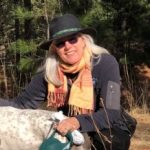 Khati Hendry
Characterizations: funny, well written