The years between between entering graduate school in January of 1979 and meeting Valerie, who later became my first wife, in the summer of 1982 were a time of excess; excessive partying and drinking, and insufficient studying and research. The demise of my relationship with Maria had left me corrosively cynical, easily hurt and mistrustful of anyone, including myself. I spent this time desperately trying, once again, to become an emotionally detached nihilist. Clearly, I "had issues."
And a very fetching cat she was
Being unable to trust anyone, especially any woman I might be attracted to, and in possession of a hair-trigger reflex to avoid being rejected again is not a recipe for dating success. They were few, and often unpleasant. But one was sort of funny.
Her name was Donna, but for some reason people called her "Kat." She worked in the front office of our Department. Cute, short, with bobbed dark hair. Much like Maria, in fact. One of several similar-looking women whom I became interested in during that time; in retrospect, it is obvious that I was seeking a replacement. Kat was funny, friendly and I saw her fairly often so I knew we could converse. On Halloween of 1979 she, in an homage to her nickname, dressed as a cat. And a very fetching cat she was, in a black Danskin, with pointy little black crepe-paper ears, and whiskers drawn on her upper lip. My first cosplay crush.
Eventually I screwed up enough courage to approach her, but I did some research first. It turned out that a fellow student, Vinnie, had dated her for a short time, but it didn't last. He did tell me that her father was not living with them and that her Mom was…odd. Christian in the hyper-religious Old-testament you're-all-going-to-Hell mode. And that some of that had rubbed off on Donna. Sex was probably out, but she was cute and I was lonely, so in I dove.
I took her to a movie. I now think that movies are usually terrible for first dates. You don't look at each other, you don't talk. Drinks or coffee or a meal are all far better. But a movie it was.
I don't recall what movie we saw. But afterwards she said that she had had a nice time but she really needed to go home. OK. I took her home.
I don't know what she thought might happen. Hell, I don't recall what I was hoping for, a goodnight kiss, a few minutes of hot make-out? Nothing? Knowing me, nothing was probably it. I drove up to her house, parked, turned off the car.
And she was gone.
Vanished. Bolted out of the car without a word, as if she had suddenly realized that she was alone with some vicious combination of Charlie Manson and Ted Bundy. I just stared in amazement at her retreating form as she literally sprinted through the rain to her front door and disappeared into the house. As one who prides himself on being essentially harmless, I felt a bit insulted.
The next time I saw her in the department office she acted as if nothing had happened, not even the date. I considered, briefly, asking her why the hell she had acted the way she did, but decided that it really didn't matter.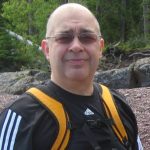 Dave Ventre
A hyper-annuated wannabee scientist with a lovely wife and a mountain biking problem.
Characterizations: right on!, well written