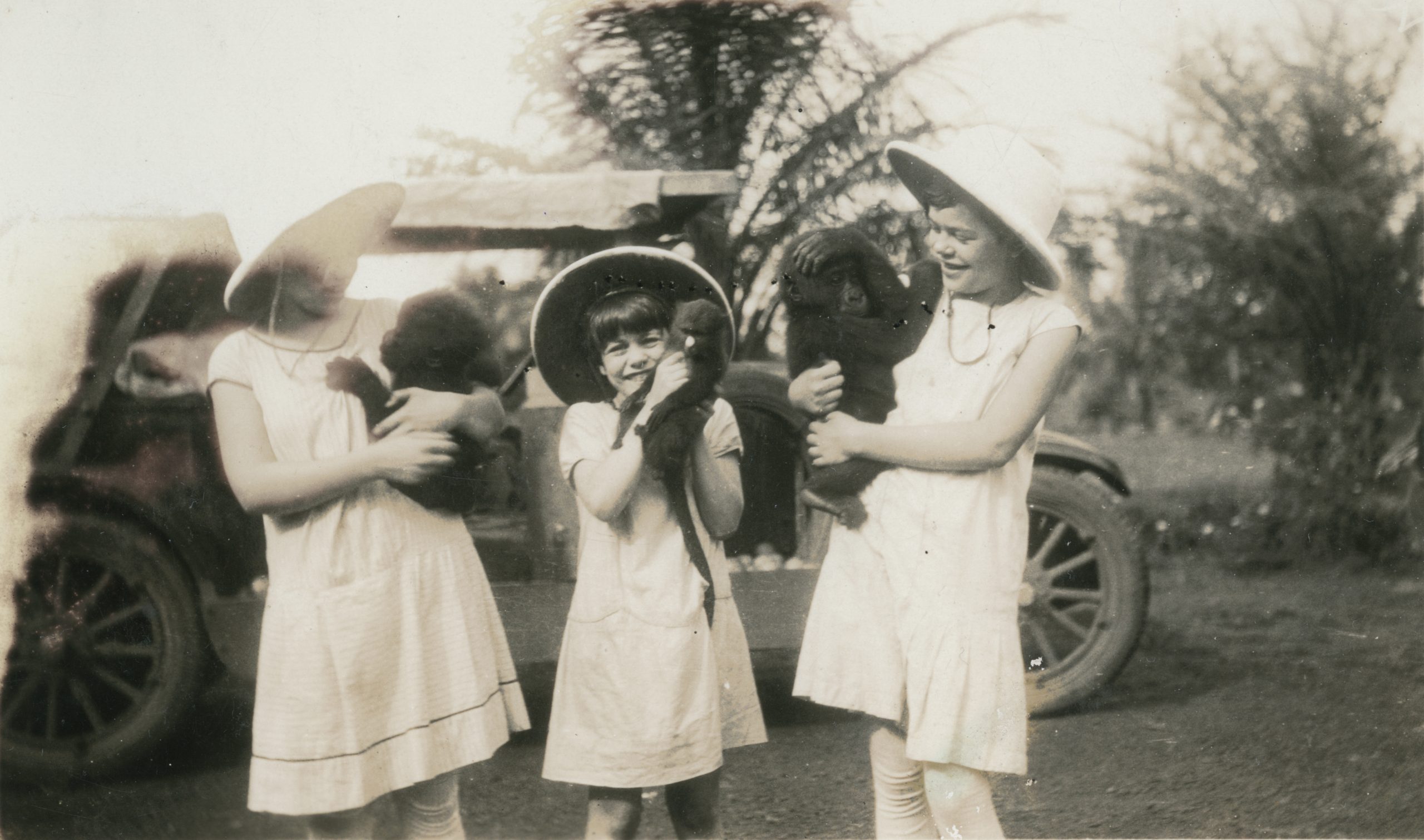 I've always loved family history and in 1993 I finished Return to Cameroun, a documentary about my missionary grandparents and their lives in West Africa. I think I made the movie because I wanted to learn more about my grandparents Fred and Roberta Hope, both of whom died before I was born, but in the process I got closer to my mom and my aunts.
The more I got to know my aunts the more I appreciated the ways they'd survived a childhood that, for all its adventure and exoticism, was marked by long separations and displacement.
They were lovely women: similar in comportment, typical of their generation, but distinctly individual. I interviewed each of them at a family reunion in Cincinnati: Arta Grace the oldest, was shy and self-effacing, with a subtle and delightful wit. Betty, a year younger, was quiet and reserved, a gentle partner to her loquacious missionary husband Bob.
Esther was the middle daughter: outgoing, sunny of disposition, mother of six and grandmother of 23. My mom, named Roberta after her mother: modest and patient, the best listener I ever knew. And the youngest, Winifred: a talker and punster, acutely sensitive, with a prodigious memory.
I grew up in California and my aunts all lived far away, so I barely knew them as a kid. As an adult I made a point of building friendships with each of them. I flew to Tennessee to visit Arta Grace, to Cincinnati to see Esther and Winifred, and during several trips to Europe I stayed with Aunt Betty, first in France and later in Northern Ireland.
The more I got to know them the more I appreciated the ways they'd survived a childhood that, for all its adventure, was marked by long separations and displacement. There were no schools for missionary kids above the sixth grade, so none of the Hope sisters lived in Cameroun beyond age 12. Instead, they stayed with relatives or at boarding schools in the United States, seeing their parents only during the one-year furloughs that separated three-year terms in the mission field.
I remember feeling, as the Hope sisters told stories of their exotic childhood in Africa, that in those moments they reverted to their childhood selves. They talked about Bushman, the baby gorilla who stayed with the Hopes one year. "Bushman was a dear soul," Winifred said. "He was a spoiled baby. We carried him around everywhere and if you put him down he'd cry and grab a hold of your legs and sit on your foot."
"He was like a live doll to me," my mom added. "Like having a baby to take care of. [We] carried him around, fed him, even put clothes on him. Like kids will."
After a year with the Hope family, Bushman was taken to the United States by Julius Buck, a wild game collector who sold him to the Lincoln Park Zoo in Chicago. In the late '40s, when my mom was living in Chicago and went to see Bushman at the zoo, he didn't recognize her. "It was sad" to see him in a cage, she remembered. "Feeling like he doesn't belong here."
My aunts and mother spoke about sailing to Africa on a German freight steamer that stopped in every port to load on huge bunches of bananas, animals and other freight with a cargo crane. They remembered papayas as big as watermelons; chartreuse-and-shocking-pink caterpillars that fell from the trees on rainy days; armies of half-inch-long driver ants that traveled en masse through their house and bit them in their sleep. They talked about drawing sap from rubber trees and chewing it like gum, and the industrial school where my grandfather introduced self-sustaining trades to the men of southern Cameroun.
A year after I filmed the interviews in Cincinnati Aunt Winifred mentioned, almost casually, that she and Esther would be joining a Presbyterian Church-sponsored tour of Cameroun in December 1989. I wasted no time booking the tour for myself and videographer Fawn Yacker, who had filmed the interviews in Cincinnati. There were about 15 people in our delegation. We flew from Paris to to Cameroun on Air France, and survived a domestic Air Cameroun flight from the port city Douala to the capital Yaounde — on a rickety plane with overhead compartments that flapped open during takeoff and seats that shook because they weren't sufficiently bolted to the floor.
From Yaounde we traveled overland by bus to the villages where Presbyterians established missions in the early 20th century: Kribi, Sakbayeme, Lolodorf and Elat, where my mother and aunts were born and grew up speaking the native language Bulu. In each town we were treated like V.I.P.s and greeted with long receiving lines, sometimes half a mile long. People danced, sang, played drums. In Elat we were given a special concert inside the church, where five choirs sang, each one sensational. There was great food: lots of plantains, yams and maize, and the mysterious "bush meat" which indicates an animal, species unspecified, that was killed in the wild. We met village elders who knew my grandparents and remembered Esther, Roberta and Winifred as little girls.
Traveling reveals a lot about people, and for two weeks I got to appreciate how different Esther and Winifred really were. Both had lived in Cincinnati for decades, raised their families there and in later years became expert miniaturists working together in a makeshift studio in Esther's home. They looked alike, both short and white-haired; they dressed alike and had a rapport and common language that you see in sisters.
Whereas Esther had an easy laugh and roll-with-the-punches manner, Winifred was anxious and easily unsettled by the delays and unexpected frustrations of travel. In the bus, she chattered nervously and recalled, along with comforting memories of an African childhood, a host of long-ago slights and grievances she suffered as a child. It was as if the distant past in all its details was entirely accessible to her; and as if, by talking about it, she was experiencing it anew.
At one point in Cameroun, Winifred started to believe she'd contracted malaria (she hadn't). Our accommodations were hardly posh, and she became obsessed with the quality of bathroom facilities. But I marveled when someone in our tour group groused about the "dirty" feminists at her local college campus, and Winifred swiftly reminded her of the rights she enjoyed thanks to feminists. Winifred could try your patience, but I loved her and in fact became closer to her than to Esther, who, for all her jolly manner and easy laughter, was protective of her emotions.
Esther had every right to be resentful. When she was 7 and my grandparents were ready to sail back to Cameroun after a furlough in the States, Esther got left behind with her maternal grandparents. It happened because my great-grandmother pestered my grandfather, insisting one of the Hope girls stay with her since the older girls, Arta Grace and Betty, would be living with their other grandmother in Flat Rock, Illinois. "Is this something you'd like to do?," my grandfather asked Esther. She said Yes.
"He didn't dream that I would choose to stay with Grandma," Esther told me. "But to me, it was just a two-week lark or something like that." Ultimately, she said, "It was a blow that my Dad never really did get over, and we were never as close again after that. I never held him responsible, but we just kind of drifted apart because of the distance."
After I finished Return to Cameroun, I stayed in touch with Esther and Winifred and would visit Cincinnati occasionally and see them in Laguna Hills, Calif., when they visited my parents. In March 2013, after Esther and my mother Roberta had died, Winifred reconnected with an old friend. My cousin Linda, her daughter, took Winifred to Chicago to see Bushman at the Field Museum of Natural History, where he'd been taxidermied and made a permanent exhibit after his death. Linda's daughter Selita and granddaughter Nevaeh went, too — four generations altogether.
Linda contacted the museum and the Lincoln Park Zoo, which were thrilled to hear from her and extended invitations. Publicists at both institutions alerted the media and during her visit Winifred gave several TV and newspaper interviews. She and Bushman were covered in all the Chicago papers ("He was my sweet little boy," she told the Chicago Tribune), and the story got picked up by the Huffington Post and the Daily Mail of London. Museum aficionados, staff and volunteers treated my 92-year-old aunt, in her wheelchair and portable oxygen concentrator, like a celebrity.
Winifred basked in the attention. It gave her a warm glow. She went back to her home in Cincinnati and then, like a scene from a slightly magical novel or a movie, she died 17 days later. Today, the Bushman display at the Field Museum commemorates her visit, with photos of Winifred at the museum in 2013 and with baby Bushman in Cameroun in 1931.
Edward Guthmann
Characterizations: moving, right on!, well written