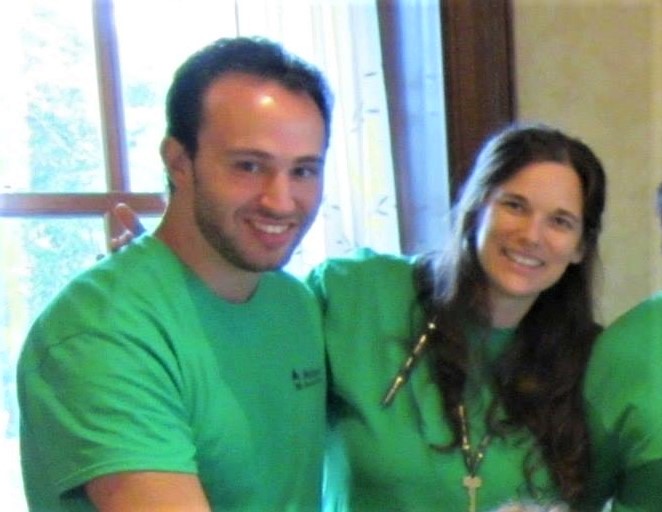 Yes, music fans, there really is a song called Aunt Suzie. It's by an artist called Buckethead, it's an instrumental, and it's not spelled my way. Apparently his Aunt Suzie was the person who gave him his first guitar when he was 12 years old, so he wrote a wordless song to thank her.
I decided this time to look at the flip side of the coin and write about my own experience as an aunt.
In 2018, when this prompt came up the first time, I wrote Go Tell Aunt Rhody, about my two aunts, Adele and Daisy, as well as Daisy's husband Ed. Since I have no other aunts or uncles to write about, I decided this time to look at the flip side of the coin and write about my own experience as an aunt.
I only have one niece and one nephew related to me by blood. While my husband has three brothers, and each of them has two children, I don't really have a relationship with any of those kids. If his twin brother, who has a daughter the same age as Molly, still lived here, I might have been close with that daughter, but they moved across the pond two decades ago.
So the two people I have an "aunt" relationship with are the daughter of one sister and the son of the other sister. Neither one of them has ever called me Aunt Suzy, except when we were goofing around. My family is not big on using honorifics; we are much more informal. When I was a child I even called my parents' good friends by their first names without the pseudo aunt and uncle titles they had their kids use for my parents.
My middle sister was the first one in the family to have a baby, in 1977. The birth occurred just weeks before I finished law school, and I remember being so excited! In those days we didn't know the gender ahead of time, but I was hoping for a girl and was delighted to get one. I first met my new niece in September 1977, when she was four months old and I was twenty-six. I had graduated from law school and taken the bar exam but didn't have a job yet. My sister and brother-in-law had a childcare crisis and asked me to come to Colorado to take care of the baby, so of course I said yes. I can't remember how long I stayed, it may have been just a week or at most ten days, but I totally fell in love with that baby! In fact, that was when I first started thinking I wanted to have a baby of my own some day. Before that, I had not been interested in kids at all.
A couple of years later I visited them in Colorado again, and once again got to spend some time alone with my niece while her parents were at work. Here's a picture of us having breakfast together. (There are also some pictures from that visit where we are in a hot tub, but I'm not posting those because we weren't wearing any bathing suits.)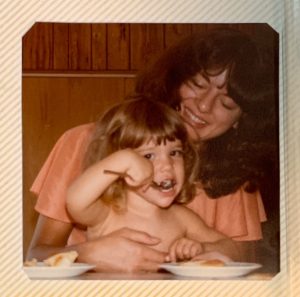 The next time I got to be the doting aunt was when my sister and her family came to California on vacation when my niece was about three. My sister and her husband needed some time alone together to work on their marriage, so I made a reservation at St. Orres, a very romantic hotel and spa in Gualala, on the coast north of San Francisco. My niece and I got to hang out at my house for a long weekend. We rode around in my little Alfa Romeo sportscar, and visited a colleague of mine who had a daughter the same age. We also went to the zoo and FairyTale Town, and had a lot of fun together.
My favorite story from that visit involves my cat Loretta. My niece kept running after Loretta to try to pet her, but Loretta would run away. I told her, "you have to be patient and she will come to you." She said "okay." But then as soon as she saw her again, she would run after her again. I would say, "Be patient," and she would say "okay." This kept happening over and over, and finally in exasperation I said, "Do you know what patient means?" "No."
When I got married in 1983, I asked my niece to be my flower girl. She was two months shy of six years old, and did a great job, skipping down the aisle spreading flower petals, making everyone laugh with delight at her cuteness.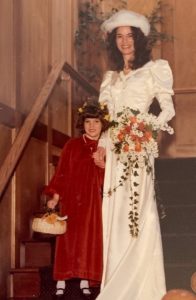 Once I had a baby of my own, in 1985, I was so busy learning how to be a mother that I didn't have time to be a very attentive aunt. I did still see her at family reunions, but that wasn't the same as having special aunt-niece alone time. After I had my second child, Ben, in 1988, of course, I was even busier with my own two, but there must have been some problem about who would take care of her during her school spring vacation since her parents were both working, so she started coming to Sacramento every April to stay at my house for a week. Those were really special visits. She would help take care of her younger cousins, and I got to have some one-on-one time with her. This picture is from spring break 1989, which was probably the first year that she came to visit us by herself. She was twelve, Sabrina was four, and Ben was nine months old.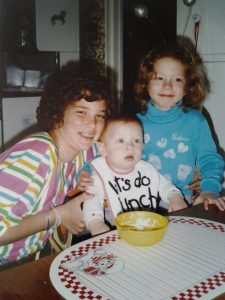 She continued the spring break tradition for a few more years, including the year that one or both of my kids had chicken pox, which she had already had. The visits probably ended when she was deemed old enough to stay home by herself and/or when she got her driver's license.
My nephew arrived on the scene in 1986, the son of my oldest sister who lived in New York. He was eighteen months younger than Sabrina and two years older than Ben, so I was always busy with my own little ones when he was small. But because those three kids were so close together in age, my oldest sister and I wanted to make sure they got to know and love each other even though they lived on opposite sides of the country. So we became adamant about having a family reunion every summer, no matter what else was going on. The kids had a great time playing together, although three is an inherently unstable number, so the alliances kept shifting. Sometimes, especially in the earliest years, it was the two older ones against the baby. Other times it was the two Californians against their cousin. Most often, perhaps predictably, it was the two boys against the girl. But they always loved each other even when they were ganging up on each other!
For many years our family reunions were on the East Coast, generally at a resort called Mohonk Mountain House in New Paltz, New York. At some point my nephew complained to his mother that it wasn't fair that everyone else got to fly to the reunions, and, since they lived in Brooklyn Heights, they just drove. So then a tradition started of their family coming out to California to visit us during Christmas vacation (as it was then called). My mother and the Colorado branch weren't involved, it was just the New Yorkers who came. Usually we stayed in Sacramento, but one year we went to a dude ranch in Arizona, and another year we went to Mexico. Those were great visits, and I enjoyed spending time with my nephew and his parents. But I never had the kind of alone time with him that I did with my niece, so I didn't develop a close relationship with him when he was a child. However, at this point, now that everyone is an adult, I feel equally close with both my niece and nephew.
The featured image is of the two of them at a family reunion in 2013. Mohonk gave those green t-shirts to all members of families who held their reunions there that year, with the option to have the family name or a slogan printed on the front (there is a big picture of the Mountain House on the back), which we opted not to do. The photograph of all of us in our matching t-shirts, from which that image was cropped, is quite a sight to behold.
I hope that my niece and nephew would both say that I have been a good aunt to them. Maybe I will send them this story and ask for feedback.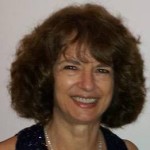 Suzy
Characterizations: right on!, well written