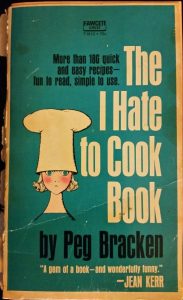 My mother was not much of a cook. She made dinner every night for 30 years (except for the occasional restaurant meal), and then, when my father retired and the kids were all grown up and gone, she never cooked again. She certainly never imbued any of her three daughters with a love of cooking, although we have each come to enjoy it to varying degrees.
A few months after I graduated from college, I went to work for the US Department of Transportation, and moved into a wonderful big old house in Inman Square, Cambridge. To celebrate my first venture at living on my own, my mother gave me two cookbooks. The first, a large hardcover book, was The Joy of Cooking by Irma Rombauer. This has been a classic for generations. My mother had received an earlier edition of it as a bride in 1943, which had a whole section about dealing with wartime rationing. It had gone through numerous revisions since that time. In a parody of Happy Hanukkah and Merry Christmas, she had inscribed it "Happy Homemaking and Merry Cooking! from December 1972 on, whenever you're in the mood." This book has been surprisingly useful over the years, and I still consult it from time to time.
The second cookbook was The I Hate to Cook Book by Peg Bracken. This book was written in 1960, when of course women had to cook all the time whether they liked it or not. It is full of easy recipes, with humorous commentary sprinkled generously throughout. (It also has wonderful illustrations by Hilary Knight, the same artist who illustrated the Eloise books.) I actually made many of the dishes in the book during my early years on my own. Once I got into more sophisticated recipes that didn't involve using things out of cans, I stopped looking at it. But I never got rid of it. Recently, for some reason, I was talking to my kids about this book, and pulled it off the cookbook shelf in the kitchen to show it to them. It automatically opened to the page that had been one of my favorites, a beef stroganoff recipe. We all cracked up as I read it aloud. After the first two sentences, involving cooking the noodles and browning the beef, the third sentence was as follows:
"Add the flour, salt, paprika, and mushrooms, stir, and let it cook five minutes while you light a cigarette and stare sullenly at the sink."
While this seems hilariously funny now, I shudder to think how many '60s housewives, probably including my mother, did exactly that when they were cooking. We really have come a long way, in so many respects!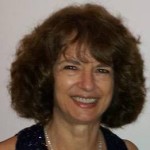 Suzy
Characterizations: been there, funny