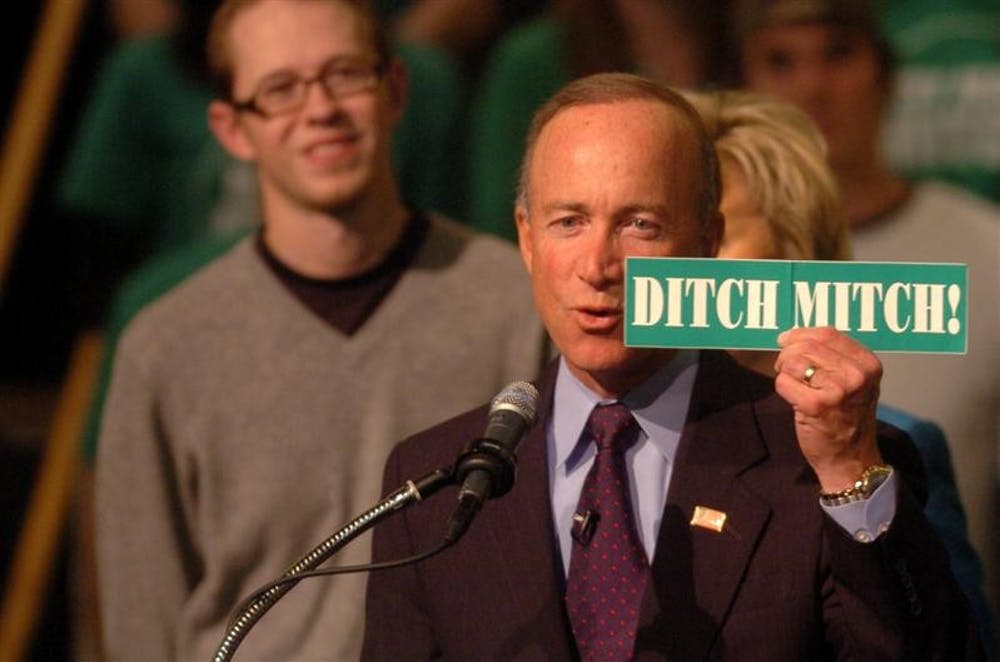 I should have known I was in trouble in my race for Student Council President when instead of Mitch Daniels appearing on stage to give his own speech, there appeared in his place Miss Kyle Thomas. Who didn't like Kyle? She had the academic chops to get into accelerated classes. She had the charm to have been elected class secretary. And she had the unglamorous pretty looks of a country girl one generation off the farm. Yeah, having Kyle read his speech in absentia was not going to lose Mitch any votes at all.
I don't believe either of us campaigned on any issues, stands, or ideas. I do remember some of my slogans.
"Where's Mitch?" I asked someone as the other candidates and the faculty sponsor of Student Council prepared us for the first of two assemblies.
North Central High School, located in the northern suburbs outside of Indianapolis, Indiana, had three grades (tenth, eleventh, twelfth) of over 800 students each. The attractive and very modern stage and auditorium with its lovely plush red seats was only a few years old and held a large crowd—but not enough to seat the entire student body. So important assemblies—or "convocations" as they were called—were routinely held twice.
"Mitch is absent today," one of the other candidates told me. "He said his grandmother died," His grandmother died?  That struck me right away as strange, because I had gone to a funeral in Ohio just a week earlier (as Mitch well knew) due to losing my paternal grandmother. It seemed an unusual coincidence. When Mitch came back to school the next day, I spoke to him. As a 16-year-old, I had not learned the expression, "sorry for your loss." I said something awkward in my attempt to show sympathy, but at the same time to express my surprise about the seeming coincidence. He thanked me for my concern, said he was fine and added flatly, "Yeah, there seems to be a lot of that going around lately."
There was a nominating process for the Student Council Presidency that began with discussions among juniors in their home rooms during the early spring. (Only someone who would be a senior the following fall could run for the office.) This process produced five candidates for a preliminary election. Each of the five would make a speech at two assemblies and then all sophomores and juniors would vote, using actual voting machines—the very machines that were stored at the school for use in real elections. You walked in, pulled the lever to shut the curtain behind you, made your selection, and reopened the curtain.
The top two vote-getters—which, in 1966, turned out to be Mitch and me– would then have one week to run a campaign for the final election, gathering their friends and supporters for late-night brainstorming and button-creating sessions, entering the school early before classes started, racing around to cover the school walls with posters and pass out campaign buttons (hand-drawn paper "badges" that you pinned on your shirt or blouse) that they had made the night before. The day before the vote was held, the two candidates made speeches again. In this round, similar to a national political convention, a "nominating speech" by a student of their choice preceded the candidate's oration.
On election day, three state-of-the-art voting machines were set up and monitored in a small room near the Student Center; students could vote before school, between classes, during lunch, or whenever they were free.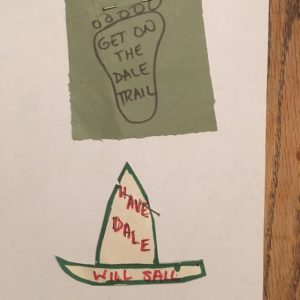 I don't believe either of us campaigned on any issues, stands, or ideas. I do remember some of my slogans. "Get on the Dale trail" (over a footprint). "Have Dale will Sail" (in the shape of a sailboat). We did not use "Think Fink" (in the shape of a light bulb) because it had been the primary slogan of my brother Leon's successful campaign the previous spring.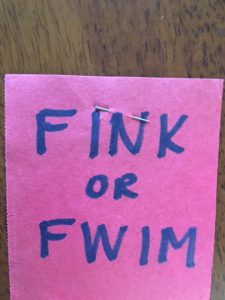 The main slogan I remember from my opponent was "Switch to Mitch." At the time, cigarette advertisements were among the most prevalent.  There were upstart brands promoting "low tar, low nicotine" alternatives to the more traditional brands. And then there was Tareyton, one of those traditional brands, with its famous, furious, and ubiquitous response: "I'd rather fight than switch!" Given that background, the Fink campaign brain trust knew exactly what to do to stem any "Switch to Mitch" tide. "I'd rather Fink than switch!" was the next button we disseminated.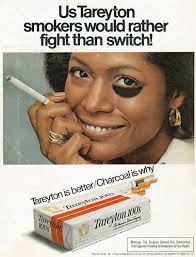 Given that Leon was the incumbent Student Council President, we devised strategies to ward off any voter disenchantment about selecting another leader from the same family. I began my speech—in the preliminary round—by saying, "Last night, I asked my brother to do me a favor. (Pause for laughter) So he sat down and wrote me a speech. (Pregnant pause.) But that's not the kind of favor I wanted: I just wanted to borrow a tie (lifting up my necktie, and pausing for more laughter) So here's his speech (pulling some folded papers out of my pocket and tossing them on the floor). And now (looking up with big smile to audience of 1000), here's mine!"
In case that bit of humor wasn't enough to distance myself from intimations of inappropriate links to the incumbent administration, we also put up posters that said, straightforwardly, "If elected, Fink will abolish nepotism."
When it was time for the final round of speeches I selected to nominate me a senior boy, short and artsy looking, known for his roles in theater and musical productions. Truthfully, I chose him for his name: Dave Ratts. I told him I didn't care what else he said about me in the speech, but there was no negotiating the opening lines. He would step to the microphone and say, "My name is David Ratts. I'm here to nominate Dale Fink. You can call us the Ratts-Fink combination."
Mitch took a different approach. Or you might say, he took the same approach as he had in the preliminary round, but without the funeral. He was there in person to deliver his speech. To nominate him, he also chose a senior: the previous fall's Homecoming Queen. I don't think she tried to make anybody laugh. It was a shrewd appeal to those who might value a cute smile over a cute opening line.
Everyone seemed to think it was going to be a close race, and it probably was. We'll never know because they had a policy of never releasing the vote totals. I heard, confidentially, a few weeks later, that one senior was present when the faculty sponsor for Student Council opened the machines to find the totals. According to this source, it was so close that I was ahead on two out of the three voting machines and Mitch was ahead on the other.  In any case, Mitch won the election. You do have to count the votes–not just the machines.
My classmates, a few weeks later, elected me as Senior Class President for the upcoming year: no speeches or fanfare involved in attaining that lower-stakes role. I would get to help choose the band for the Senior Prom.  I'm not sure if the Student Council President got to do anything more fun or important than that.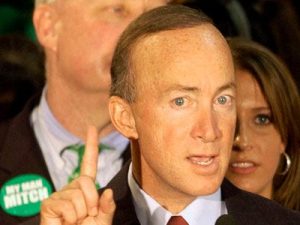 Would a defeat in the NCHS Student Council election have been an impediment to the future career of Mitch Daniels?  It's an interesting question to ponder. While an undergrad at Princeton, he hitched his star to Richard Lugar, Republican Mayor of Indianapolis. That turned out to be a good career move, as he was a top aide by the time Lugar entered the U.S. Senate in 1977. Mitch would later work in the Reagan White House and then become Director of the Office of Management and Budget under George W. Bush. Upon leaving OMB, he ran successfully for Governor of Indiana, where he served two terms. Governor was the first elected position he ever sought after eking out that close victory against me in high school.
I actually do not hold myself responsible for the rise of Mitch Daniels. Even if he had lost to me, I believe Lugar would have recognized his future promise as a well-spoken and willing servant of corporate interests and would have smoothed the way to his later positions. In between some of the stints I mentioned above, Mitch worked for the drug company Eli Lilly and for a right-wing think tank, the Hudson Institute. Having a pedigree from the Ivy League, loyalty to the Republican party, fealty to Big Pharma (or insurance or fossil fuels) and marinating one's ideas in the troughs of Hudson or Heritage or Cato or the American Enterprise Institute:  this is a well-trod path to success on the ideological right of American politics. Unfortunately, yeah, there's a lot of that going around lately.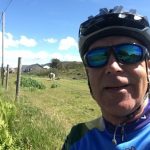 Dale Borman Fink
Dale Borman Fink retired in 2020 from Massachusetts College of Liberal Arts in North Adams, MA, where he taught courses related to research methods, early childhood education, special education, and children's literature. Prior to that he was involved in childcare, after-school care, and support for the families of children with disabilities. Among his books are Making a Place for Kids with Disabilities (2000) Control the Climate, Not the Children: Discipline in School Age Care (1995), and a children's book, Mr. Silver and Mrs. Gold (1980). In 2018, he edited a volume of his father's recollections, called SHOPKEEPER'S SON.
Tags: high school, Student Council, Big Pharma, midwest
Characterizations: funny, well written