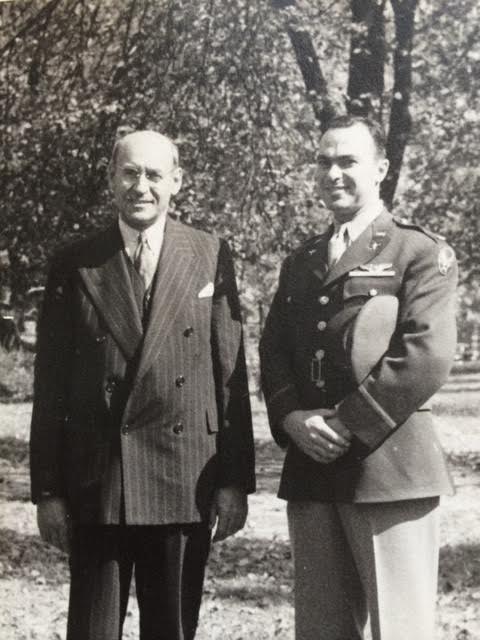 Hannah and Sam Prensky, my great-grandparents, had five children in Kovno, Lithuania. Lizzie, their eldest, was my grandmother. They were prosperous and well-educated. Sam spoke five languages and had a cigarette rolling factory that employed 500 people. Hannah was literate, played piano and passed her quick mind and love of learning on to her children. They emigrated to St. Louis, MO in 1888.
Meyer, or "M.L." as he was often called, was very bright and had an unusual facility for numbers and finance. He went to Jones Business School, worked in my Sarason grandfather's general store in Pine Bluff, AK, but returned to St. Louis when his own father died. He then worked as an accountant and auditor at Laclede Gas and Light Company. In 1911, a "Mr. McGee" of the two-year-old General Motors Corporation, who was a board member of Laclede, heard Uncle Meyer give the financial report one quarter, entirely by memory. McGee was so impressed, he offered my uncle a job at GM in Detroit on the spot. Uncle Meyer accepted, moving to Detroit in August, 1911 to become chief accountant and auditor for the young company. It is often cited that he was the only one who understood GM founder's William Durant's vision and was able to consolidate the many individual car and parts companies that Durant acquired.
Five years later, M.L. became comptroller and in 1919, he was promoted to treasurer, a position he held until his retirement, 32 years later in 1951. In 1925 he changed the family name to Prentis. Anti-Semiticism was profoundly prevalent in the auto industry. Henry Ford was notorious for it.
The above is an undated photo; I believe it is from around 1920. My grandmother is the woman standing furtherest to the left. Meyer is seated on the right.
Meyer established and developed the company's entire financial system. Meyer also had a great impact on the Sarason family, bringing many of them to Detroit to work at GM. There was so much I wanted to know about my father's family, but Dad passed away, unexpectedly, on January 3, 1990, when I was a busy young mother. It never occurred to me to ask about his life before I was born.
Shortly thereafter, I began to contact his surviving cousins, siblings, nieces and nephews to research family history. One of his first cousins (son of the woman closest to Meyer in the above photo) told me that Durant personally lost $92 million in a market downturn in 1921 and was soon ousted from the company he created. Alfred Sloan took over at that point.. Uncle Meyer is mentioned in Sloan's account of his years at GM. Though Sloan ran a successful company, his personal and professional merits are beyond the scope of this discussion.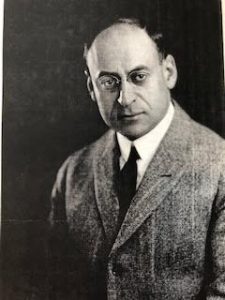 In 1994, I also reached out to past GM chairmen Tom Murphy and Roger Smith. Both responded and had high praise for Uncle Meyer. At the time, they indicated the systems he invented and put in place were still in use. He, clearly, was a financial genius, was kind, polite, reserved, well-regarded. When they went to work for GM, it was the largest, most important corporation in the world. Obviously, times and the industry have changed dramatically over the intervening 26 years. For any number of reasons, General Motors lost its way in the new landscape. I say that with some sadness and a tinge of regret, as a child of Detroit.
In his role as treasurer, M.L. was the point man on banking relations between GM and all the banks with whom it conducted business. By several accounts, those numbered over 600, across the U.S. and Canada. He believed in spreading risk. His most famous accomplishment was overseeing GM's conversion to its wartime efforts during WWII, securing an unheard-of at the time, $1 BILLION V-loan credit line to finance those efforts. Roger Smith mentioned that it was also a huge task to convert production back to cars after the war!
For all his modest, unassuming ways, he loved color in his automobiles and was known for driving an orange Cadillac around town, smiling as he drew complimentary whistles.
With success came obligation. He and his wife Anna gave generously to many worthy causes around Detroit and beyond, including Wayne State University, Temple Beth El, The United Foundation, The Jewish Welfare Federation and more. He was a founder of the Albert Einstein Medical School.
He also helped his sister Lizzie. My grandmother was bipolar, long before there was any medical treatment. The doctors noticed she was better when pregnant. They didn't understand the hormonal changes that occurred in a woman's body during pregnancy. She had the last two of her eight children (including my father, her youngest) to "cure" her. She started in and out of mental institutions when my father was 8 and was permanently institutionalized when he was 12. He never spoke about it, but I'm sure it greatly affected him. She was in a private sanatorium in St. Louis. After the death of my father's oldest brother, who served for years as  Assistant Comptroller of GM (and knew the former Chairmen well), his daughter found documents showing that Uncle Meyer paid for his sister's care all the years she was in the sanatorium. We Sarasons/Prentises take care of one another.
Uncle Meyer retired before I was born. He died at his home on his 84th birthday of pancreatic cancer in July, 1970. It was the summer before I left for Brandeis. I was in Ohio at the time, visiting maternal relatives. I saw his obituary in the local paper, called my father and asked if he wanted me to cut my trip short and come home for the funeral. He told me to stay; it would be enough to come to shiva to pay my respects. Meyer was a distant figure in my life, but loomed large for the entire family and was mourned by all who knew him. My family remains proud of their ancestor, originally from Kovno, Lithuania, who grew up to have a profound impact on American commerce and industry.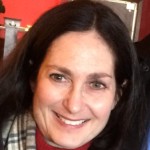 Betsy Pfau
Retired from software sales long ago, two grown children. Theater major in college. Singer still, arts lover, involved in art museums locally (Greater Boston area). Originally from Detroit area.
Tags: Meyer Prentis, GM, Detroit