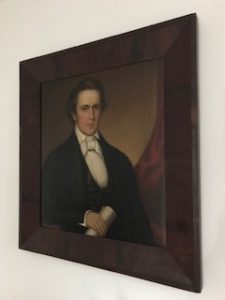 Is an ancestor's portrait classy, or just pretentious?
I'm not saying we can't learn from history, or that we shouldn't honor our ancestors. It's just that I never caught the genealogy bug. I'm quite nostalgic for periods and events of my youth, but not as much for looking back generations. I guess some folks need to look back because they need to build up their identities, but knowing who my genes come from is not that important to me. I know there are good stories back there, but shouldn't we be making our own stories here and now? Besides, we kid ourselves if we think we can accurately imagine what their lives were really like.
One of the oldest things I own is a portrait of my great, great grandfather — the father of my great grandmother, whom I never met. It was likely painted at his home in the Virginia countryside, in the 1870s. All indications are that the artist was an itinerant painter who had already completed everything but the face.
I don't like this painting. I don't care if I ever see it again. But there it is on the wall of our dining room, so I see it many times each day. I inherited it because I inherited the subject's first and middle names. When it hung in my grandparents' library, I was scared of it. Or at least I enjoyed pretending to be scared of it. My cousins and I would say the eyes were following us. The face seemed so stern back then.
My wife likes the painting, ironically. She insists on displaying it, despite my continuing protests. She says she sees gentleness in the blue eyes, the soft lips. A Presbyterian minister and theology professor, my great, great grandfather owned slaves. Well, just one. Here's the reason I say my wife's admiration for the painting is ironic: She is a feminist. I think she might be the "hard-headed woman" Cat Stevens was seeking. She is, justifiably, a vehement critic of most male behavior. What bothers me most is the look of patriarchy. I don't understand how she can so casually dismiss my discomfort at family holiday dinners, or when we have neighbors over. She apparently can't grasp how it must look to them, with me sitting at the head of the table, and her answering the inevitable questions about the gentleman over my head. Yes, that's it — the way it must look to others is a deep embarrassment to me. She wouldn't admit it out loud, but I think my wife feels that having the portrait there is classy. Really it's just pretentious.
So we go on, as we have for more than three decades now, in two different houses, rowing against the rapids of marriage. I know I'm stealing from the last paragraph of The Great Gatsby; how pretentious of me. Lately, I swear the reverend's eyes are following me again.
###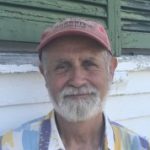 Ben McKelway
Tags: ancestry, patriarchy, feminism, nostalgia
Characterizations: well written