When I was about ten years old and enjoying our Sunday afternoon family drive, we passed a church announcement board that said, "Don't regret growing old. Some are denied the privilege." Of all the billboards, outdoor signs, and Burma Shave plaques I've passed in my life, I'm not sure why this one stayed in my memory banks, but it pops into my mind whenever anyone says, "Gee, I'm getting old."
Don't regret having to retire. Some are denied the privilege.
However, this week's topic is "Retirement," a life stage I know nothing about, despite the fact that I am 69. You see, I did everything late—figured out my career late, got married late, and had children VERY late, so I still have a second-semester senior at home, whereas my contemporaries waited for those fat or thin envelopes to arrive from colleges twenty years ago.  (Here is an example of a current fat envelope.)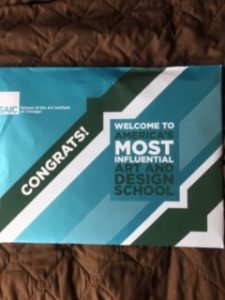 And even though this is my last year of helping with high school homework, watching the school musical three times, and holding my breath while my youngest child performs the solo onstage, I still have four more years of non-retirement, consisting of being sympathetic during the inevitable weepy "I'm lonely no one likes me I want to come home" phone calls from college, proofreading term papers (or occasionally writing them), treating my daughter like a conquering hero when she returns home for holidays, and working to pay for the part of her tuition that her scholarship doesn't cover. (In case you don't know, today's college tuition is 30 times what ours was.) So when someone says, "I'm not ready to retire," I think, "Don't regret having to retire. Some are denied the privilege."
However, I am not complaining about my inability to retire. In fact, the theme of this reflection isn't really about retirement or growing old. It's about something else that I experienced last fall, which put a different spin on aging. About a year ago, my older brother started making strange comments, complaining, for example, that people were entering his apartment and hiding his things. Sometimes he would be telling me something, and the words became gibberish. A few times I got a call from a store manager saying that my brother had gotten lost and would I please come and pick him up. One time, I got a call from the gas station across the street from his apartment because he couldn't remember how to get home. Like many people (it turns out) who have a loved one that starts acting strangely, I initially tried to see these events as isolated incidents. However, when my brother started urinating and defecating throughout his apartment because he couldn't remember where the bathroom was, the management of his building and his doctor insisted that I provide him with 24-hour care until I could move him. So I hired a caregiver off Craigslist last fall.
She turned out to be a crook, but when I fired her, I received a letter from a lawyer accusing me of elder abuse, elder neglect, and financial exploitation. A report had been submitted to the state authorities accusing me of the same things. She also refused to leave, citing an obscure Illinois law that states if you invite someone into your home for three days, they have established a "tenancy," and you have to formally evict them in court, which takes weeks. Although my brother's building finally evicted her, I was under investigation for the next five months, and it was only last Monday that I was finally exonerated and awarded guardianship of my brother, who by then had been transferred to a highly expensive care facility.
I had one day to feel good about the end of the investigation, and then yesterday I got my lawyer's bill. I had been told I would have to pay $2000 to get guardianship, but all the investigation actually cost many, many times that, and this was only the first bill. I also am awaiting a bill from the guardian ad litem, and my lawyer's final bill. Which means that the money I was hoping to contribute to college tuition will now go to lawyers. Probably for years to come. Probably until I . . . well, you know. In the meantime, my brother is blissfully unaware of any of this. In fact, he has no idea what day it is, where he is living, or whether he even has sister. He hides his shoes under another man's bed then claims they were stolen by the same people who'd entered his former apartment. I'm not sure how I'm going to afford to keep him in his current location, but the only other option is a Medicaid facility, and in the words of a geriatric social worker who has been helping me, if she had a choice between a Medicaid facility and death, she would "choose death."
The moral of this story is: Don't regret growing old and having to retire. Some are denied the privilege, while others are denied the privilege of even knowing it's happening.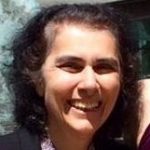 Joan Matthews
Characterizations: moving, well written