Phase 1 of my relationship with Gina was completely unplanned. It seemed to arise from nowhere, like the skeletal warriors in Jason and the Argonauts. There was never that potentially awkward "asking them out" moment.There was Gina, and there was Dave. And then, in the first moments of a kiss in a parking lot, there was us. The permanence of us was an unstated reality from the beginning.
But I couldn't just say yes. I broke into song.
Phase 2 was, for me, just as sudden. For Gina it was the subject of some considerable worry and planning. It had been nearly four years since that first rainy night. I was in the midst of my doctoral research at Rutgers, and she was looking at various PhD programs.  We were just cruising along.
We were walking through a shopping mall in the early summer of 1990. She suddenly said "I need to tell you something." Considering my relationship history, I assumed that she was dumping me. What she said was much different. She had been accepted to a doctoral program in Boston. She started in the fall. Would I move up there with her?
This gave me a LOT to think about. My research was progressing very slowly; an early cessation would probably mean that my PhD dreams would never come true. We were still living in separate apartments, so moving in together in Boston would be A Big Step. I had also never before considered leaving New Jersey. But if she went and I didn't, would we be able to stay together?
I deliberated the pros and cons of moving to Boston with Gina for a long time; at least five seconds. Maybe six.
But I couldn't just say yes. I broke into song. In a crowded mall. A tune I remembered from when I was very young…
"I love you, I love you, I love you,
And where you go I'll follow, I'll follow, I'll follow…"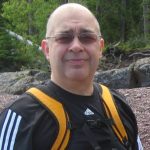 Dave Ventre
A lot of things have happened in my life, but now I am mainly in it for Gina and the mountain biking.
Tags: mall, relationship, changes
Characterizations: funny, well written