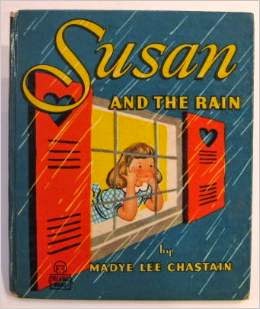 When I was little, Susan and the Rain was one of my favorite books. Of course it was partly because my name is Susan, but also because I hated the rain. Here's how it starts:
Susan Amantha Cottonwood
  was a little girl
     who was always good –
        when the sun shone.
But when the clouds piled up in the sky
And began to rain – she would cry!
    And cry and moan!
Susan Amantha hated the rain.
She would press her nose to the window-
       pane
   And complain, And complain,
       And complain!
Ultimately (spoiler alert) her grandfather sends her a package containing a raincoat with matching hat, shiny black boots, and an umbrella, and she discovers the joys of splashing in the puddles. "Why the rain is fun," she says at the end.
I never had that epiphany, even though I have owned plenty of raincoats, boots, and umbrellas. While those items are necessary for dealing with rain, they still don't make it seem fun to me. One of the aspects of the Woodstock movie that made me glad I hadn't gone was the sight of everyone cavorting in the rain and mud. I knew I would not have enjoyed that.
When I moved out to California for law school in the fall of 1974, I didn't know that a major drought was about to begin, which would last until 1977 (just like my time in law school). That winter I marveled at waking up every morning to beautiful blue skies and sunshine. Everyone else was enjoying it too, for a while, but by the third year of no rain, people were getting worried. I have to admit that I continued to love it, even though I knew the farmers were suffering. Life was so much more enjoyable to me in sunshine than in rain.
Although Davis had its good points, by the end of my first year of law school I had decided to transfer somewhere (anywhere!) back east, because I missed all my friends and family, and didn't like being 3.000 miles away from them. I planned to get the transfer applications in June, when I went to Boston for the wedding of some very dear friends from college.
I have posted this picture before of the California tan I had at the wedding. All that spring I had used my lunch break to lie in the sun on a ledge at the law school building, and I had turned this amazing shade of bronze. The wedding was great, and I saw all my friends who were still in Cambridge and environs.. But I was shocked to notice how sticky and unpleasant the summer weather was. Although I had spent my whole life before law school on the East Coast, and assumed that that was what summer felt like everywhere, after one year in the dry climate of California, I couldn't bear the humidity. So I abandoned my transfer plans and went back to Davis in the fall. And then ended up staying permanently. People often ask me how it is that I, an avowed Easterner, ended up living in California, and for the past forty years I have had a six-word answer: I was seduced by the weather!
So clearly weather has played an important part in my life. In recent years, since I retired, I have toyed with the idea of moving back to the Boston area, and have tried to convince my husband that it would be a good idea. But in truth, the winters are too cold for me now, and the summers still too humid. So I would really only want to live there in the spring and fall.
Often we think that talking about the weather is "small talk," something to do when you don't have anything important to say. But I find the weather to be an important and interesting topic. When I am on the phone or in a chat with someone who lives in a different place, we invariably talk about the weather – is it hot or cold, raining or sunny, a day when you want to go out or one where you prefer to stay at home. It's an important aspect of life.
My mother always kept track of the weather in each of the locations where any of her children or grandchildren were living,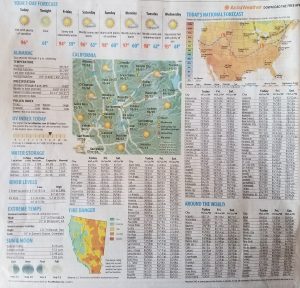 even in her declining years. While I only became aware of it towards the end of her life, I suspect she had always done it from the time we left home. Every single morning she would turn to the weather page in the local newspaper and mark all the cities where we lived (or the nearest big city) with a highlighter or colored pencil, then check out what the highs and lows were, as well as whether there was rain or snow, clouds or sun in the forecast. Her Florida paper made a huge deal about the weather everywhere in the world, taking up an entire page, because they wanted to show that theirs was the best. My mother's motivation wasn't competitive, she just felt like she could keep in touch with all of us by knowing what our weather was. Most newspapers probably have a page like this – I don't have one from Florida, but here is one from my local paper, where it is only half a page. It shows cities within the state in the left half, then all the other major cities in the US in the upper right, and finally cities around the world in the bottom right. (If you click on it, you can make it big enough to read.)
The idea of feeling connected to someone by knowing what the weather is where they live is kind of charming, although imprecise. If she had known more about how to use the internet, she could have gotten much more specific weather information for each of our locations. For instance, my oldest daughter has been living in various small towns in Spain for the last several years, and all my mother could get was Madrid. But that was good enough for her, so it's probably it's just as well that she didn't have access to a weather app.
Nowadays, with global warming, the weather can be pretty scary. There are many more hurricanes, tornados, tsunamis, and wildfires then there used to be, as well as every other kind of weather disaster. We need to listen to the scientists about how to slow down climate change, but the current administration doesn't even believe that there is a problem. Another reason to mobilize and make sure that next year's elections bring new leaders who will take action before it is too late!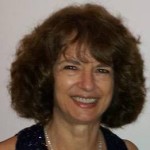 Suzy
Characterizations: right on!, well written