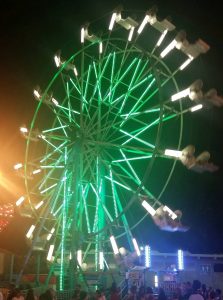 This might be one of the scariest things I've ever done!
A new beginning as a website owner/administrator is not something I ever expected. It feels a little like riding on this ferris wheel.
When John and Patti announced that Retrospect would cease operations on December 31, 2018, I felt bereft. It had been such an enormous part of my life for three years. I bored everyone I knew talking about it. In my college class report for my 45th reunion, I wrote an entire page just about Retrospect. I sent out links to my stories to people who were in them, or knew people who were in them. I didn't even have separate copies of any of the stories, because I had composed them right on the site and knew I could find them there.
So, faced with the loss of the site, I printed out all my stories, including the comments, and had them bound into three separate books, one each for 2016, 2017, and 2018. They look very nice sitting in my bookcase, but of course nobody else can see them there.
Friends and relatives encouraged me to start my own blog, and keep writing that way. But I only work well with a deadline — like a prompt that is up for just a week — and I need the feedback from the other Retrospect writers as an incentive. So that idea didn't thrill me.
Then I woke up one morning with the idea of buying the site from John and Patti. I approached them with trepidation. It turned out that they were interested, even enthusiastic about the idea. They helped me find Marian and Laurie to be my partners in administering the site. That job is not as easy as it looks! All of this took a while, but when we decided that the site would go live again on March 1st, that still seemed pretty far away.
Now it is here! The site is live! Whatever mistakes we may have made can always be rectified. I am so excited to welcome you all, dear readers, and hope you will leave a comment, or even a story of your own, before you go.
Welcome to the cabaret!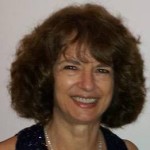 Suzy
Characterizations: right on!