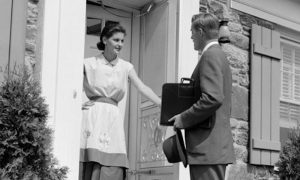 Long before the internet enabled us to shop at home, there were door-to-door salespeople who rang the bell and came into our living rooms with a case full of products. The Avon Lady, the Fuller Brush Man, and many others traveled around the country selling their wares.
Think back
. . . Did you ever buy products from a door-to-door salesperson? Did you ever try to support yourself selling products door-to-door? Would you allow a salesperson into your house now?
Share your door-to-door sales stories forward.
Start Writing