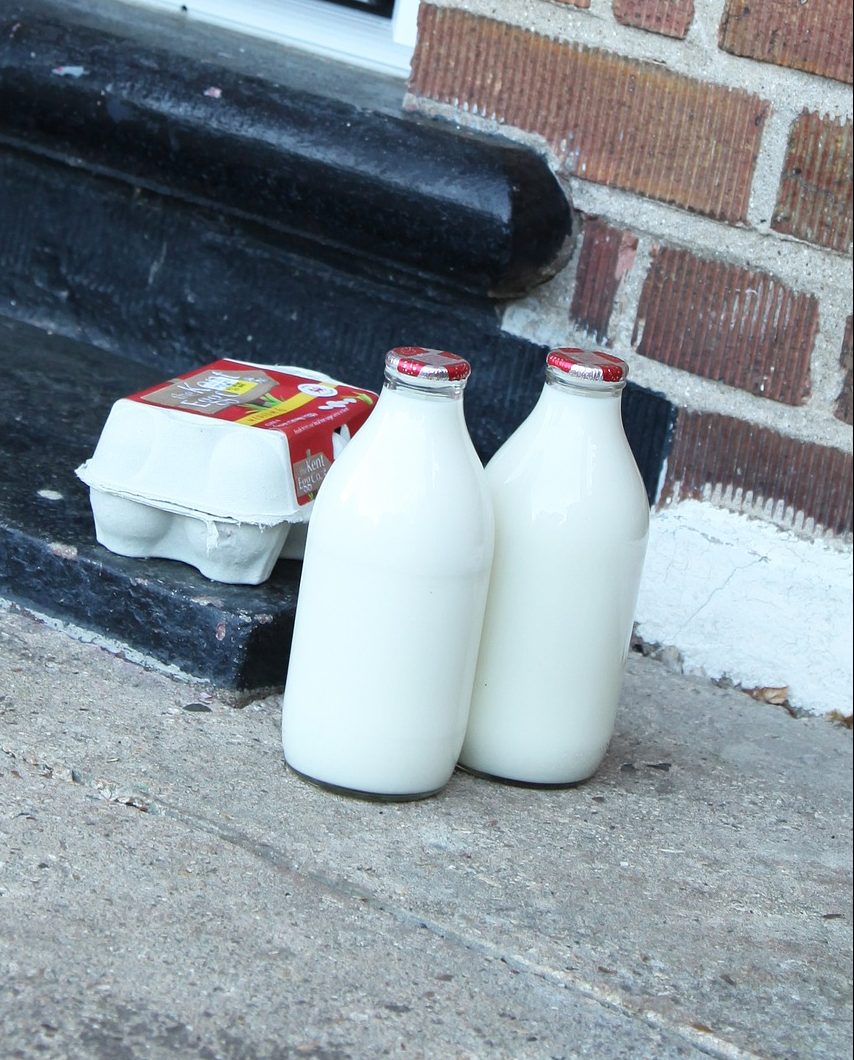 When I was growing up in a split-level house in Verona, NJ, it seemed as if people came to the door frequently. Many delivered items such as milk. I barely saw the milkman, who came early, and left those beautiful glass bottles of rich white milk with the foil caps on top. Every once in a while on a cold winter morning, the milk would freeze, pushing up the foil caps.
The schtick was to make the parents guilty that their children were falling behind in school and things would get dire if they didn't get the encyclopedia.
Many families had only one car, so when the dads went to work (which was the norm), moms often relied on door-to-door deliveries for the basics. There was a bread truck called Dugan's, and the salesman would drive up every couple of afternoons and ask my mom what she wanted. I believe there were choices of breads and rolls, but what I remember most was the occasional treat we got: cupcakes.
My mom would take a box of a half dozen, made with white cake and three types of frosting, vanilla, chocolate, and strawberry. The strawberry was more like a baby pink color. The cupcakes were huge, very filling, and very sweet. When I recently talked with my mother and mentioned the cupcakes, she remarked that they were actually very small. I'm glad my four-year-old self thought they were large!
The oddest food salesperson who came to the door was a potato chip man. He drove a yellow truck with black lettering that said "Charles Chips." The only item he sold was potato chips, in a large cylindrical can with the same color and lettering as the truck had. The chips were OK, but were a favorite of my younger brother's and our little across-the-street neighbor Adrienne. She had celiac disease, which had been only recently understood, and potato chips were one of the few safe snacks for her. We were taught early on not to share any of our other food with her, just potato chips.
The Fuller Brush Man and the Avon Lady did come occasionally, but money was tight for our family at that time and I don't recall my mother buying anything from them. Perhaps a brush, but definitely not cosmetics. There was a vacuum cleaner salesman who was turned away, and he certainly would not have been allowed to sprinkle anything on our carpet! Although, it was a very thick green shag, and I think it would have hidden the dirt anyway.
I do recall an encyclopedia salesman coming to the door. The schtick was to make the parents guilty that their children were falling behind in school and things would get dire if they didn't get the encyclopedia. I think you could buy one volume at a time. My mother wasn't having any of that. We were doing very well in school and anyway, could use the set in the school library.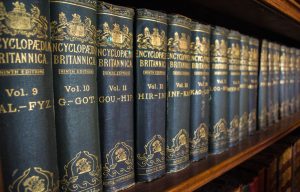 The Britannica stopped publishing in hard copy in 2012.
We also had our share of religious proselytizers, which was amusing because nearly everyone in a four-block area was Jewish (redlining was still very common). Our family turned them away politely. However, two doors up the street, Mrs. Lewis loved to engage them, especially the Jehovah's Witnesses, who would be dressed in black suits and come down the street in pairs.
Deeply educated, Mrs. Lewis was a scholar of Judaism and a Hebrew school teacher who knew the Bible cold. She had dark, bobbed hair and wore big glasses, and would come to the door in a fancy dress and tottering in spike heels, all 4 feet ten inches of her. By the time she got done with them, the poor duo would be slinking down the street, tugging at their starched collars to dry the perspiration and running their fingers through their hair.
When I was 12 we moved to another town, which had hilly, winding streets and no sidewalks. The era of door-to-door deliveries and sales was declining. My family had two cars and my mother drove to the supermarket. Today, home deliveries are happening again, and they are very efficient, but contactless. We look through peepholes, or for the moment we speak through masks. It's certainly not the same as the bread man or Avon Lady coming to the door.
Marian
I have recently retired from a marketing and technical writing and editing career and am thoroughly enjoying writing for myself and others.
Characterizations: well written