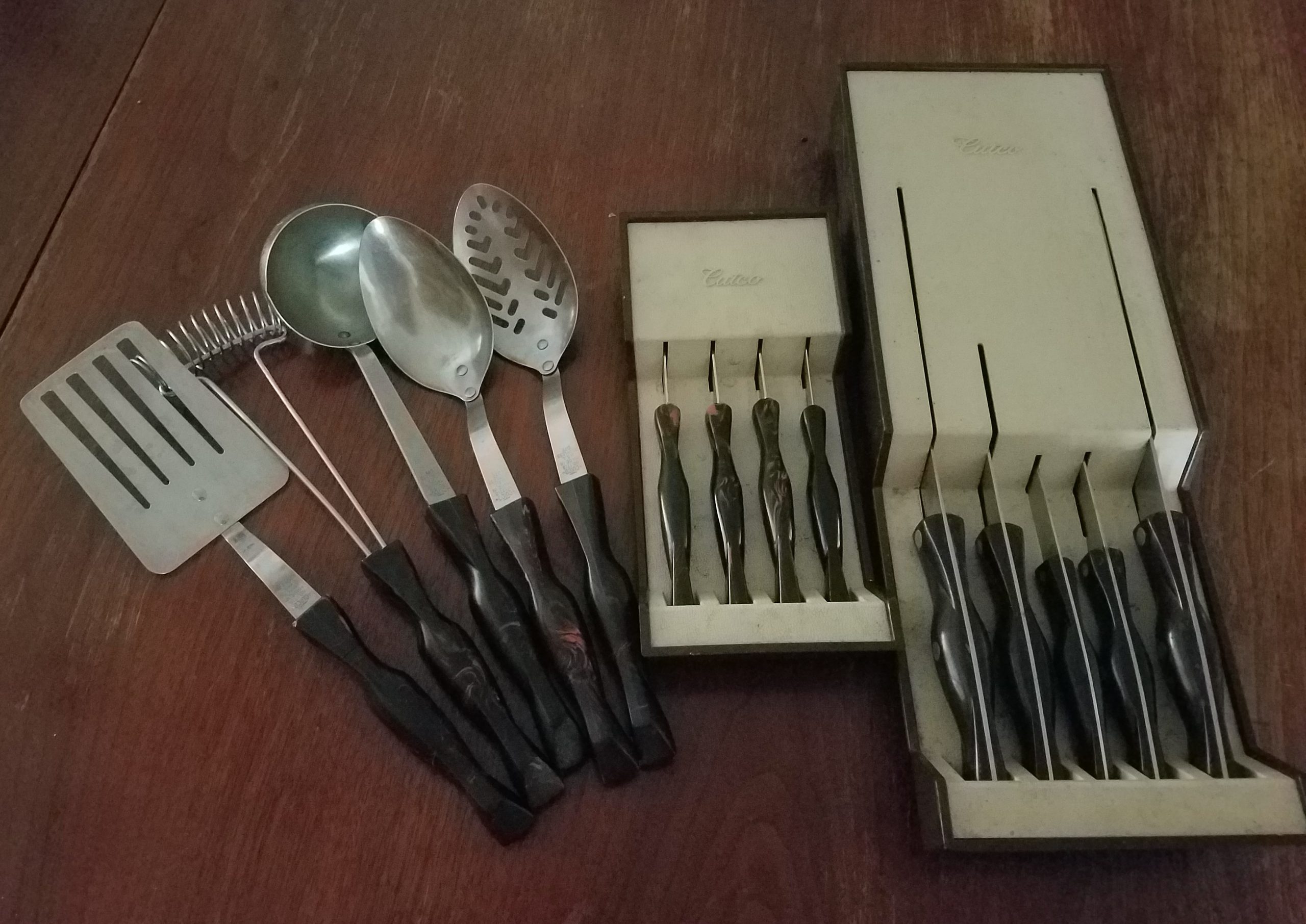 I don't know if the Avon Lady or the Fuller Brush Man ever came to my parents' house when I was growing up, but I bet they did. I know my mother had Avon products around – she was one of the first people to talk about using Skin So Soft as a mosquito repellent. If they did come, it would have been during the day, when I was at school, so I wouldn't have known. Just one more thing I wish I had asked my mother about.
I was approached by a young woman who asked if she could come to my house to show me some amazing knives. I said yes.
My own experiences with door-to-door sales came in the '70s and '80s, after I had moved to California. My first encounter was with Cutco knives.
Cutco sold knives on the same business model as Avon and Fuller. Their products were not sold in any store, but rather marketed directly to customers through in-home demonstrations by independent sales representatives. (According to their website, their products are sold even now through in-home demonstrations, as well as at local events and online.)
It must have been 1978, because I had graduated from law school and was working in Sacramento, but still living in Davis with a roommate named Bonnie. One day, on my way to or from lunch, I was walking down the street, very near to the State Capitol. I was approached by a young woman who asked if she could come to my house to show me some knives that were better than anything I had ever used. I can't remember exactly how she phrased it, but it sparked my interest, and I said yes. I told her I lived in Davis (which was about 20 miles away), but that didn't deter her. She took my address and said she would be there that evening.
She walked into my house with an entire case full of very sharp knives. Thinking about it now, I was a very trusting soul to allow her in, knowing she was carrying all those knives. I wonder if I would have been as willing to let a man in. Believe it or not, I think I probably would have then, although I certainly wouldn't now.
I did not own any silverware or kitchenware of any kind at that time. Everything in our kitchen belonged to Bonnie. The Cutco rep said bring out your sharpest knife, and I will show you how much better my knives are. I went and got our sharpest knife out of the drawer – and it turned out that it was a Cutco knife! I don't know where Bonnie had acquired it, she only had the one, but it was definitely a great knife, and really the only good knife we had. Well, this made it hard for the rep to say my knife is better than yours, but I was pretty much sold already by the fact that the knife I liked so much was a Cutco knife. She did do some demonstrations though, to show off what her knives could do. The only one that I remember was that she cut a penny into a spiral as easily as if it were a carrot.
So I bought a set of 4 steak knives, and as a bonus I got another 5-piece set of cooking knives (or maybe it was the other way around). There was an additional bonus of a set of kitchen tools that I didn't even know I needed. This set consisted of a whisk, a slotted spoon, a cooking spoon, a ladle, and a spatula. I still use all of this stuff to this day, and they are still my favorite knives and my favorite kitchen tools. I pulled them all out and took a picture of them for my Featured Image.
In recent years I have seen booths selling Cutco knives at the California State Fair, and I have been tempted to get additional pieces to supplement my collection. But they are really expensive now! I have no idea what I paid in 1978, but it couldn't have been much, because I wasn't making much money at the time. I only wish I had bought more pieces then! I'm sure the saleswoman knew it was a one-time sale, because she never contacted me again.
When I moved to Sacramento in 1979, I had both an Avon Lady and a Fuller Brush Man who visited me regularly at my first house. Now that I think about it, I bet it was because the woman who lived there before me had been a customer of theirs. I was more interested in the Fuller brushes than the Avon cosmetics, I have to say, although I did like those tiny lipsticks the Avon Lady gave as samples.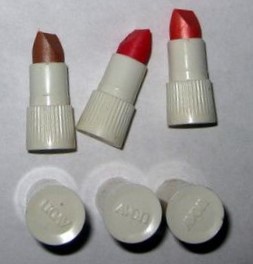 I don't think I ever bought a lipstick, Avon or otherwise, because for the rare occasions when I wanted to wear lipstick – usually when I was dressed in all black for a choral concert and needed a splash of color – I would just use one of my tiny Avon lipsticks. The Avon Lady (not sure I ever knew her name) would come in to my living room every few months with her case full of products, and we would sit on the couch together and try out different things. I'm sure I bought lotions of various types, and of course Skin So Soft to prevent mosquito bites, but I was certainly not one of her best customers. I guess she kept coming around because there was always the chance that I would buy more, and she probably had other clientele in the neighborhood anyway.
The Fuller Brush Man was a young guy, about my age, and I was always happy to have him show up at my door. I know I bought a lot of products from him, and also got some fun free samples. But the only two items that I can specifically remember buying were a table crumber and a carpet sweeper. Probably that's because I still have both of them, and still use them on occasion.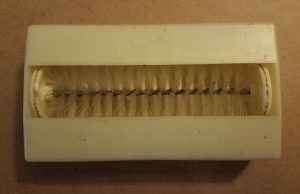 The table crumber is great when you have a tablecloth on the table, not quite as good on a bare wooden table, but still, it's an amazing way to pick up crumbs so they don't end up on the floor. On the Fuller Brush website they still sell a table crumb sweeper, but now it has "three rows of bristles for thorough pickup." Mine only has one, but still does a good job.
And for those crumbs that DO fall on the floor, the carpet sweeper is the easy answer. It says right on it that it has Electrostatic Action, whatever that is. The website, which still sells this sweeper as well, brags that it is "quiet and cordless. No outlets required," suggesting that it is much better than those troublesome vacuum cleaners that actually need electricity. I didn't have a vacuum cleaner at the time, so this carpet sweeper was invaluable for keeping my floors clean. I never did buy a vacuum cleaner, but eventually moved in with a guy who had one. I still liked my carpet sweeper though, because it was lightweight and easy to use for a quick cleanup.
Here are pictures of my 40-year-old carpet sweeper and the one that they show on the website now. Aside from the fact that mine looks kind of grungy (guess I should have cleaned it up before I took the picture!), I think they are exactly the same, except that mine says "Electrostatic Action" on it and the new one doesn't. Mine is even the same shade of red, although it looks more orange in the photo for some reason.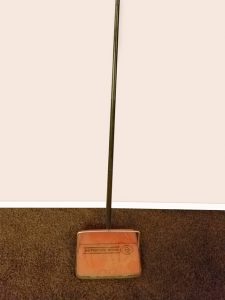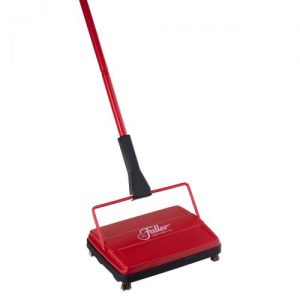 After I moved to my next house in late 1982, I never saw the Avon Lady or the Fuller Brush Man again. I probably had their cards and could have called them with my new address, but I guess I had all the products I needed, so I never bothered. And my new house, even though it was only about two miles away, must not have been part of their territory.
Nowadays, the only sales people who ring my doorbell are Girl Scouts selling cookies. And since I spent twelve years going around the neighborhood with Molly while she sold Girl Scout cookies, I always buy a few boxes from the girls who ring.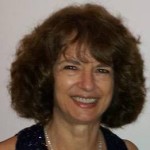 Suzy
Characterizations: funny, well written