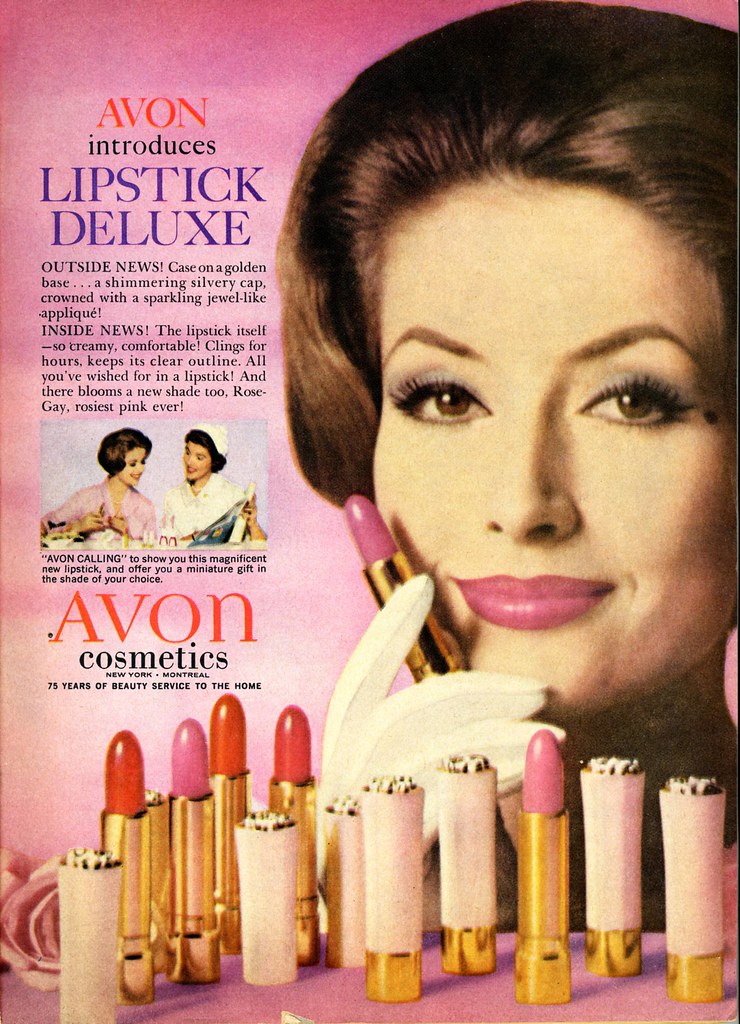 When all of her children were in school and she had more time to herself, my mother decided to get a job to earn some spending money. Never having worked outside of the home since being a factory record keeper during World War II, Mom found a job selling Avon cosmetics door-to-door, and we children teased her mercilessly about it.
Looking back, "Ding dong, Avon calling," was an important stepping stone for my mother to gain confidence in an era in which people actually answered their doorbells.
But here's the thing. Mom was a great salesperson. She could work magic with those tiny lipstick samples I loved to try.  She sold dusting powder, perfume, cream sachets, soaps, foundations, hair care products, and all manner of lotions in special bottles. My mother was the perfect Avon sales representative, a homemaker with some spare time and lots of friends and neighbors who welcomed her into their homes and were loyal to her. She made a decent commission on her sales and gained confidence in her ability as a salesperson.
I don't remember how long Mom's Avon career lasted. By the time she retired, I was probably out of college, living in Chicago, and engaged to be married. But those skills she acquired selling cosmetics door-to-door transferred to her next career, selling art in a gallery she owned with a friend. She claimed to have started this business so my father could have something to do when he was forced to retire from his accounting firm. Dad was a Sunday painter and art lover, and he took Mom to countless art museums, lecturing her about the paintings and sculptures they saw. My mother had a basic understanding of the art world, but more importantly, she was a great salesperson.
Their business, Towne Center Gallery in Southfield, Michigan, flourished in the 1970s. Dad kept the books and advised on the art purchases, many of which were on consignment. Mom and her friend sold the art to the customers. I have happy memories of visiting the gallery with my young kids when we were in town to see my parents. We even posed for this family portrait in the atrium of the building housing their gallery.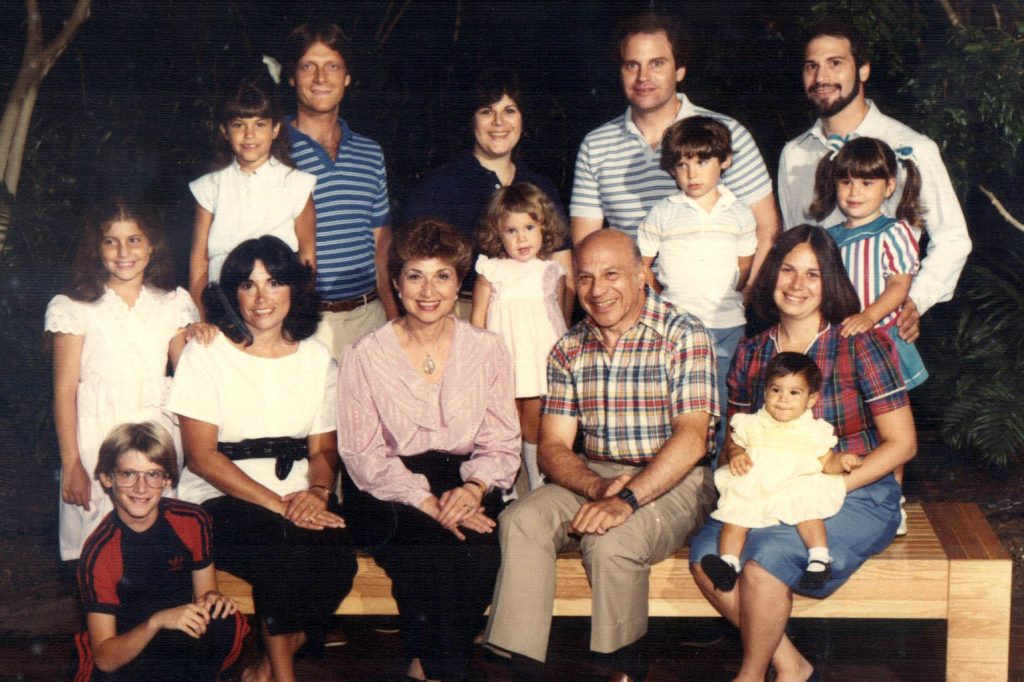 During the time she ran the gallery and sold art, I watched my mother's confidence grow. She learned about framing and displaying art and felt like she had finally come into her own. Unfortunately, she deferred to my father's advice and sold her interest in the business when her partner wanted to sell wearable art (AKA, jewelry and fashion scarves) to bolster their sales. In her heart, Mom was all-in on this idea and would have been great at selling these things. But Dad felt the gallery should only feature quality art, so they parted ways.
All of this brings me back to Mom's Avon days. I was too immature at the time to understand how the skills she acquired ringing doorbells to sell cosmetics to her fellow housewives would translate to a marketable skill set later in life. When I served as PTA President in my children's school many years later, I experienced the same phenomenon directly. Although at the time, I was also taking classes to earn a Master's in early childhood education, I learned far more about being a school administrator from my experiences as a school volunteer.
Sometimes, you just have to go out and ring those doorbells or organize a school event to gain real life skills that you can't learn in textbooks or college lectures. I wish my mother were alive so I could apologize to her for all of the teasing she endured from my brothers and me. Looking back, "Ding dong, Avon calling," was an important stepping stone for my mother to gain confidence in an era in which people actually answered their doorbells.
I invite you to read my book Terribly Strange and Wonderfully Real and join my Facebook community.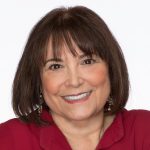 Laurie Levy
Boomer. Educator. Advocate. Eclectic topics: grandkids, special needs, values, aging, loss, & whatever. Author: Terribly Strange and Wonderfully Real.
Characterizations: right on!, well written